Week 3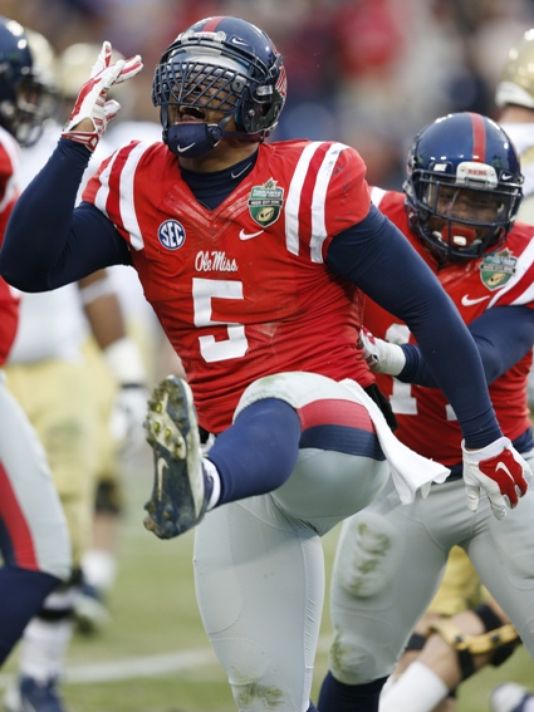 Mass hysteria has ensued throughout the South. Nick Saban and Alabama threw the ball 59 times. Nick Saban has still not decided on a quarterback, and the offense turned the ball over five times. Oh, and have I mentioned, Ole Miss made history in beating Alabama in back-to-back seasons for the first time in the rivalry's history. And this all happened in Bryant-Denny Stadium. Wow. And then in Athens, Steve Spurrier lost by 32 points to Georgia. In the same stadium that he had once scored 52 points (as the head coach of the Florida Gators), Spurrier looked to be a broken "Head Ball Coach". Georgia, ironically, scored 52 points in what was a massacre.
The SEC has already played a quarter of this season's games. That is hard to believe. And even though it feels like we just started the season, we already know a lot about these teams. FPF has decided to give some "Quarterly Reports". Here is how they look:
Contenders:
Ole Miss: The "Landshark Defense" is as lethal as ever. The Rebels went into Tuscaloosa and forced FIVE TURNOVERS. The Nkemdiche brothers played lights out, Haynes had a huge play at the end of the game to seal the victory for the Rebels, and the defensive backs were ball hawks. All of FPF's favorites on this Ole Miss defense had huge games (CJ Johnson, Trae Elston, Tony Bridges). We said it at the beginning of this year, but this Ole Miss defense may be the best in the SEC if not the country, and the Rebels could ride it to an SEC title.
And we can't forget about the offense. Chad Kelly threw for 341 yards and three touchdowns. They also had a balanced attack, with 32 rush attempts and 33 passing attempts. But, what fired FPF up the most was the fact that six different Rebels had at least one rush attempt and eight different Rebels had at least one reception. Ole Miss is deep and talented. Only draw back for the Rebels is the loss of Tony Conner for the next four weeks, due to injury, but Ole Miss should be able to weather that storm.
Georgia: The Dawgs are finally back. Georgia fans were worried going into this season about the schedule, but after being in that stadium and watching the Bulldogs dismantle Steve Spurrier and the Gamecocks, I think this Georgia team is good enough to contend for an SEC title. Scoring 52 points against a team that has owned you in the recent past is always a good way to start off home-conference play. It doesn't get easier with Alabama coming to Athens in a few weeks, but this weekend was major reassurance that this Georgia team is different. They gained 576 yards, Greyson Lambert, yeah, that's right, the transfer who had a tough time playing quarterback in the ACC, set an FBS RECORD for completions. He went 24 of 25. He had one incompletion. That is incredible, even against this horrible South Carolina defense.
This past weekend was my first game in Athens. Furman Bisher once said that when he was a visiting Tarheel, he fell into the hedges in Sanford Stadium and from that day on he was trapped within the magic that is a Saturday "Between the Hedges". I don't know if I am trapped, but I am very glad I went. Saturday in Athens, especially when a rival team was in town, was spectacular and I gained a new appreciation for the Bulldog faithful.
LSU: I put LSU in here because they have not given me a reason to not put them here. They survived a tough opening game in Starkville against Mississippi State, and then embarrassed a broken Auburn team. Fournette looks to be one of the best players not only in the SEC, but in the entire country, and he already is mounting a serious run for the Heisman. The defense looks to be back to the old LSU form, that we loved to watch and feared to play. Later in the season when the Tigers have to go to Oxford and Tuscaloosa, we will really see if LSU is a contender, but as of now you have to have them as one of the favorites to win the conference. LSU is just too talented and too deep to for them not to have a chance at winning the SEC.
Sleepers:
Florida and Texas A&M are still undefeated but I want to hold off on calling them contenders. These teams have still not played the meat of their conference schedule and FPF is not completely sold on either one of these programs yet. That being said they are 3-0 with a couple of impressive moments and plays to their name. A&M beating up on Arizona State did the conference proud, but outside of that game, these two teams still have a lot to prove and a long way to go to win the SEC.
Missouri, while 3-0, has not looked impressive at all this season, and I am quite frankly, surprised they are still in the top 25. Barely beating Arkansas State and Connecticut does not bode well for the Tigers in conference play.
Alabama and Tennessee are two teams that I think have enough talent to overcome the early woes, but it really comes down to how they play in Week 4 and Week 5. If they can come out of these two weeks unscathed, they have a shot at making it to Atlanta.
The rest of the SEC does not look too promising. It would take a miracle for them to win the SEC. Some of these teams will be looking for a new head coach at season's end.
---
Last, I have to admit that Brendan whipped me last weekend. He nailed every single conference prediction. On the other hand, I made only one conference prediction right (we predict the outcomes for the big conference games every Thursday on Facebook, for those of you who have not yet liked us on Facebook). So, I must give credit where credit is due. Brendan, great work last week. Just remember that I am still bigger than you.