Week 10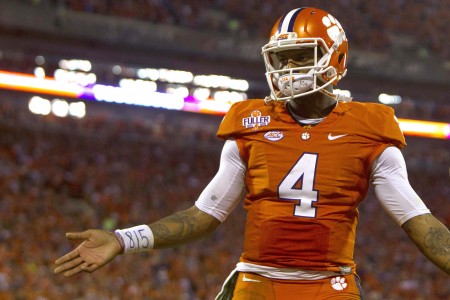 Mrs. Paschal, I just wanted to inform you that I am mustache free. That is the good news. The bad news is that Brendan and I did a double or noth… uh… a gentlemen's agreement you might call it. After last week's video, I was convinced A&M had started what I liked to call, its death march, towards the end of the season. So I said if Auburn goes to Kyle Field and beats the Aggies, then the 'stache was gone, people would rejoice, and go back to talking football.
Now that I have addressed that uncomfortable, yet necessary part of last week's recap, I thought I would give my top four teams and where they would be seeded in the college football playoff.
No. 4 –  I have (drumroll/ belly-pat please), the Oklahoma State Cowboys. They broke the hearts of TCU fans with a huge, blowout victory against the Frogs, in T. Boone Pickens Stadium. The reason why I have them ahead of Art Briles and his Baylor Bears is because Baylor has played absolutely nobody. Yet the Bears still have their four toughest opponents ahead of them. They still have to play TCU, and both Baylor and Oklahoma State  will face each other in two weeks. On top of that they both still have to play Texas and Oklahoma, so there should be a clear-cut favorite between the two in a few weeks.
No. 3 – The Ohio State Buckeyes.  They, as well, have played basically nobody. They were pre-season number one, and have fallen, but they can still get up. However, even though I do not know much about the Big Ten, I have a feeling that the Buckeyes will drop a game to either Michigan or Michigan State. Ohio State does not look good. They remind me of this year's FSU.
No. 2 – The University of Alabama Crimson Tide. They manhandled LSU and Leonard Fournette. I was exhausted at the end of that game. There were some huge hits and great blocks. Alabama fans also rejoiced on what was (in the words of my father) the craziest play in college football this year. And it is hard to argue. The Crimson Tide benefitted from the Arkansas Razorbacks' last ditch effort to beat Ole Miss and it payed off. Ole Miss is out of the driver's seat for the SEC West, and Alabama now controls its own destiny.
No. 1 –  Notre Dame. Just kidding, how could it not be the Clemson Tigers? The Tigers finally proved that they could handle business in big-time games against the biggest of foes. (Even though two plays into the FSU game I was terrified Clemson had pulled a, well… you know). Barring football tragedy (which, you never know), Clemson should be undefeated going into Williams-Brice for the South Carolina game and then undefeated going into the ACC Championship. If they beat Chapel Hill, in what could be a very entertaining game, Clemson should be the number one seed in the College Football Playoff. Can you believe that Clemson Fans?
Elsewhere in the SEC, South Carolina lost a heartbreaker to Tennessee, Florida could have lost to Vanderbilt, and Georgia whipped Kentucky (even though I don't think that means a lot to much of the Bulldog fans).