Top 10 Cleats in the SEC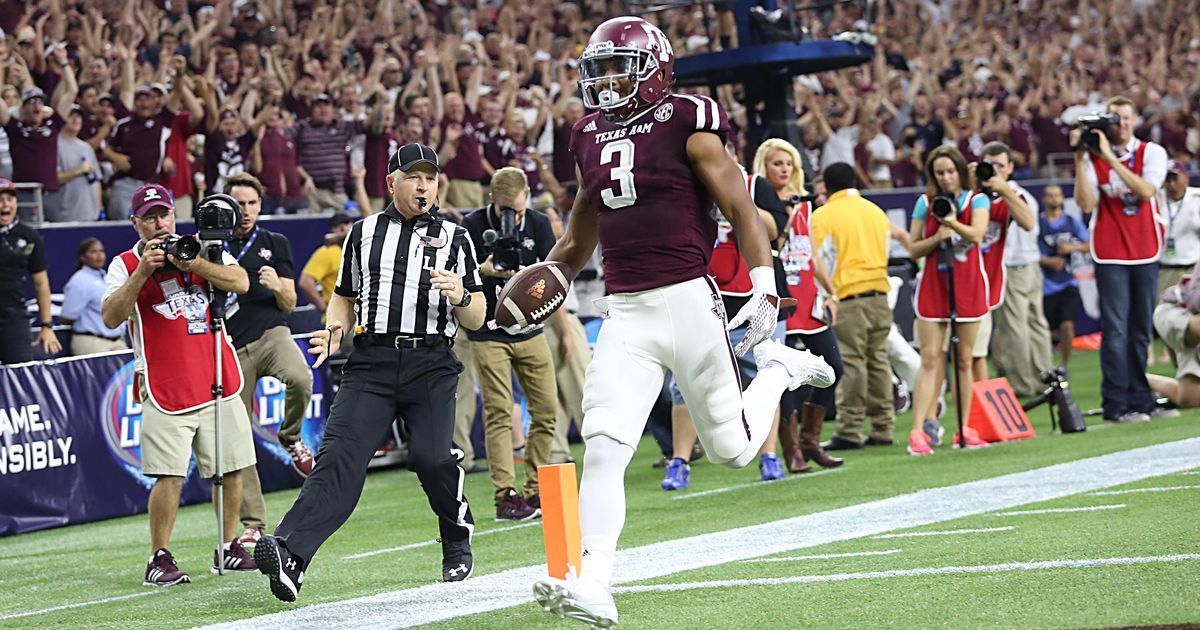 After reading Brendan's article that shamed three SEC teams for their fairly unattractive jerseys, I thought to myself about how appearance was key in the sports world. Sure, Tennessee's addition of smoky gray is a great idea and a beautiful tribute to the Great Smoky Mountains, but it's very apparent that pairing a darker gray with their classic big orange on a uniform is absolute trash. I personally believe that's something you can attribute to any poor performances on their behalf. Look good, feel good. So when it comes down to it, what essential part of appearance or article of gear can assist in producing the best kind of performance? Cleats, no question. Here I am, counting down the top 10 SEC school cleats (and attributing them to various degrees of success, but mainly just admiring how dang good they look.)
Didn't Make the Cut 
Arkansas and Georgia – Two Nike schools whose cleats are just as basic as their plain, red color schemes.
Mizzouri – Another Nike school with fairly boring cleats, and I'm sorry, but that "MU gold" is just painful to look at.
Ole Miss – I'm starting a petition for powder blue cleats and some brilliant throwback uniforms.
The Good Stuff
10. Auburn
One of only two Under Armour schools in the SEC and the weaker one at that. I commend Auburn for their classic navy and white cleats and branching out of their comfort zones, trying some new patterns although they don't look quite right. Maybe they should calm down and stick with the classics and leave the crazy Under Armour looks to their favorite alum, Mr. Cam Newton. Oh, and the orange cleats plus orange socks—big miss on that one, sorry, team.
9. Tennessee
 Oh, Tennessee, you break my heart—an Adidas school since 1997 that switched to the dark side in 2015. With the move to Nike, they have adopted new color combinations that just don't look good, as aforementioned. However, the new Nike cleats are pretty fresh. There's just no replacing the O.G. Adidas cleats with that classic, big orange redneck tablecloth pattern on the heel.
8. Kentucky
With Kentucky, you have to address the elephant in the room—those new grey jerseys. Honestly, this might be one of the two uniform aspects I think progressively about. Sorry guys, but I like a good "groutfit," or I guess, "gruniform," when it's paired with their classic blue (and NOT big orange.) Their 2016 Nike cleats are neat too due to the added texture on the shoe. I just wish they would incorporate more color or something more adventurous to avoid looking so bland. You never know, it might even draw away some attention from the grey jersey controversy.
7. LSU
Behind Mizzou, LSU might have the tackiest color scheme in the whole conference. However, their regular season white cleats with the solo Nike swoosh are as sleek as they come. Moving on.
6. Alabama
 For the most part, Alabama's uniforms and cleats are extremely classic and traditional, looking rather boring to some. They come in at the number six position solely because along with the other three teams in the BCS Championship, which "happened" to be Nike schools as well, they got to debut the Nike Vapor Untouchable 2s. If you don't know the cleats by name, you'll know them for being the beautiful love child of a classic cleat and the Nike flyknit sneaker. Don't like those? They also had the option to wear the newer Nike Viper Carbons. PSA: Bama's contract with Nike ends in 2018. Will they change things up or will they continue to make millions on millions with an extension? Dumb question. Next.
5. Vanderbilt

 
I'm aware I'm biased towards their color scheme because I go to Wofford College with the same one.  But something about that black and old gold combo really gets me going. Vandy was the team to jumpstart the metallic trend among cleats and remains dominant in this degree. Their classic gold will never go out of style.
4. South Carolina
Before I get crucified for putting my hometown heroes so high on the list, let me explain. I was there for the transition from Russell to Under Armour in 2007, and let me tell you, switching to Croc brand cleats would have been better than the atrociously bland Nike things the team was wearing. Under Armour has taken the football program to a whole new level of "swagg," as a dear alum, DJ Swearinger would say. From the wild, digital camo patterns from the Wounded Warrior games to the introduction of chrome seen at the 2013 Capital One Bowl, it's no wonder the University signed a ten year extension in 2016 worth $71.5 million. Sorry, Auburn, looks like USC runs the Under Armour game in the SEC.
3. Mississippi State
THE Adidas school. They crack the top 3 for their obviously cool, different cleats, and let me tell you, the program has taken home some major Ws with cleats like the white and black American flag inspired ones and even the all gold adizeroes they wore in the 2015 Egg Bowl. However, being the NCAA football guinea pigs for the company, they've taken their fair share of Ls. Honestly, the "Stark Vegas" cleats they wore against Auburn in 2014 look Star Wars themed, but like, the Lego version of Star Wars that no one even likes. 
2. Florida
Loyal to Nike since 1999, Florida's football program arguably wears the most textbook Nike cleats on the market. The white and the bold blue colors are timeless, and the orange accents are not aggressive enough to make someone think they would look best picking up trash on the side of a highway. Nike hooks Florida up with the best gear, and it's no shocker that in 2015, the University extended their contract with Nike through 2024. I have a theory that Nike said a big "thanks, Florida" when, in 2016, the program acquired these beautiful, incredible, subtle gator skin patterned cleats that yes, I actually drooled over.
1. Texas A&M
Let me tell you something—they might not be the "hub" for Adidas, but I think that has paid off. Although Mississippi State gets the best of the best from Adidas, as I said before, they are truly the guinea pigs and have worn some dang ugly footwear because of it. For A&M, this just does not seem to be the case. Even the cowboy boot inspired cleats for the 2015 Music City Bowl, the most progressive cleats in college football, look insane but strangely very cool.
I think we have Mr. Manziel to thank for the increased shoe game within the program. The customs Adidas does for them every year are great, the zebra patterns in both black and burgundy are major hits, and I would argue that their all white adizeroes are the most crisp, beautiful cleats I've ever seen. A&M takes the cake when it comes to cleats—Mississippi State, get it together and cut the Star Wars business.
 Ultimately, the SEC has some of the most incredible cleats and uniforms out there and dominates every other conference when it comes to looking good on the field. Really and truly, the SEC is a cleat chaser's dream.

A senior accounting major at Wofford College. Born in Flavortown, Ann is a special teams enthusiast, hotdog connoisseur, and lifelong Gamecock.
(Image from AZCentral.com)
(Images from al.com and warblogle.com)
(Image from uniformcritique.com)
(Images from nikeblog.com and lsu.net)