Smart, Muschamp, and Whoever Mizzou Hired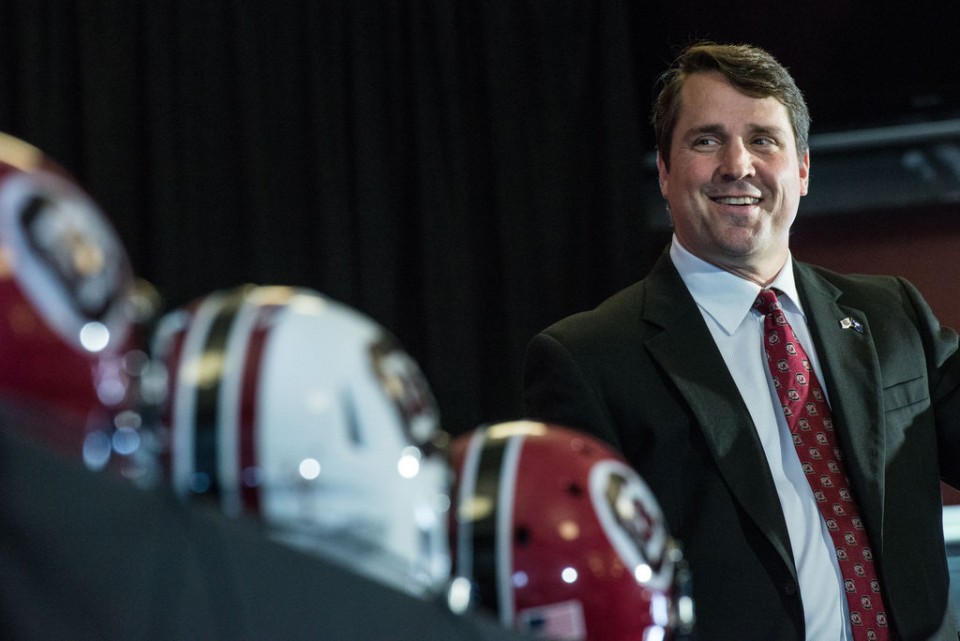 The SEC Championship is past us and the bowl games have been filled. TEN SEC schools are playing in a bowl game and ALL ten are favored according to FPI. (Some of these SEC  schools should definitely not be favored (Florida) , but I digress). Tune in to FPF throughout bowl season, as we will pick every game, and we look forward to your comments about who you think will win.
But, this post is all about the head coaching carousel in the SEC. First up: Georgia.
Georgia was the last to fire their coach, yet the first to find their replacement. While I love Kirby Smart, and I think he is a great defensive coordinator and a great guy, he also has no head coaching experience. The last coach that Georgia hired who had zero head coaching experience going into Athens was Mark Richt. How did that end? In 15 years Richt won two SEC Championships and for the latter half of his time in Athens it felt every Bulldog fan and their mother was calling for his head. (Ironically, ever since Georgia fired Richt every Georgia fan I know wishes they had given him one more year. Hilarious).
When it comes to Kirby, I really don't understand why Georgia was in such a hurry to hire him. He has the ability to coach a defense and recruit, no doubt, but if you are going to fire a coach that averaged just under ten wins a season, I would have thought they had a BIG time coach in their sights. Instead, they went back to the safe, conservative pick in Kirby Smart. At the end of the day, I don't know if that was the worst decision, but it just seems after all these years of holding on to Richt, Georgia would have fired him for a Jimbo Fisher, Dabo Swinney, Jon Gruden type coach. Smart is an alumnus of Georgia and called Georgia his dream job, so the Dawgs knew he would come home if called upon. I may be wrong, in fact, I hope I am wrong, but I see Smart being Richt 2.0. For me, it is same song different verse in Athens.
The next to announce was Missouri. They went with Barry Odom. This is Odom's coaching experience– a lot of administrative roles up until 2009. In 2009 he was the safeties coach for Missouri until he was hired as the Defensive Coordinator by Memphis in 2012. Then this past year he was hired as the Defensive Coordinator for Missouri. Now, he is the head coach. Dang, at least Georgia got a Defensive Coordinator that had led the greatest defenses at the greatest program since 2008. Odom doesn't have that type of resume. I think Missouri, with all that has been happening on that campus and within that locker room, needed and wanted some stability. Therefore, the most stable, sure-thing Missouri could do was hire within the program. If that is the case, Odom was obviously the pick. To be quite honest, I think Missouri will be quite average. The best case scenario is he does as well as Pinkel did, with some .500 records, some seven win seasons, and a few double digit win seasons throughout a decade or so of coaching. I can't see Missouri as any better than that.
Last, was South Carolina. South Carolina had been the first to part ways with their head coach when Spurrier announced his resignation and yet they were the last to find their new head coach. Gamecock fans had been wanting Fuente, "that Houston guy," or Richt. Instead, they got Will Muschamp. I have never heard so much belly aching about a head coaching hire than I have heard from South Carolina fans concerning Muschamp coming to Columbia. I think of all three of the new SEC head coaches, however, this has the biggest fluctuation in possibilities. On one hand, part of me thinks Muschamp is insane, and because of that, he will never make for a good head coach. He also wasn't able to do it at FLORIDA — the home of the Fun N' Gun and Tim Tebow. Yet Muschamp had horrific offenses and some ugly losses. What makes us think he can do it at South Carolina?
That being said, part of me thinks this was one of the better head coaching hires in the country. Where has South Carolina struggled the most these past few years? The defensive side of the ball. Muschamp can definitely help clean that up. Also, South Carolina had one of the most archaic recruiting systems in the SEC. Spurrier always had the mindset of "I'm going to recruit the guys that want to play for me, and whoever they may be, I will still beat you with them." That is all fine and dandy when Alshon Jeffery, Jadeveon Clowney, Marcus Lattimore, and Stephon Gilmore want to play for you, but when that traditionally dry recruiting basin of South Carolina is exploited by Clemson, Georgia, and the rest of the SEC East, sometimes you need to have a very aggressive, unrelenting recruiter to make up for that. Muschamp will bring that mentality. He has assembled and continues to assemble an amazing staff. First of all, he is bringing two coaches from Auburn with him to Columbia. First, Travaris Robinson is Muschamp's new defensive coordinator. Robinson was pegged as the best recruiter in the nation in 2014 according to ESPN. He is young and outgoing and has amassed great recruiting classes at Florida and Auburn. How he recruits up through February 3, 2016 (National Signing Day) is something I am excited to see. On offense, Muschamp is bringing in Kurt Roper from the Cleveland Browns. Former Gamecock Quarterback and Cleveland Brown, Connor Shaw, praised the move by Muschamp.
Muschamp is also stealing Bobby Bentley, the former Byrnes High coaching legend, from Auburn. (Byrnes High is a huge high school outside of Spartanburg, South Carolina). Not only was this a great hire because of Bentley's great offensive mind, but also because he knows many of the high school coaches throughout South Carolina, and his son, Jake Bentley, is a big-time Quarterback prospect in the 2017 class. This was an all-around huge snag by Muschamp.
Also rumored to be considered for a position on Muschamp's staff is Clemson's Jeff Scott, Marcus Lattimore, Steve Spurrier, Jr., Lance Thompson, Ellis Johnson, and Tyson Summers. All these guys would make great additions for Muschamp.
If I was a betting man, I think Muschamp is actually going to win big at South Carolina. I think he has learned from his past mistakes at Florida, especially on the offensive side of the ball, and he has surrounded himself with what is looking like an amazing staff. He has his hands full, especially with Clemson dominating the national narrative as of late, but I think he has the resources and the staff to turn things around in Columbia.
(pic by: al.com)
(pic by: al.com)