Porch Picks Week 11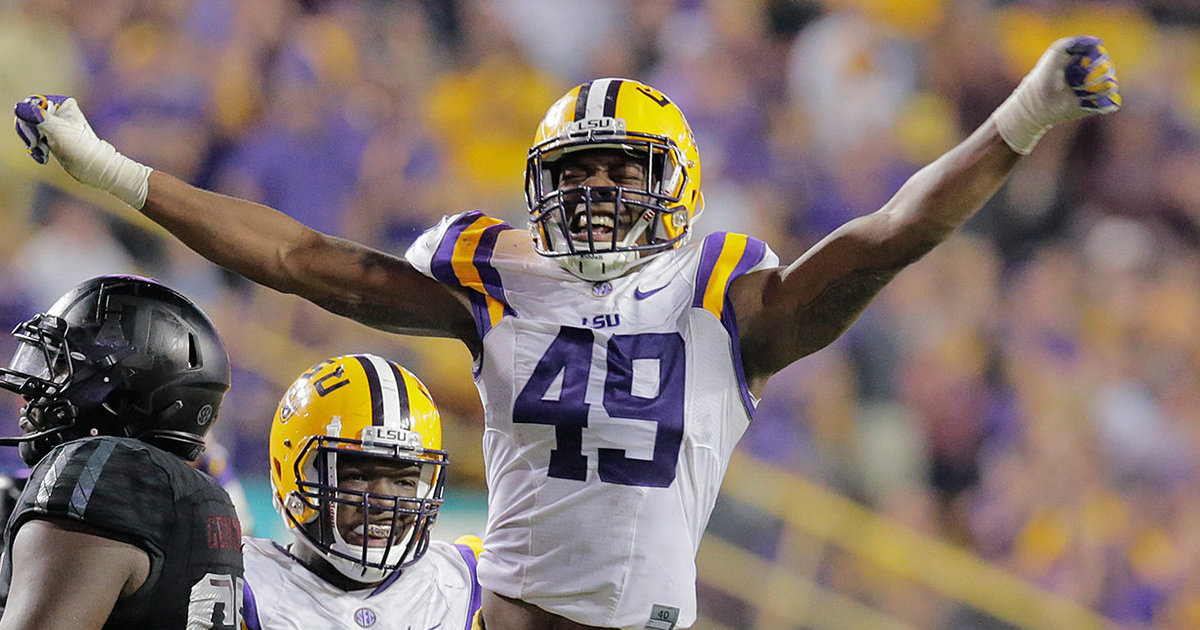 With Georgia rising in the rankings over Alabama Week 11 is poised for some exciting football! Does Auburn shut the Dawgs up? Will Alabama continue to prove that they don't care what number is next to their name?  Will anyone in the Big 10 redeem themselves this week. How about the Seminoles traveling up to Death Valley, South Carolina. Whenever Florida State and Clemson get together there are usually huge, national implications. But with FSU struggling this year do the Tigers blow out the Noles? Will the Tigers avenge the massacre that was 2013 or do the Seminoles ruin Clemson's season and their chances at making the playoff?
This week's guest picker is a proud Clemson graduate. Johnathon Garwood is a big time college football fan and we wish him well this week. As always we wish you all a fun weekend full of Southern College Football. Check and see where the boys of Front Porch Football put your team, and let us know your thoughts!
SEC:
Arkansas at LSU
Chris: LSU
Brendan: LSU
Max: LSU
Pavy: LSU
Garwood: LSU
Florida at South Carolina
Chris: South Carolina
Brendan: South Carolina
Max: South Carolina
Pavy: South Carolina
Garwood: South Carolina
Georgia at Auburn
Chris: Georgia
Brendan: Georgia
Max: Georgia
Pavy: Georgia
Garwood: Georgia
Kentucky at Vanderbilt
Chris: Kentucky
Brendan: Kentucky
Max: Vanderbilt
Pavy: Vanderbilt
Garwood: Kentucky
Alabama at Mississippi State
Chris: Alabama
Brendan: Alabama
Max: Alabama
Pavy: Alabama
Garwood: Alabama
Tennessee at Missouri
Chris: Missouri
Brendan: Tennessee
Max: Missouri
Pavy: Missouri
Garwood: Missouri
Non SEC:
Georgia Southern at App State
Chris: App State
Brendan: App State
Max: App State
Pavy: App State
Garwood: 'Neers
Washington at Stanford 
Chris: Stanford
Brendan: Stanford
Max: Washington
Pavy: Stanford
Garwood: Washington
Oklahoma State at Iowa State
Chris: Iowa State
Brendan: Iowa State
Max: Oklahoma State
Pavy: Oklahoma State
Garwood: Oklahoma State
Duke at Army 
Chris: Army
Brendan: Army
Max: Duke
Pavy: Duke
Garwood: Duke
Virginia Tech at Georgia Tech
Chris: Georgia Tech
Brendan: Virginia Tech
Max: Virginia Tech
Pavy: Virginia Tech
Garwood: Virginia Tech
Florida State at Clemson 
Chris: Clemson
Brendan: Clemson
Max: Clemson
Pavy: Clemson
Garwood: Clemson
Iowa at Wisconsin 
Chris: Wisconsin
Brendan: Wisconsin
Max: Iowa
Pavy: Wisconsin
Garwood: Wisconsin
Southern Cal at Colorado
Chris: USC
Brendan: USC
Max: USC
Pavy: USC
Garwood: USC
Michigan State at Ohio State 
Chris: Ohio State
Brendan: Ohio State
Max: Ohio State
Pavy: Michigan State
Garwood: Michigan State
Washington State at Utah 
Chris: Washington State
Brendan: Washington State
Max: Washington State
Pavy: Utah
Garwood: Washington State
Purdue at Northwestern
Chris: Purdue
Brendan: Northwestern
Max: Northwestern
Pavy: Purdue
Garwood: Northwestern
Notre Dame at Miami
Chris: Notre Dame
Brendan: Miami
Max: Miami
Pavy: Notre Dame
Garwood: Miami
TCU at Oklahoma
Chris: Oklahoma
Brendan: Oklahoma
Max: Oklahoma
Pavy: Oklahoma
Garwood: TCU
Wofford at VMI
Chris: Wofford
Brendan: Wofford
Max: Wofford
Pavy: Wofford
Garwood: Wofford
Bonus: What happens first? Tennessee wins an SEC Title or Florida wins a National Title.
Chris: Florida
Brendan: The Apocalypse
Max: Tennessee
Pavy: Tennessee
Garwood: Grumors come true and Tennessee wins the SEC in 5 years.
---
Front Porch Football's Season Records and Week 9's Record
Chris: 140-67 (13-8)
Brendan: 141-66 (14-7)
Max: 131-76 (14-7)
Pavy: 144-63 (11-10)
Guest Picker Claire Dorbandt: ( 14-7)