Clash of the Titans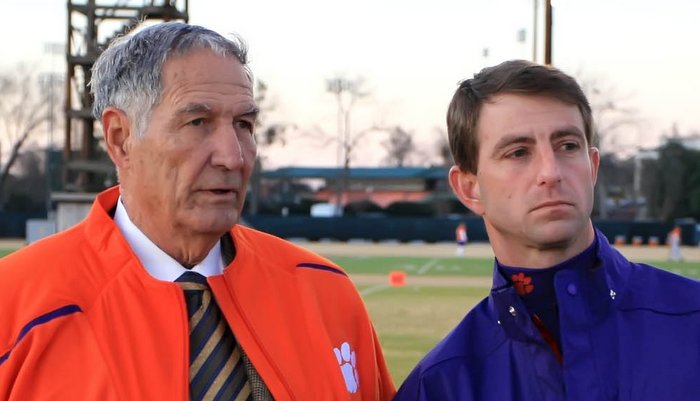 On Monday, January 11th, the two best teams in college football will finally go head to head. This will be a clash of the titans, no doubt about it, with a lot on the line. On the one hand, Alabama has to show the nation that they are the most dominant team in the toughest conference. They want to prove that Clemson's fourteen previous games were the equivalent to practicing against the JV. On the other hand, Clemson has to show that they are the best team in the nation, no questions asked. Some, before the Orange Bowl, raised questions concerning Clemson's undefeated record.
Now, you might be thinking, "How? Clemson cannot win fourteen games and it just be a lucky streak." However, there were games this season that the Tigers could have easily lost. Earlier in the season, the Tigers barely beat Louisville and Notre Dame. Then, in the last game of the regular season they defeated a 3-8 South Carolina by 5. Clemson fans will not soon forget the ACC championship game either, where a controversial offsides call ensured their victory. (Chris, for the record, thinks it was the correct call.)
Having said all of that, Clemson has also had their fair share of impressive wins, including their most recent blowout victory against No. 4 Oklahoma. The Championship game will put all doubts aside if Clemson wins. Clemson head coach Dabo Swinney has done a masterful job this season, no matter what happens, but I know plenty of Clemson fans are thirsty for some bragging rights. Clemson has a loyal, passionate, and rabid fan base, yet Clemson has only provided them with glimpses of glory. Compared to their opponent, Clemson does not have numerous National Championships (their last being in 1981) or any Heisman trophy winners, but what they lack in tradition (which, is still pretty dang impressive) they definitely make up for in fandom.
Meanwhile, Alabama seems to be perfect. After a 38 point thrashing of Big Ten power, Michigan State, Alabama is poised to capture yet another National Championship. Do the Tide have an Achilles heel? Chris and Brendan gives a synopsis of each facet of the game for both teams, and give the advantage to who they think has the upper hand.
Offensive Line:
Brendan: Alabama; Chris: Tied
B: The offense starts and ends in the trenches. Alabama has one of the most impressive offensive lines in the country, with Rimington Trophy winner, Ryan Kelly, leading this line at center. All-SEC  sophomore Cam Robinson at left tackle has dominated the line of scrimmage since he's been at Alabama. Clemson's front seven is going to have a tough time stopping the run game, and putting pressure on Jake Coker. The Tiger's offensive line is not the strongest. Freshman left tackle, Mitch Hyatt, will have a daunting task ahead of him as he lines up against Alabama's defense.
C: I agree with Brendan all the way up to his analysis of the Clemson offensive line. Going into the season, I thought this would be a position group of weakness for the Tigers. What has happened, instead? The Tigers have been owning the line of scrimmage in most of their games. Clemson has only given up 16 sacks the entire season, even though I agree with Brendan that will definitely be tested on Monday night. Finally, Mitch Hyatt is my man crush of the week. (Is that awkward?) This guy is a true freshman, yet he has been owning his role on this offensive line. He is a former five star recruit, and after going up against All-American juggernaut Shaq Lawson all season, there is nothing he cannot handle.
Running Game:
Brendan: Tied; Chris: Alabama
B: Clemson has a solid backfield. Wayne Gallman has somehow quietly rushed for about 1,500 yards while Deshaun Watson has rushed for over 1,000. The Tigers can run the ball. Even though their offensive line is not the strongest their run game is based off of misdirection and reads, which allows their athletes to make plays in the open field. Alabama is the traditional smash-mouth football team that fans have come to love and opponents have come to hate. Heisman trophy winner, Derrick Henry, will run through the Clemson defense or around it, either way he's going to have an impressive game.
C: I have to give the edge to Alabama. I agree that Clemson has an amazing run offense, but Alabama has the SEC's single season rushing leader in its backfield. Like Brendan said, how can you stop him? Clemson has a great defense, no doubt about it, and of course they will be able to contain Henry at times, but like we have seen all season, Henry will find a way to get his yards and make plays in any number of ways.
Passing Game:
Chris and Brendan: Clemson
Deshaun Watson is 300 yards away from reaching 4,000 passing yards. He has 31 passing touchdowns. He also has a 70% pass completion rating. Watson also has a plethora of weapons to throw to: Artavis Scott, Charone Peake, and Jordan Leggett lead the receiving core. Even with deep ball threat Deon Cain gone, Clemson did not miss a beat against "Big Game Bob" and the Sooners. Even though Alabama has the Heisman trophy winner at tailback, Lane Kiffin loves to pass the ball. Jake Coker has had his struggles this year, but that seems to be all behind him now as he has finished the season strong. Calvin Ridley is the go-to man for Coker with over 1,000 receiving yards to his name. ArDarius Stewart and Richard Mullaney are also solid options. Coker is also no slouch when it comes to slinging the pigskin around. He has a beautiful deep ball, and his awareness and playmaking ability when evading the rush is fun to watch.  Watson is a stronger threat in the passing game, however. He is the best quarterback in the nation. The only issue will be the amount of time he  will have to pass with the pressure from Alabama's defense.
Defensive Line:
Chris and Brendan: Alabama
Alabama's d-line is the core of this defensive (and team) with A'Shawn Robinson at the head. Robinson has become such a threat that he regularly gets double teamed and even tripled teamed, which gives one on one matchups for the rest of their athletes like Jarran Reed and Jonathan Allen. Bama has depth as well, with the size that Reed and Robinson bring, they also have speed off the edge with pass rush specialist Tim Williams. Now, of course Clemson has a solid defensive line, as well, however, with Shaq Lawson not one hundred percent, this Clemson defensive line does not compare to Alabama's. We have been saying this all year, but this Alabama defensive front is one of the best in college football history.
Linebackers:
Brendan: Alabama; Chris: Tied
B: Clemson has a solid linebacker core with Ben Boulware and B.J. Goodson leading them. There is only one problem, their size. With Boulware at 6'0″ 235 pounds and Goodson at 6'0″ 240 pounds they won't be tall enough to cover Bama's receivers, or to tackle Derrick Henry. I know they hit hard, but Henry hits harder. These linebackers are going to be put in one on one situations against Henry and they will come up short. Alabama has depth in this positions. Reggie Ragland and Reuben Foster anchor this core, but they rotate so much that they do not really have a true starter.
C: I agree that Alabama has a great linebacking corps. Heck, Reggie Ragland is an All-American and the SEC Defensive POY. But, Clemson has some heat-seeking missiles of their own in the linebaking corps. While Boulware can be a bit erratic and out of position at times, he also blows up a lot of plays (goal-line stand against Notre Dame comes to mind). Also, they are extremely athletic. Goodson, in my opinion, has great range and looks like a pro-type LB, and did you see that interception by Boulware to end the Orange Bowl? I think there is a slight edge to Alabama, but Clemson is good enough for me to identify this as a tie.
Secondary:
Brendan: Tied; Chris: Clemson 
B: Alabama has an extremely aggressive secondary, which gets them into trouble time and time again. With Clemson's fast receivers and Watson's cannon of an arm, I can see Alabama getting burned more than once. Cyrus Jones is by far the best corner for the Tide, but will have his work cut out for him against the Tiger's tall receiving core. I like Clemson's secondary especially Mackensie Alexander. He will more than likely matchup against Calvin Ridley, which will be one for the ages. Both Jones and Alexander hardly get the ball thrown their way, but when they do they make some great plays. With Clemson and Bama both looking to go to the air, they will get some action.
C: I agree with what Brendan has said. Cyrus Jones is a great player. The secondary for Alabama is aggressive and has the ability (cough, Texas A&M, cough) to create huge turnovers and even score some points of their own. However, I am picking Clemson for one reason, and one reason only. Actually, one player, and one player only: Mackensie Alexander. This guy is "Honey Badger" meets "Josh Norman". He talks trash, he is confident, and best, he has a short memory. He literally can shut down an entire half of a field, and when he does get burned (which happens, but is rare) he forgets about it, and likely makes a huge play later in the series. I love watching him play. He was a huge get for Dabo a couple of years ago out of Florida, and he has made huge plays ever since becoming a Tiger.
Special Teams:
Brendan: Tied; Chris: Alabama
B: I know what you are thinking, but hear me out. Alabama actually has had a pretty successful kicking game as of late. Adam Griffith is a different person compared to last year. He has made 22-30 field goals, two of those were over fifty yards. Clemson's Greg Huegel is no slouch either. He's gone 25-29 his freshman year with his longest field goal at 47 yards. Both of these guys can kick, which could very likely decide the game. Cyrus Jones is a major threat when returning punts, and most recently took one to the house against Michigan State. While Clemson's punting game has had some issues in the past, Dabo was able to be on the same page with Andy Teasdall in the Orange Bowl and hook up for a huge play.
C: For me it is simple: Adam Griffith has shaken the Alabama field goal curse, it seams, and Cyrus Jones is one of the most dangerous punt returners in college football. Clemson is good, but not as good.
Conclusion: 
B: I believe this will be one of, if not the greatest games, of the season. These two teams are smart, dedicated, and athletic. At the end of the day though, I do have to go with the University of Alabama. Their defense is going to make the difference in this game, and give Saban his fourth national title since 2007.
C: I, too, am excited to watch this game. This is a match up between to Southern Powerhouses. The dynamic between Alabama and Clemson is fascinating. Both have amazing fanbases, yet, it seems all the college football pundits, and even the casual fans, respect and know about the Crimson Tide, yet very little about Clemson. In fact, I bet if you walked the streets of LA or Chicago, many people would have no idea where Clemson is located or even what it is. (Employers know about Clemson as the school has great undergraduate and graduate programs, but I digress). Clemson is going to have a chip on their shoulders. This game is going to come down to a few big plays. However, as close of a game as I think it will be, I too have to go with Alabama. They have been there before, and they are thirsty to finally win another championship after being embarrassed on the biggest of stages to Oklahoma and Ohio State years past.