A Tribute to Steve Spurrier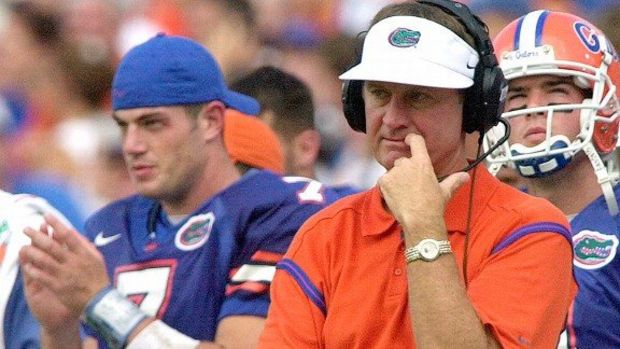 When the news broke yesterday that Steve Spurrier was retiring I was shocked yet not surprised, if that makes any sense. SEC fans saw the writing on the wall. Some saw it earlier than others. FPF fan and long-time friend, Johnathon Garwood, called it a few weeks ago. In fact he texted me on September 25 and said, "My bold prediction: Spurrier retires after the LSU game." Well done, my friend.
But, whether you knew the exact day he would retire (or resign as Spurrier says) or you just knew this season was spelling doom for the HBC, we all had an opinion of Spurrier. I'm here to celebrate his amazing career. He was one of the greatest college football coaches in the history of the game, and one of the top five greatest in SEC history. Clemson head coach Dabo Swinney said himself that Spurrier was one of the greats to walk the sideline. He amassed over 120 wins in 12 years at Florida. He won six SEC championships, and won the national championship in a rematch against his great foe, the FSU Seminoles. At South Carolina, he took a program that was traditionally the Southern-football whipping-boy and made it into a respectable if not powerful program. He was the first to beat UT in Knoxville, he was the first to win in The Swamp, he was the one that owned the Bulldogs, he was the one that beat big brother in the upstate (Clemson) five straight times. He did all of these things, but did it unlike most other coaches. He golfed, went to the beach, spent time with his family.
He was witty and confrontational. He was flippant yet genuine. He was laid back yet competitive. What made Steve Spurrier the best was that he was an entertaining paradox. How could a guy who played golf and spend a lot of time outside the office still win all these games? How could a guy that didn't cuss or make a huge scene on the sideline or get involved in nasty recruiting wars consequently beat you and then enjoy that victory just as much as you would have? It was almost as if he loved to win just as much as others but wasn't willing to sacrifice his life to do it.
There was nobody better than him on the sideline. Up until this year, you could always count on Spurrier getting his team geared up to beat a team they shouldn't have beaten. (Georgia 2014 comes to mind, as well as 2010 Alabama or 2009 Ole Miss). He revolutionized SEC football in the 90s with the Gators. He ran Lattimore thirty seven times in 2010 against Georgia. He knew what he had to do to win big games.
But, what I will miss about the Head Ball Coach more than anything is just his demeanor on the sideline or behind the camera. For a lot of people, he bothered them. "He is so cocky," or "he isn't Bear Bryant," or "he is so arrogant." And to those people, I say yes. Yes, he was those things, but it was never in a malicious intent. That was just Spurrier enjoying the game he loved. I loved it when the camera would catch him on the sideline, messing with his visor, talking to his quarterback, or calling plays. I loved when he would say things like "the only 'Gator' Florida State needs to worry about is an investigator," or when asked by a reporter what he should call him instead of genius and Spurrier suggested "offensive mastermind." Stuff like that is what I am going to miss.
Steve Spurrier was a unique character. He was the anti-NFL, which is probably why I liked him so much. FSU, UGA, UT and Clemson fans may disagree, but college football is losing something in the Head Ball Coach, and I for one feel as if an old friend has left us.