2017 Season Preview: LSU Tigers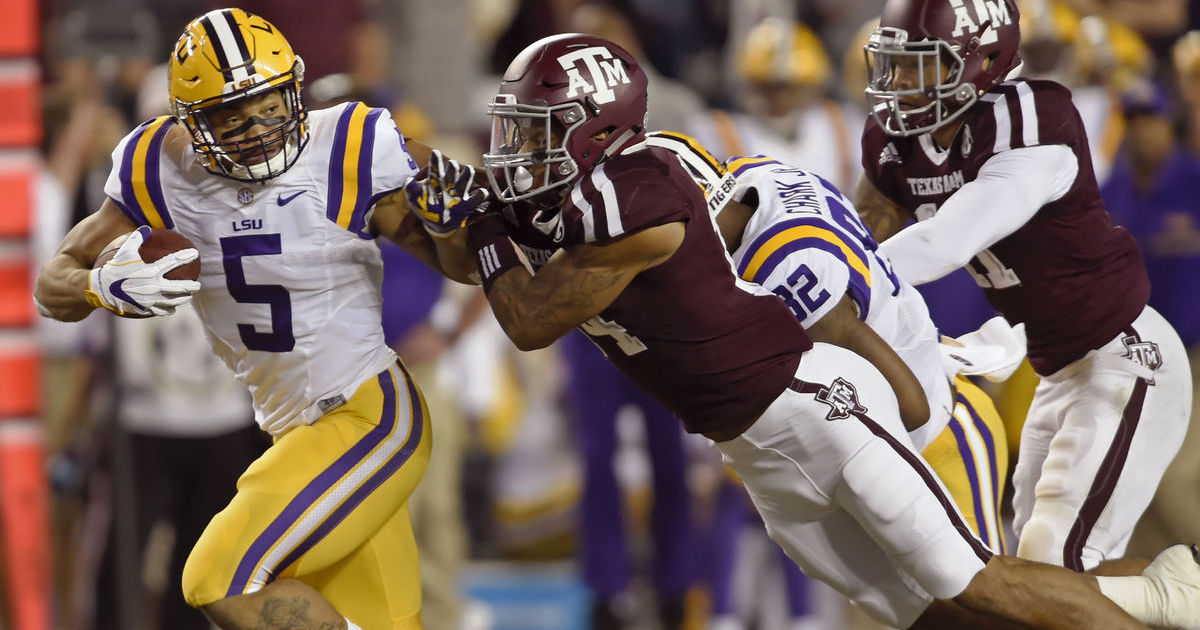 by Chris Paschal
Ed Orgeron is home. Remember that time when people were arguing that he should be named the head coach at Southern Cal? That wouldn't have felt right. A true cajun like Orgeron can only coach at one school, and that school is located in Baton Rouge.
I could basically write this preview in one sentence. It would go something like "LSU is uber-talented with what should be another solid defense and dynamic ground game, but they will go as far as the passing attack will take them." However, in the interest of being fair, and writing as much about LSU as I did about the other teams, I will dive into what should be a really good football team that has the potential to be great under new offensive coordinator Matt Canada.
Offense
Quarterback: I feel like in almost every preview I have written, I have said something along the lines of "this program will go as far as the quarterback will take them." But I didn't really mean it until now, because how LSU succeeds or fails will be determined by Danny Etling. Etling is a product of his environment. Under Les Miles, LSU did not have (or really try to have) a dynamic passing attack. Because of that, Etling has been described as a mediocre, run-of-the-mill, and at times, a bad quarterback. It is true that Etling only threw for 2,100 yards last year, and threw only 11 touchdowns.
However, lets give Etling the benefit of the doubt, and allow for him to show what he can do under new offensive coordinator, Matt Canada. Canada, formerly the offensive coordinator at Pittsburgh, has a lot more talent to work with in Baton Rouge, and if anybody can give this offense a shot in the arm, it is Canada. Further, Canada really only has one option at quarterback, and that is Etling. Canada knows that his first season will ride or die based on how Etling performs, so look for him to put Etling in good situations and for the  pass offense to improve.
Running Back: If a Heisman finalist was to come out of the SEC, it would be LSU running back Derrius Guice. Guice last season averaged over 7.5 yards per carry. It hurts my brain to even try and comprehend that. Basically every time Guice touched the ball, LSU gained 1/12 of a football field. Incredible. This season, Guice won't have to split carries with Leonard Fournette (129 carries). Guice will be the featured back, and I would not be surprised if he gained over 1,700 yards rushing. He can do it all. He has the size (5-10, 215), and strength to gain the tough yards, while also having the speed needed to rattle off runs of 61, 70, and 96 yards last season.
Spelling Guice will be Darrel Williams (6-1, 225) who rushed for over 200 yards last season, and ran in three touchdowns.
Wide Receiver/ Tight End: The talent is there. The question is, will the receiving corps be able to live up to its potential, and finally blossom under Canada's offense? These wide receivers are big: Drake Davis (6-4, 215), Stephen Sullivan (6-6, 230), and Dee Anderson (6-5, 205). They were all four star prospects in the 2016 recruiting cycle, and should be able to have breakout seasons this year. The Tigers have also decided to move 2017 five star signee JaCoby Stevens from safety to wide receiver. Stevens (6-1, 200) was one of the nation's top 20 prospects in this past year's recruiting cycle, and Stevens was quickly identified by scouts as not only a great defender, but a dynamic playmaker, as well.
But the go-to receiving in this year's pass offense will be D.J. Chark who was second on the team last season in receiving yards behind Malachi Drupre. Chark may not be as big as Davis, Anderson, or Sullivan, but at 6-3, 185 he still has the size needed to challenge defenses. As a senior he should be the unquestioned leader and producer at the position. Foster Moreau will man the tight end position. At his size (6-6, 260) he not only is a large target over the middle, but a valued run blocker, as well.
Offensive Line: Part of the reason why LSU has such dynamic rushing attacks is because this offensive line is year in and year out one of the best in the country. That won't be any different this year. There is a lot of young talent that can provide adequate depth up front, yet it's the upperclassman that I am excited about.
K.J. Malone will return as the veteran left tackle. Will Clapp (6-5, 310) will be asked to lead the Tiger offensive line at the center spot. Clapp has the talent to have a big season, and he should be extra motivated after missing last season due to injury. Guard Maea Teuhema has left the program, which does hurt a little bit, but LSU should have enough talent to not see a decrease in play at the position. Donavaughn Campbell (6-5, 345) could be a solid option at either guard position.
Defense
Defensive Line: Of course they are going to be filthy up front. It's LSU for crying out loud.
No team in the SEC has a better buck (a hybrid defensive end position) than LSU. Arden Key (6-6, 235) returns for his junior season after recording 12 sacks last season. Key has the talent to be a first round draft pick in the 2018 NFL Draft. However, after off-season shoulder surgery and missing the entire spring practices for "personal reasons," Key has a few question marks that cause some heartburn for the tiger faithful. Everyone knows what he is capable of. Now it's just a question of will he be able to do it.
The other three defensive linemen should be excellent. All three seniors, LSU has some monsters up front. Christian LeCouture (6-5, 300) will man one of the defensive end spots with Frank Herron (6-4, 305) manning the other defensive end spot. Both have NFL ability and size, and could have big seasons for LSU. At nose tackle is returning starter Greg Gilmore (6-4, 310). Reserves Rashard Lawrence, Ed Alexander, and Andre Anthony are all talented enough to start for most other SEC teams.
Linebacker: LSU did lose both Kendell Beckwith and Duke Riley to the NFL, but LSU still has plenty of skill at this position group. Both Devin White and Donnie Alexander will play at the inside linebacker position. Alexander (6-1, 210) is fast enough to make plays outside the hashes, while White (6-1, 250) is physical enough to be a presence in the interior run defense. Freshman Andre Anthony is big enough and fast enough to play both buck and outside linebacker for LSU.
Defensive Back: LSU and Florida are very similar programs. Both habitually lose a ton of defensive talent to the NFL only to reload with top end recruits. LSU, like Florida, was one of the nation's best pass defenses in 2016, but losing All-American Jamal Adams and Tre'Davious White to the NFL means the Tigers have to take a step back, right? Not necessarily.
At corner, LSU returns Donte Jackson and Kevin Toliver who both have what it takes to reach the next level, as well. Jackson led the team in interceptions in 2016. At safety, the Tigers have a pair of seniors who should have solid seasons, as well. John Battle and Ed Paris have been consistent contributors for this LSU secondary. And there is a whole lot of depth in the secondary, as well. Safeties Cameron Lewis and Eric Monroe could see significant playing time, as well.
Final Thoughts and Prediction
Biggest Strength: Whenever you have a legitimate Heisman Trophy candidate in your backfield it is almost impossible not to say the running back position. But this defensive line is pretty good, too.
Biggest Weakness: I hesitate to call it a weakness before allowing Matt Canada to show what he can do, but I would say the biggest unknown is going to be the passing game.
Biggest Game: at Florida, October 7. This is one of the most anticipated games in all of the SEC every year. If LSU can find a way to go into The Swamp and beat the Gators, then the November 4 showdown at Alabama could determine the winner of the SEC West.
Prediction: I think Louisiana State Tigers starts the season off 5-0 (wins over BYU, Chattanooga, Mississippi State, Syracuse, and Troy). They then go down to The Swamp and lose a defensive bloodbath against Florida. LSU then has to bounce back and beat Auburn. I think they are able to do that because the game will be in Baton Rouge, and the defensive line will neutralize the Auburn rushing attack. They then will go to Oxford and beat a pretty good Ole Miss offense in what will be a good test for LSU. The Tigers will then have a bye week in preparation for Alabama. They'll give Bama a run for their money (like they always do), but will ultimately fall short. LSU will go on to beat Arkansas at home, beat an inferior Tennessee team in Knoxville, and deliver A&M its annual butt kicking to finish the season. Would not be shocked if somewhere along the way, LSU drops another game in SEC play, especially on the road at Mississippi State, Ole Miss or Tennessee.
Final Record: 10-2 (6-2 in SEC)
(Featured image from The Advocate )