2017 Season Preview: Alabama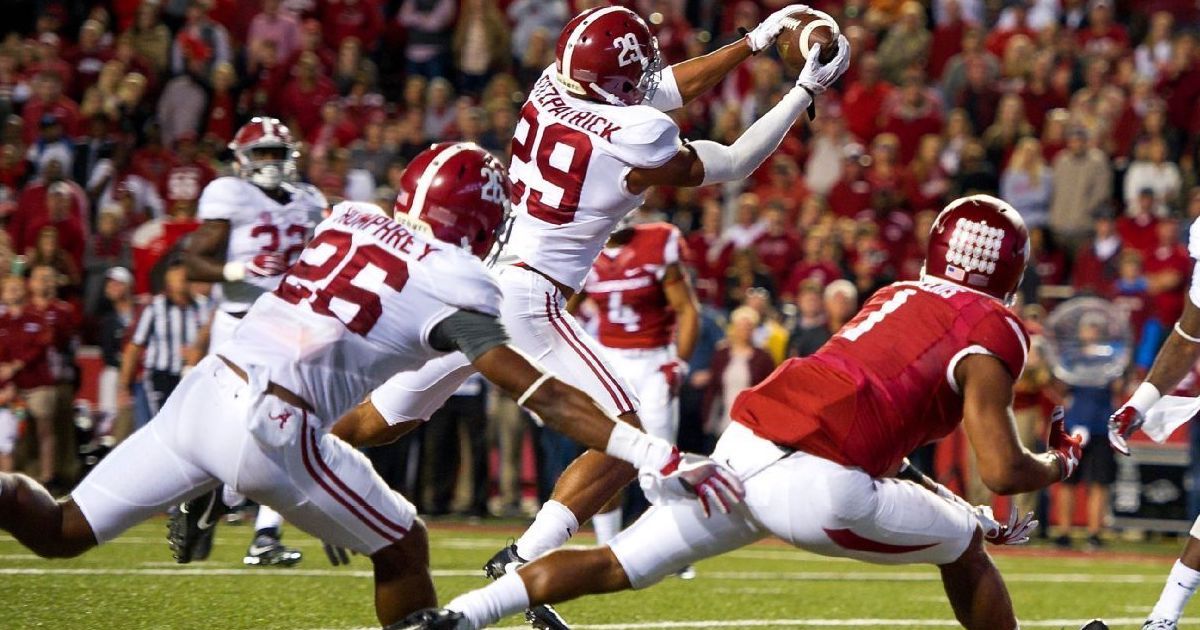 by Chris Paschal
The Alabama train will continue to roll this fall after yet another successful season in 2016. Alabama returns enough pieces for the Crimson Tide to be favored in most, if not all, the games they play this season. At pre-season number one in the nation, they seem to show no indication of slowing down in its dominance of the SEC. To be honest, this will be the most straightforward preview I write, because there is no nuance. There is no drama. There is no hidden gem to shed light. Bama is going to be really good at every position… once again.
Offense
Quarterback: Okay, I might have lied. There will be a little bit of drama in this preview, but what is Alabama football without a little drama and a little intrigue. All Jalen Hurts did last season was win 14 games, an SEC Title, and SEC Offensive Player of the Year. So naturally, talk in Tuscaloosa is that Hurts could be benched in favor of the new guy, Tua Tagovailoa, if he doesn't perform well against Florida State.
Last season, Hurts had a phenomenal year. Especially for a true freshman in the SEC West. But when push came to shove, he did show signs of immaturity, which is to be expected. But don't think for one second that Hurts is going to be the same quarterback that he was last year. He will be better. Hurts now knows what to expect, and on top of that, he has someone challenging him every step of the way.
Running Back: Remember TJ Yeldon and Eddie Lacy? How about Mark Ingram coupled with Trent Richardson? Remember when a young Mark Ingram would spell for Glen Coffee?  All of that pales in comparison to what Alabama has now. Damien Harris (1,037 yards rushing) is back. Bo Scarbrough (11 rushing touchdowns) is back. Josh Jacobs (567 yards rushing, averaged 6.7 yards per carry) is back. Najee Harris (6-3, 225) was the top running back prospect in the 2017 recruiting cycle. What did he do? Harris signed with Alabama. This position group will be stacked. Oh, and the cherry on top, Hurts rushed for over 950 yards last season.
Wide Receiver/Tight End: Of all the position groups, the receiving corps may have the most questions. Calvin Ridley returns for his junior season, but it feels like almost everyone else is gone. Ardarius Stewart, O.J. Howard, and Gehrig Dieter are all missing from last season's passing attack. Among the three of them, they accounted for 15 of the 23 passing touchdowns Hurts threw last year. Of course, though, this is Alabama, and they have reloaded at the position. Cam Sims and Robert Foster, both blue-chip guys, finally get their shot as seniors.
There isn't a clear cut favorite to take over for OJ Howard at the tight end position. Howard was somewhat unappreciated during his time at Alabama, and Crimson Tide fans will quickly realize how important he was in the pass offense (even when he wasn't having the ball thrown to him). Howard could open up the field for not only himself, but other receivers, as well.
Offensive Line: This will be the strength of Alabama's offense this season. Losing offensive tackled Cam Robinson is not as big of a deal when you have Matt Womack, Scott Lashley, Jonah Williams, and Alex Leatherwood all on the roster this season. All are capable of playing the tackle position in the SEC. The interior portions of the line are impressive with Lester Cotton, Bradley Bozeman, and Ross Pierschbacher all returning. Both Deonte Brown and Dallas Warmack are great options at the guard position, as well.
Defense
Defensive Line: Same song different verse when it comes to the defensive line. Alabama did lose Jonathan Allen and Dalvin Tomlinson up front, but they bring back Da'Ron Payne (6-2, 310) at nose tackle, which basically ensures that Alabama will have a solid run defense in and of itself. Da'Shawn Hand was poised to have a breakout year in his senior season, but a DUI arrest may distract him from football. While Nick Saban did say that a suspension would not be issued in his punishment, you never know what kind of impact something of that magnitude will have on a player. Look for freshman LaBryan Ray and JUCO transfer Isaiah Buggs to get some playing time at defensive end, as well.
Linebacker: Like the defensive line, the linebacker position saw a bunch of veterans leave  for the NFL (Reuben Foster, Tim Williams, Ryan Anderson), but Alabama has more than enough skill to field a competitive unit. Rashaan Evans and Shaun Dion Hamilton man the middle this season, with special teams warrior Keith Holcombe providing depth. According to early reports, freshman phenom Dylan Moses is good enough to play both inside and outside. On the outside, look for Anfernee Jennings to also have a nice season.
Out of the entire roster, the outside linebacker position may be the one with the most concerns and unknowns. But knowing Bama we can expect multiple players to step up, and perform well this season.
Defensive Back: A bunch of talent returns in the secondary, including one of the best defensive players in the entire country, Minkah Fitzpatrick. He is versatile enough to play corner or safety, and with his size he is every offensive coordinator's nightmare. Fitzpatrick is very opportunistic, as well, recording six interceptions last season. Anthony Averett and nickel back Tony Brown are also great options at cornerback.
Ronnie Harrison returns at safety. Harrison was second on the team in tackles made last season. Senior Hootie Jones also provides depth at the safety position. Most of these guys are over six feet tall. Big, long, athletic defensive backs are always good to have in the SEC. Look for Alabama to remain a solid pass defense this season, even though the Tide loses Eddie Jackson and Marlon Humphrey.
Final Thoughts and Prediction
Biggest Weakness: There has been a lot of turnover at the offensive coordinator position. First, there was the debacle with Lane Kiffin at the end of last season. Then Sarkisian left to coach with the Atlanta Falcons. Now Alabama turns to Brian Daboll. In his first season, look for Daboll to simplify things and implement more of a Pro style offense.
Biggest Strength: Depth. Alabama is deep at every position, and that is not by coincidence. Alabama likes to reload instead of rebuild. Saban is able to happen because Alabama consistently has one of the best, if not the best, recruiting classes year in and year out.
Biggest Game: at Auburn. This year's Iron Bowl could decide who makes it to Atlanta. The game is at Auburn, and if Alabama slips up somewhere else on the schedule, Alabama could miss the Playoffs for the first time.
Prediction: Alabama goes undefeated in regular season play. However, that does not mean that I think they won't be tested. Florida State has as good a shot as anyone in the SEC to defeat the Tide, LSU always plays Bama close, and Auburn has the type of roster needed to contend with Bama. However, until the king is dethroned, and until the Tide looks human, it is tough not to have them winning every game they play in.
Final Record: 12-0 (8-0 in the SEC)
(Featured Image from USA Today )