LSU: 2016 Preseason Preview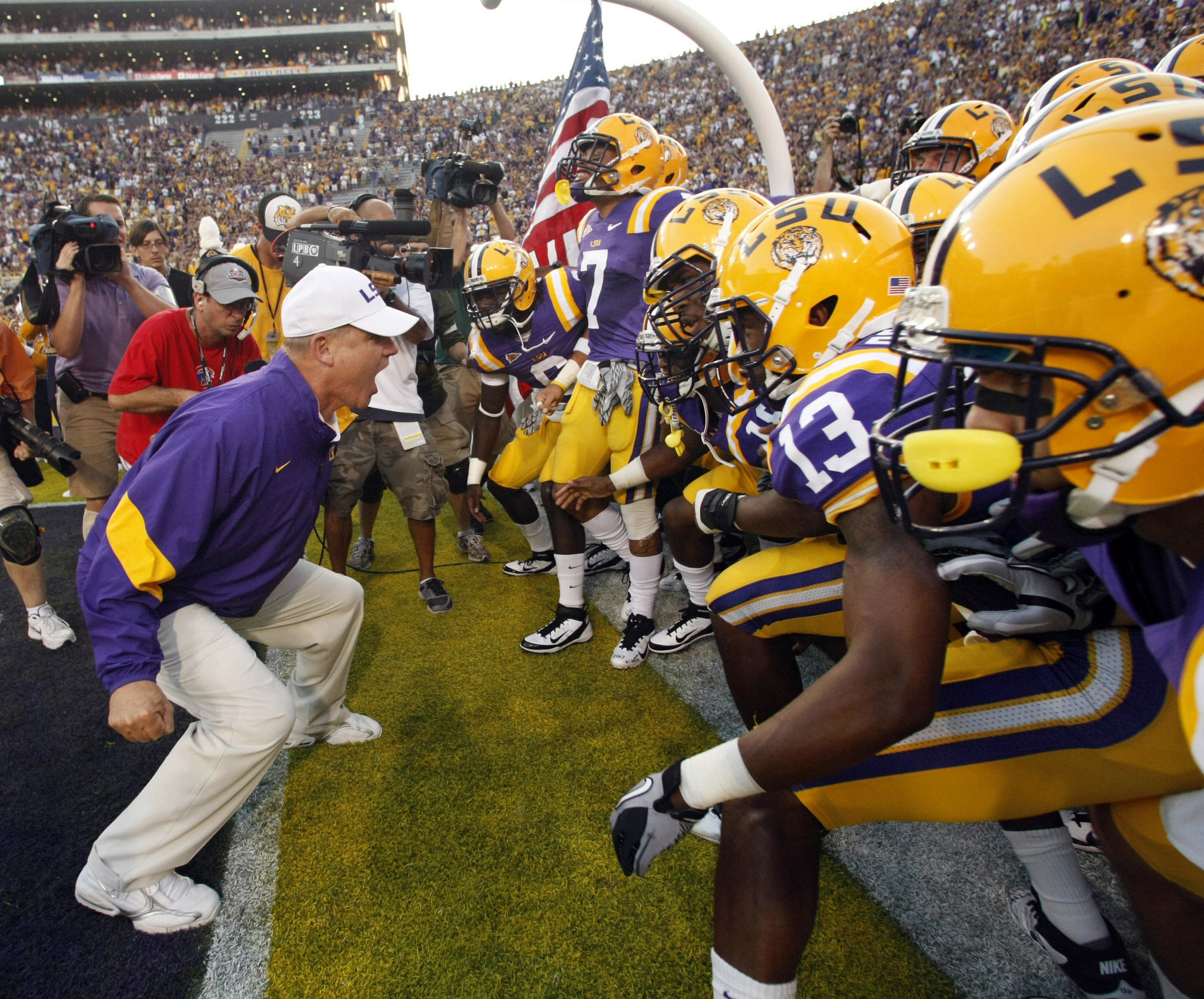 Preseason Preview: LSU
by Brendan Paschal
This season might be one for the ages, Tiger fans. Nobody has a better shot at taking down the reigning champs than LSU.
A year ago, Les Miles' job was threatened when the Tigers lost three games in a row to Arkansas, Ole Miss, and Alabama. LSU tried to lure Jimbo Fisher away from Florida State, but fortunately for LSU he decided to stay in Tallahassee. I say fortunately, because if anyone can take this Tigers team to the SEC Championship it's Les Miles (with the help of Leonard Fournette). The team believes in him and they will be playing for his job. 
LSU's Record: 11-1 (7-1)
The Tigers have returning starters in more positions than not. The defense lost one key contributor from last year's team, while the offense lost a pair of offensive linemen. Everybody else returns. Even though LSU slipped last year in their three biggest games, it is nearly impossible to beat Alabama, Arkansas, and Ole Miss back to back to back. But to lose to all three is a different story. Les Miles did not have the experience or depth needed to defeat physical, athletic teams. However, this season the Tigers should have a team that is loaded with talent, maturity, and depth that should give any team in the West concern. Any team, but Alabama. I think LSU still has a shot to make the College Football Playoff with one loss, but I have to see this LSU team get over the hump and defeat the Crimson Tide before I predict a Tiger victory over Alabama. 
LSU's Biggest Strengths 
1. Defensive Line: The big men are back and ready for more. Even though LSU is switching to a 3-4 scheme this year the defensive line won't skip a beat. Lewis Neal and Arden Key are both athletic enough to occasionally take their hand out of the dirt and play in a more linebacker position. Both Neal and Key can come off the edge and disrupt plays in the backfield in both run defense and pass rush. Christian LaCouture (who just suffered a preseason injury) and Davon Godchaux will have to clog up the middle, which will be challenging against their biggest opponents such as Arkansas and Alabama. Without LaCouture, LSU's depth could be tested, but as expected, Miles brought in a 2016 recruiting class full of defensive line talent. All six of the defensive linemen signed are from Louisiana and they are all very talented. 
 2. Running Backs: Leonard Fournette was breaking records last year. He did it all. SEC Records were accomplished. LSU Records were smashed. Heck, Fournette was the first Amish football player in LSU history. He was a Heisman contender last year, but seemed to have run into a wall against the Tide. With 300 rushing attempts last season it is unbelievable that Fournette remained healthy the entire season. In order for the Tigers to have a successful run game this year, sophomore Derrius Guice will have to step up and take more than 50 handoffs like he did in 2015. 
3. Secondary: LSU has a history of talented defensive backs and this year is no different. Tre'Davious White returns for his senior season with the honors of wearing number 18 for the second year in a row. Dwayne Thomas, Ed Paris and Kevin Toliver will also make life a living hell for quarterbacks. Rickey Jefferson and Jamal Adams' presence on the field will keep receivers' focused on not getting hit rather than catching the ball. Adams is a difference maker within this Tigers' defense. He hits hard, he has a knack for finding the football, and last year he was named second team All-SEC. This year, he is poised to not only be named All-SEC, but All-American. 
Biggest Concerns  
1. Linebackers:   Although Kendell Beckwith (right) is a linebacker with knowledge of the game and has the athleticism to match it, there is no other returning starter. LSU lost their leading tackler Deion Jones, whose 13.5 tackles for loss were added to his 100 total tackles for the year. Moving to a 3-4 defense could be quite a challenge with just 1 returning starter in the linebacker position. Devin White gives Tiger fans hope though. White is an early enrollee who initially was recruited as a running back, but who quickly made the switch to linebacker and could add the much needed depth. According to new Defensive Coordinator Dave Aranda, this position group was impressive during the spring. However, it is still to be seen if that translates to Saturdays in the Fall. 
2. Quarterback: Yes, Les Miles has a starting quarterback in Brandon Harris. Although LSU does not have to worry about who will start week 1, they do have to worry about his production. Harris has some of the most athletic receivers in the SEC to throw to, yet the Tigers relied heavily on Fournette to produce yards. Fournette ran for almost as many yards as Harris threw for. He also had 22 rushing touchdowns compared to Harris's 13 passing touchdowns. With their opponents focused on stopping Fournette the Tigers are going to have to attack through the air, and if Harris can't step up LSU might lose big games.
Biggest Losses:
Anthony Jennings – QB

Vadal Alexander – LG/RT

Deion Jones – LB   

 
Impact Players
Leonard Fournette – RB

Tre'Davious White – CB/PR

Malachi Dupre – WR

Lewis Neal/Arden Key – DE

Jamal Adams – S
Biggest Game of the Year: Alabama
LSU learned from their scheduling mistake last year and put their buy week in between Ole Miss and Alabama. The Tigers now have a week off to recuperate from what should be a tough game against the Rebels and come out fresh against the Tide. Both LSU and Alabama could be undefeated going into this game, which could decide who makes a trip to Atlanta as victors of the West.
(LSU Football http://hdwallpaperg.com/lsu-football-hd-wallpapers/lsu-tigers-baseball/)
(LSU Football http://hdwallpaperg.com/lsu-football-hd-wallpapers/lsu-tigers-baseball/)
(http://www.cbssports.com/college-football/news/after-lsu-players-carry-les-miles-off-field-ad-tells-coach-he-will-return/)