Arkansas: 2016 Preseason Preview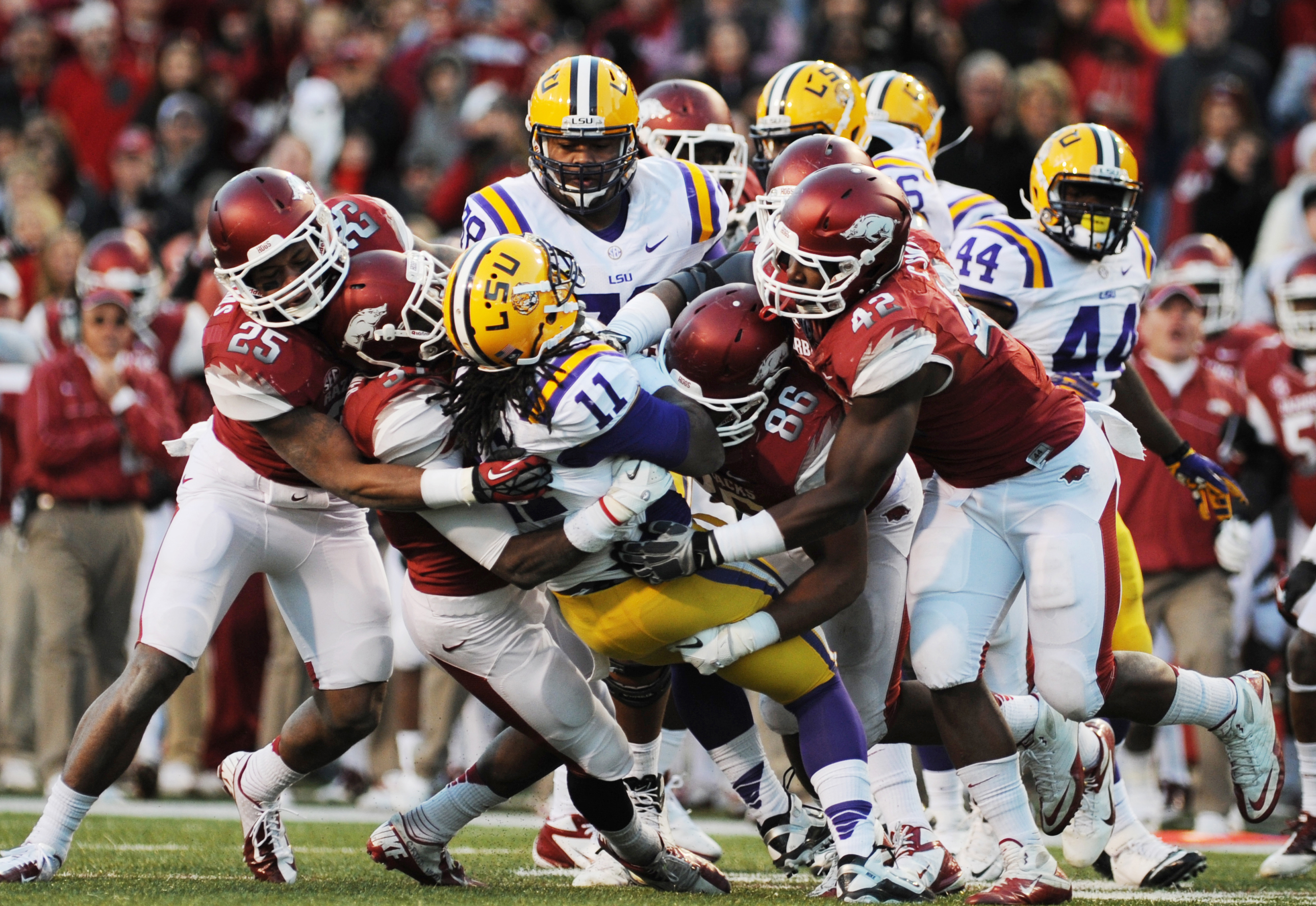 By Chris Paschal 
Don't sleep on Arkansas this year. While the Razorbacks have lost a lot of talent on the offensive side of the ball there is still hope.
Everyone knows that in order to win in the SEC West you need to be able to run the ball, play great defense, and have a favorable schedule. Arkansas checks all of those boxes. 
Arkansas' Record: 9-3 (5-3) 
Kirk Herbstreit just recently picked TCU to be his fourth team to make the College Football Playoff. Unfortunately, TCU will be out of contention pretty early in the season after they lose to Arkansas in Week 2. While TCU is good, they must replace almost all of their offense, including all but one of their starting offensive linemen, and their quarterback Trevone Boykin. TCU will not be ready for the Razorback's defense, which should be pretty stout up front and much improved in the secondary. Arkansas is going to be pretty dang good this year. I hesitate predicting three conference losses, especially with Alabama, LSU, Ole Miss all at home. However, a new quarterback and missing pieces on the offensive line could be too much for Arkansas to overcome in key SEC West battles. 
Hogs' Biggest Strengths:
1. Defensive Line: Up front on the defensive line, Arkansas returns four big, physical linemen in Tevin Beanum, Jeremiah Ledbetter, Taiwan Johnson, and Deatrich Wise, Jr. All four are very talented, but Wise is the difference maker. Wise finished the 2015 season with 8 sacks, 7 of which came in the final four games of the season. They are the most underrated line in the conference. While they are not getting the preseason hype that Alabama, LSU, Ole Miss, and Florida are receiving, I am just as excited for this position group because of their depth. At nose guard, Taiwan Johnson is backed up by 335 pound Bijhon Jackson, and at end, JaMichael Winston and McTelvin Agim (2016 5 star recruit from Texas) should be solid. Look for redshirt freshman defensive tackle TJ Smith to make some disruptive plays. A former defensive end, Smith, 285 pounds, has the quickness to make plays in the backfield and could find playing time on the field. 
2. Receiving Corps: Arkansas is absolutely loaded at the Wide Receiver position, and has reloaded at the Tight End Position. One threat in the passing game is 6'2″ 210 pound Keon Hatcher who is returning from injury, but who has proven to be a great option in the passing game. Before the injury, Hatcher had a reception resulting in a first down in 19 consecutive games. Then there is Drew Morgan. The Arkansas native had a monster season last year and was placed on the 2016 Biletnikoff Award Watch List. The Razorbacks also have depth at the position with Dominique Reed and Jared Cornelius returning from successful campaigns last year. Throw in a talented Tight End position with senior Jeremy Sprinkle and freshman CJ O'Grady, and Will Gragg and Arkansas has plenty of weapons in the passing game. 
Biggest Weaknesses:
1. Quarterback:  There have been quarterback battles all throughout the SEC. Alabama, Auburn, Georgia, South Carolina, Florida, and Vanderbilt have all had to struggle over the question of who will be the Week 1 starter. Arkansas does not really have that problem. They have decided to keep it in the family with Austin Allen replacing his older brother Brandon Allen. While I do not think Arkansas will see a drop in production at quarterback, I think there will be more mistakes. In other words, Austin may throw for as many touchdowns and passing yards as his brother, but he is also going to throw a lot more interceptions. Razorback's head coach Bret Bielema has said himself that Austin Allen is a risk-taking, gun-slinging, Riverboat Gambler. I fear in big games against the best in the West, Allen may be a little too ambitious and could hurt the Hogs in close losses. 
2. Top Tier Talent: Arkansas is experienced on the defensive side of the ball and they are explosive at Wide Receiver. They have a solid backfield in Kody Walker and Rawleigh Williams, and their offensive line is good enough to not lose games. My biggest fear for Arkansas is that position by position, player for player,  and athlete for athlete, they are not good enough to beat Alabama, LSU, Ole Miss, and survive the season without a few bonehead losses. Does Arkansas have the depth at every position and have the caliber of athlete throughout the roster to beat an LSU and then the next week beat a Mississippi State. Last year, I did not see a team that could consistently hang week in and week out. Heck, Arkansas lost to Toledo last year. They lost at home to Texas Tech, a 10.5 point underdog. They lost to Texas A&M in overtime. They lost another slugfest with Alabama. Does Arkansas have what it takes to win consistently in the SEC? I think they are still a few years away from battling for SEC West Titles. 
Key Losses: 
Brandon Allen – QB

Hunter Henry – TE

Denver Kirkland – OL

Sebastian Tretola – OL

Alex Collins – RB
Impact Players
: 
Brooks Ellis – LB

Deatrich Wise, Jr. – DE

Jeremiah Ledbetter – DL

Dan Skipper – OT

Kody Walker – RB
Biggest Game: Texas A&M 
Arkansas has not beaten Texas A&M since 2011. If Arkansas is to take the next step in their ascension in the SEC West, then Arkansas has to beat its old Southwest Conference Rival. Arkasnas will be 3-0 at this point, including an impressive road win at TCU. A win in Cowboy Stadium against A&M to start 4-0 would be huge for Arkasnas' confidence and positioning in the West. 
(http://bookieblitz.com/2013-college-football-week-14-predictions-arkansas-razorbacks-vs-lsu-tigers/)
(http://www.wholehogsports.com/news/2014/sep/07/hogs-get-boost-blowout/)