Who Needs To Go: 2017 SEC Coaching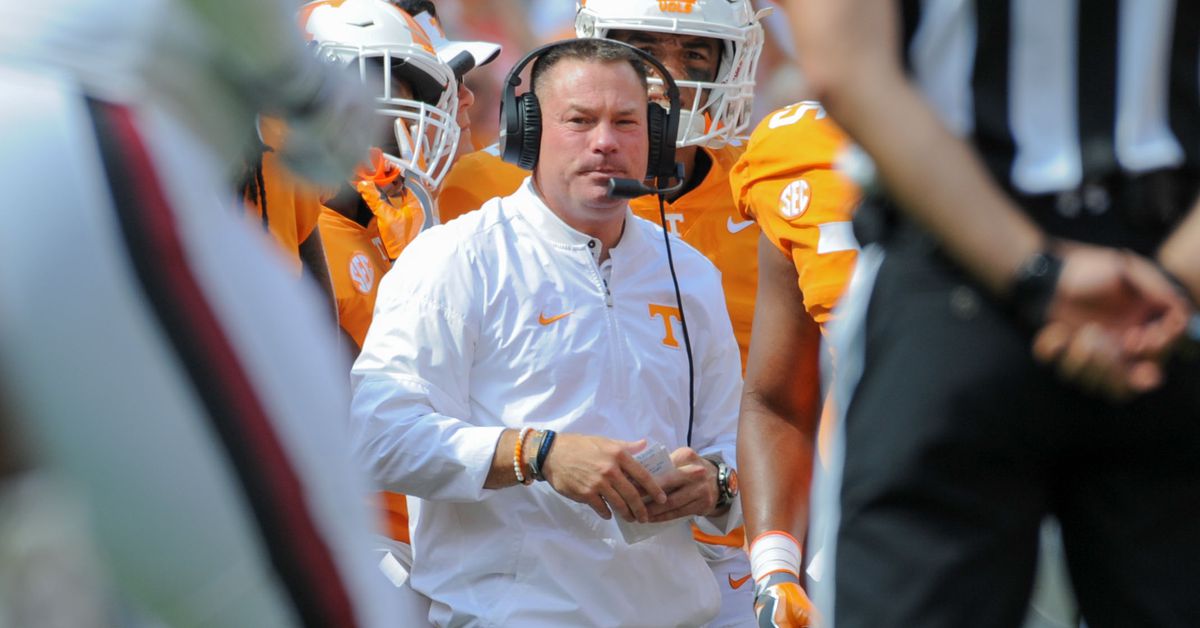 by Chris Paschal
I feel about as bad writing this post as a Los Angeles hipster would feel assuming someone's gender. For the record, I identify as a male except for when it's time for Thanksgiving dinner, because "Ladies First" just doesn't cut it when I'm looking at the Sweet Potato Casserole, but I digress. The reason I feel so bad writing this post is because you never want to call for somebody to lose their job. I mean, this is their livelihood. Of course, I would feel worse if I were calling for a 24 year-old to lose their job as a Starbucks Barista in New York City after graduating with a 2.7 grade point average from a technical college in Iowa, but still, you never want to see somebody get fired. That being said there are some coaches in the SEC that need to lose their job. All 14 coaches were put into three categories: Doing Just Fine, Jury is Still Out, Pack Your Things.
Doing Just Fine (2): 
Nick Saban (Alabama): No explanation needed.
Dan Mullen (Mississippi State): The reason Mullen makes this list is not because of his absurd amount of wins, his championship victories, or even his top 25 finishes, because frankly, if it was solely based on that, Mullen would be a bit lower on my list. Why he is on this list is because he is surviving and remaining relevent in STARK-freaking-VILLE, Mississippi. He is the second all-time winningest coach in the history of the junior Bulldogs playing football and he does it in the toughest division in college football.
Jury is Still Out (7): 
Kirby Smart (Georgia): If Kirby finishes this season with a birth in the SEC Championship, wins over Auburn and Florida, and competes in the post-season, then Smart ascends to the "Doing Just Fine" category. Yes, Georgia is undefeated late in the season, number three in the country, and in position to possibly make the College Football Playoff, but Bulldog fans will tell you first that it was never the beginning of the season that hurt their pride under Mark Richt, but instead the heart of the SEC schedule that had them ripping their teeth out of their mouth. Richt was fired because of three reasons: Florida, Steve Spurrier, and Alabama. One of those three always seemed to spoil something good for the Dawgs. Let's see how Smart does in year two before handing down a verdict.
Gus Malzhan (Auburn): The Tiger Faithful were not happy this time last week after Auburn lost in historic fashion to LSU. Yes, they are 5-2 and both of their losses were by slim margins, but if Auburn loses to Georgia and Alabama, we are looking at four straight seasons of mediocre football under Malzhan. Does he get another season? Does he somehow find a way to upset either the Bulldogs or the Tide (or both)? A lot of questions still need to be answered.
Will Muschamp (South Carolina): Kind of similar to Kirby Smart. Yes, the Gamecocks are looking good in year two under Coach Boom with a 5-2 record coming off a bye week heading into the end of the season. But there is still a lot of football and recruiting left to do. If Muschamp finishes the season with eight or nine wins, then wins the bowl game, and signs an impressive recruiting class in February (that must have Tindall, Sandidge, and Wonnum in it), then Muschamp is "Doing Just Fine." If, however, the Gamecocks finish the season 6-7 and lose out on those three recruits, then Muschamp is in for an interesting year three.
Mark Stoops (Kentucky): Wildcat fans are expecting eight wins. If Stoops can't come through with those expectations, then he is in a lot of trouble. This one is the most obvious for me. Stoops didn't get a monster contract extension to lose 45-7 to Mississippi State.
Derek Mason (Vanderbilt): Vandy is just so dang mediocre it hurts. However, mediocre is better than horrific, and Mason seems to have gotten the Commodores to that point. They'll keep him another year unless pictures turn up of him… actually, I'm not even going there.
Kevin Sumlin (Texas A&M): I thought there was a chance he was going to be fired getting off the plane in College Station after the UCLA debacle. But since then, his team has been playing decent football. It's all about how the Aggies finish the season. He needs nine regular season wins to keep his job.
Ed Orgeron (LSU): I love how people not from Louisiana (including me) were so quick to jump all over Coach O when things weren't going well in Baton Rouge. Losing to Troy stinks, but Nick Saban lost to UL-Monroe in his first year in Tuscaloosa. 2017 Troy is better than 2007 UL-Monroe. So this begs the question, why are so many people against Coach O? It's simple, he doesn't sound like the rest of us. I seriously think that if Orgeron sounded like Saban or Meyer or really any other football coach he would have been hired at Southern Cal (glad he wasn't, but still).
I wrote a couple of weeks ago that Coach O has a few Blue Chip recruits that are heavily leaning towards LSU. I also said that if he beat Florida or Auburn, he could save his job. I think Orgeron competes with Bama, beats the snot out of UT and Arkansas, and beats the Aggies. Nine wins ain't too shabby.
Pack Your Things (5): 
Barry Odom (Missouri): It won't be at the end of this year, but whoever was taking over for Gary Pinkel was going to lose their jobs three years into things. This is year two, but Missouri is not good enough for Odom to save his job.
Matt Luke (Ole Miss): He never really had a shot. Ole Miss needs to find the right choice… not the sexy choice. A lot of names flying around, but I think my favorites are Larry Fedora, Mike Leach, Les Miles, and Mike Bob.
Jim McElwain (Florida): This may be surprising, especially since the Gators have won the East in his first two seasons, but I think there is a chance Florida finishes this season 5-6 with one of the worst offenses in the SEC. He won games with Will Muschamp's defenses, but now that his guys are in there it hasn't been going too well. Plus, Florida won the East when it has been at its worst. Gator fans aren't stupid, they knew those teams (offenses) weren't good. He was supposed to be the offensive guru, but it looks like he is an offensive liability. If Florida loses to Georgia, South Carolina, and Florida State to close the season, he may be out. (Disclaimer: it would be a very Florida thing to do to win out, ruin Georgia's season, and somehow find a way to win the East).
Butch Jones (Tennessee): How is he still the coach? Champions of Life, Leadership Reps, Brick by Brick, the microphone at practice, the whole thing just ticks me off to be honest. He's the Ron Zook/Mike Shula/Gerry Faust of Tennessee. They just need to find their Urban Meyer/Nick Saban/Lou Holtz.
Bret Bielema (Arkansas): I think the big guy gets canned just because of his record. That doesn't mean that I think he deserves to be fired. I think expectations at Arkansas are outrageously unrealistic. This isn't the old Southwest Conference. This is the SEC West. It's hard to convince recruits in other SEC states to travel all the way out to Fayetteville. Arkansas needs to proceed with caution.
(Featured Image from USA Today )