What We Learned From SEC Media Days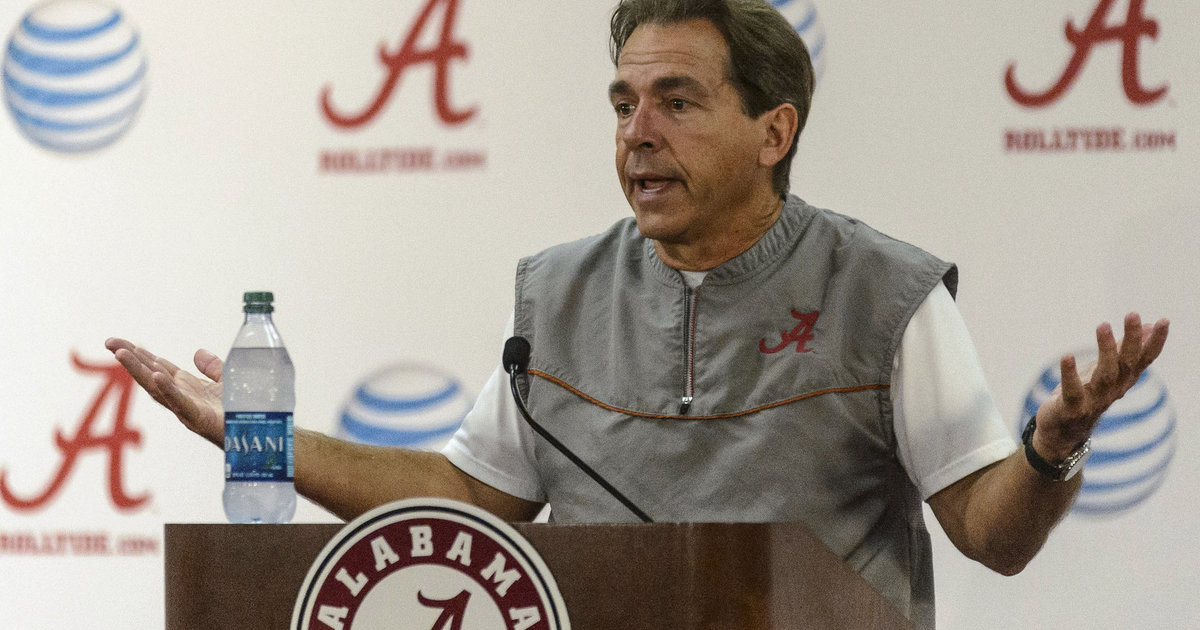 by Chris Paschal
What did we learn from Media Days? Not much. But that was not a surprise. You never really learn much from Media Days. I think most SEC football enthusiasts go into SEC Media Days thinking their coach is going to let their guard down and start dishing out insider information.
That secretly he has a walk-on defensive end that is the next Jadeveon Clowney, that he found a secret offensive play that scores a touchdown every time it is called, and that he knows for sure the Tigers/Bulldogs/Aggies will win the SEC Championship this year.
But that's not what happens at all. In fact, besides an occasional injury update, there really isn't anything that is said that can shed some light on a situation that you didn't already know. Ask a coach how a position battle is going, he's going to tell you both young men are a joy to coach. Ask a coach what he thinks of a player, he's going to say things like "real team player" or "the kid does everything we ask him to do."
I was laughing my butt off at one of the questions a reporter asked Jim McElwain (Florida's Head Coach) about adding Malik Zaire to their roster. He basically asked how are you going to be able to use Malik Zaire in your offense.
But before he asked that question, he prefaced his question by listing all the wonderful attributes Zaire had as an athlete and quarterback and how talented he was. McElwain's response: you try and play to a guy's strengths. WHAT WERE YOU EXPECTING HIM TO SAY?! You knew the answer before you even asked it.
That's when it struck me. SEC Media Days are not about the coaches. They're not about the players. They're not about learning about rule changes or getting graduation updates from the commissioner. SEC Media Days are all about… the media. Shocker, I know. But 99% of the questions the media ask are not really to better enlighten the fans on how their favorite SEC team or coach thinks. Most of the questions asked by the media are basically answered before they even ask them in the brief introduction made by every coach before they field questions. How many times do we have to ask Will Muschamp "what have you learned from your failures at Florida"? How many times do we have ask Derek Mason "what are expectations like at Vanderbilt"?
The media doesn't really care what the coaches say. Except for Spurrier, no coach is going to ever be spewing off bulletin board material every other sentence.
What the media really cares about is being able to say what they think. Most of the media guys don't even ask a single question the whole week. Out of the hundreds of media members in attendance, the same ten dudes stand up and ask the same questions. The media doesn't care what the coaches have to say. What they care about is their own thoughts, their own predictions, and their own prognostications. As a fan, what you learn from SEC Media Days is not what the coaches or players think, but what the media thinks.
You learn all sorts of things from the media during SEC Media days. From where each team will finish in the conference, to who will with the 2017 SEC Title, to who the best players are. You learn which coaches they think are on the hot seat, you learn who they think the sleepers are, you learn about players they think are dark-horse contenders for the Hesiman.
You don't have Nick Saban giving an answer like "you know that Jalen Hurts kid we have at quarterback has a shot at being an NFL Draft pick." You don't have Butch Jones saying "if I don't win ten games this year I deserve to be fired." But the media tells you that kind of stuff every chance they get.
So since we have established we learned more from the media this past week than from the coaches and players, here are three things the media wants us to know:
1. Hugh Freeze is screwed. I feel bad writing that because I think he is a good guy, and the type of guy I would love to play for, but this is the second year in a row where he fielded more questions about scandal and sanctions than football. Further, the media thinks Ole Miss will finish dead last in the West.

2. LSU has the best player in the SEC in Derrius Guice. The media loves everything about him. Some loved his style of play and some loved his style of fashion, but they all definitely love his style. He received 223 All-SEC votes by the media and was named First Team All-SEC.

3. Alabama will definitely win another SEC Championship, but after that nobody is really sure who is going to emerge. Bruce Feldman of Fox Sports said the Gamecocks are his sleeper pick in the East. Auburn got some love with much of the media thinking the Tigers have a shot to challenge the Tide. Heck, thirteen members of the media even predicted Auburn would win the West. And if we are talking about media members making bold predictions, one member of the media gave a first place vote to Vanderbilt. That's right, some member of the media thinks Vanderbilt will win the SEC. It's basically Alabama and everybody else, but arranging the everybody else is up in the air.
(Featured image provided by: 12up.com)