Week 9 in the SEC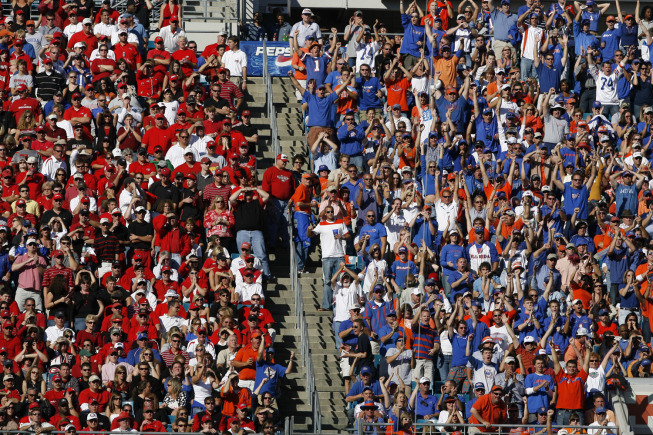 Pep Brown slowly sipped on his Dr. Pepper as he stared at the TV screen. "This is unbelievable," he said. Pep is one of my good friends from Georgia. He is a huge Georgia football fan. "I just don't get it," he continued, "this is embarrassing." I don't get it either, my friend. Last week, I made a huge predicition. Georgia was going to beat the Gators in Jacksonville. Instead Florida whipped the Dawgs. It was never even close. Brendan reminded me that to the victor go the spoils. I fear for what that means.
For the first time in his tenure at Georgia, Mark Richt is on the hot seat. Before, disgruntled fans would opine about how Georgia would win National Titles with a different coach. But, now there are actual reports that Georgia is starting to look in another direction. Georgia has a very loyal and passionate fan base, but their patience is running out. I wrote at the beginning of this year that Georgia would not win the East because they had a tough schedule, and that has turned out to be partially true, but the other ingredient in this mediocre season has been the offense. Fans were excited about Greyson Lambert at the start of the season, but at the end of the day he is still a quarterback that could not get it done at Virginia. What made us think he could do it against Alabama and Tennessee?
And the experiment on Saturday was a debacle. Starting Faton Bauta for the first time as a Bulldog against the Mighty Gators with the divisional crown on the line was not the best move, in my opinion.
Elsewhere in the SEC, Tennessee finally looks like it has put all the pieces together needed to compete in the SEC, even if it was against Kentucky. South Carolina looks to have improved, or the more likely occurrence is that A&M has started its traditional death march to the end of the year. The Ole Miss/Auburn game was about what Brendan and I expected. We don't think Auburn is really that bad and that some SEC West games, no matter who is playing who, are just tight, hard fought battles.
Vanderbilt gives me heartburn.
Clemson, yet again, proved that this may be a different breed of Tiger football players. They survived an upset bid against their rivals in Raleigh. NC State played a good game, but at the end of the day, Clemson was going to make sure it did not slip up before the Florida State game. This weekend will be huge. Most of the time, these types of games make me worried for Clemson. I normally would feel this relentless, unending doom that Clemson was going to, yet again, lose a shot at winning the ACC and National Title. But, for some reason, I do not feel that this weekend. Which is exactly what Florida State wants. I will be anxious and excited to watch this game.
See y'all on Thursday. I can guarantee you I won't be wearing a Georgia shirt.