Week 8: Why Bama is Bad for the SEC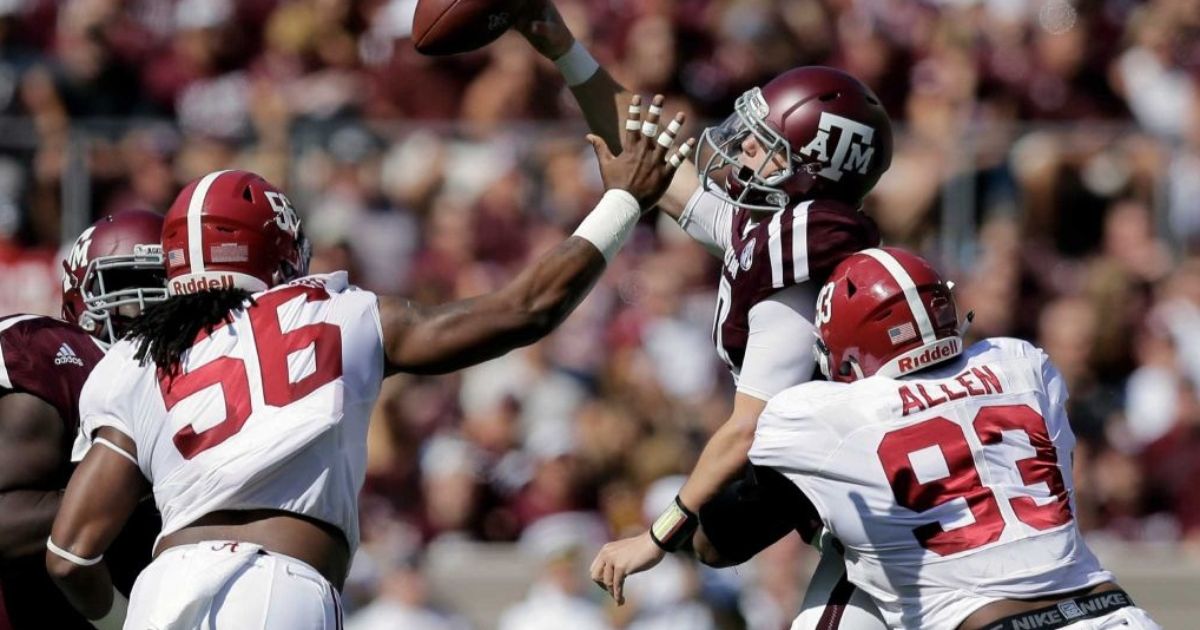 Why Alabama is Bad for the SEC
by Brendan Paschal
Don't get me wrong, the Alabama football program has done amazing things for their school, state, and college football overall. However, the Alabama Crimson Tide has gotten too good for their own good. Nick Saban has created a dynasty that could very well cripple the SEC. Disagree? Let's look at this past week in the SEC to support this argument.
Alabama vs Texas A&M 
Both the Tide and the Aggies were undefeated in this game. Before the game Texas A&M seemed to have the best chance out of anyone in the SEC to beat Alabama. They looked like they had a fighting chance, going into halftime only down 13-7. Yet Alabama was too big, too physical, too athletic, too deep within their depth chart for Texas A&M to even stand a chance. True freshman, Mack Wilson is a prime example of this. A former five-star recruit, who would more than likely start at LB for any other SEC program, only plays on special teams. Wilson is fresh for every single kickoff or punt because he doesn't step foot on the field otherwise. He is able to fly down the field at 100% and make plays like this.
Wilson hits Speedy Noil so hard that he knocked out Noil's tooth, even though he was wearing a mouth piece. My first argument for why Alabama is bad for the SEC is because they have players like Wilson that certainly could have gone anywhere else in the SEC and more than likely started all 4 years. However, Alabama is so good that they have the ability to hoard excellent players from all over the country simply because they are Alabama. The SEC is not as competitive as it used to be because great players are all congregating to one school.
Arkansas vs. Auburn
This game should have been close. In fact, Arkansas could have won. Instead Auburn did unspeakable things to Arkansas. I'm not kidding, in 49 of the 50 states what Auburn did to Arkansas is illegal. Only in Alabama…
Both programs are good, but not great, so how does Auburn win 56-3? I argue that it was because Arkansas has played Alabama and Auburn hasn't. The Razorbacks are still trying to recover from when they played the Crimson Tide, whose run offense physically abused the Hogs. Although Arkansas beat Ole Miss last week 34-30, the Rebel's offense is pass oriented so it was not evident that Arkansas's run defense was hurting. However, Auburn runs the ball… A LOT. It was blatantly obvious from the beginning when Auburn's Eli Stove broke for a 78 yard run for a touchdown on the first play of the game. Arkansas's offense was even worse. They're total rushing offense ran for 25 yards, while Austin Allen went 17-30, for 187 yards, 0 touchdowns, and 1 interception. Their offense was broken. Arkansas has hit a wall, and that wall is called Alabama.
At first I thought Auburn won because it was a great matchup for them, and it was, don't get me wrong. Auburn's talent and style of play contributed to the beat down for sure, but Alabama played a role in it, as well. Teams having their season ruined by Bama is a reoccurring theme. This has been a pattern for almost every team in the West for years. Alabama ruins other team's season's in the SEC. Just ask Texas A&M in 2013, 2014, and 2015. Arkansas (2016), Mississippi State (2014), and LSU (2012-2015) have all had seasons where they entered the game against Alabama undefeated or highly ranked, just to have their season crippled afterwards. Alabama hurts their opponents. They don't play dirty, but rather they are more physically dominant than their opponents to where players come out bruised, battered, and even hurt.
Ole Miss vs LSU
Ole Miss was ranked 11th in the nation at the beginning of Week 1, they destroyed Georgia 45-14 in Week 4, but they could not shake Alabama. LSU has lost closely to two Top 25 teams, but they still have Alabama looming in the distance. Both LSU and Ole Miss are great football programs that would dominate in other conferences, yet they cannot escape the shadow of Alabama. This is devastating for the SEC because Heisman hopefuls like Leonard Fournette get destroyed more often than not against Alabama. Fournette set LSU's single-game rushing record with 284 yards from a mere 16 carries, 3 touchdowns, and 3 receptions for 25 more yards against Ole Miss.
But he won't be able to run like that against Alabama. Bama stifles big time players in big time games. This has already happened this year. Josh Dobbs threw for a mere 92 yards, while rushing for negative yardage. Trevor Knight threw for a season low 164 yards, and was sacked 5 times compared to the 4 other times he has been sacked this entire season. Last year, Fournette was stuffed by Alabama and  only rushed for 31 yards. Heisman candidates lose their opportunity to sit next to the best of the best in New York City because they cannot prove themselves against Alabama. Top recruits no longer look at other SEC programs because they want to be a Heisman candidate, so they're going to other schools where they won't get embarrassed by a team like Alabama.
In closing, there is no parity in the SEC West anymore. There is Alabama, then there is everybody else. Further, I am all for SEC teams being proud of the SEC. I think the SEC is the best college football conference in America. But, Alabama is beyond the SEC. Bama beats up the SEC, and I fear it is starting to have its effects.