Week 5: The Miracle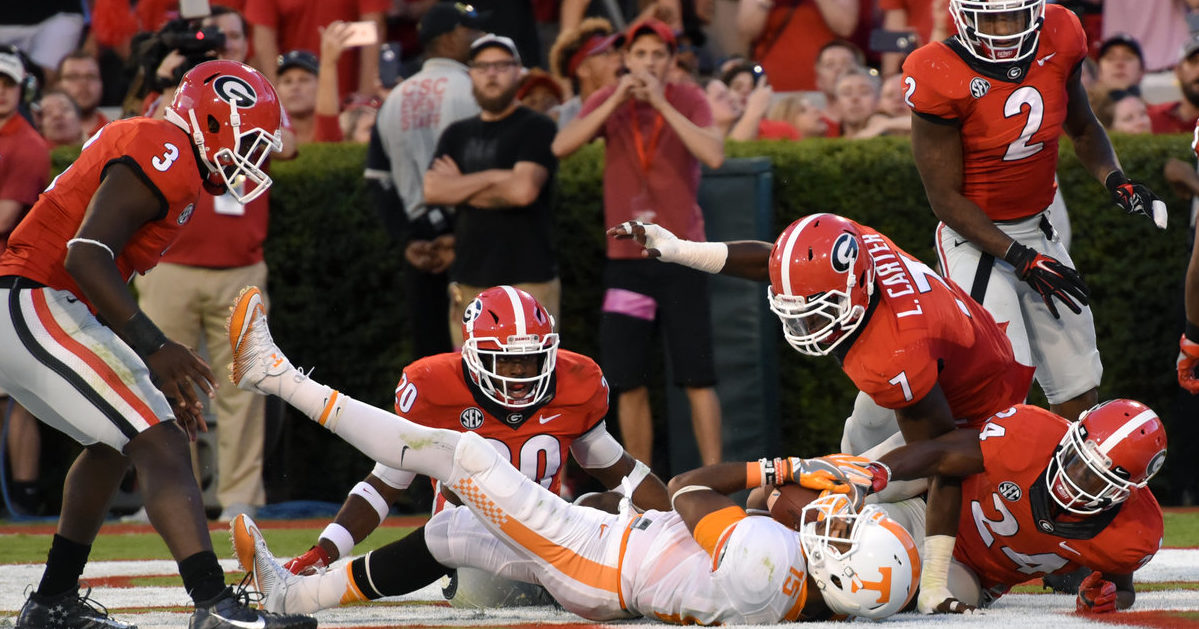 What a Weekend of College Football
The reenactment of the Tennessee and Georgia game this past Saturday was one that will not soon be forgotten. I have never been in a college football stadium that was as ecstatic and joyful as Sanford Stadium was with ten seconds left to play, and as shocked and nauseated as Sanford Stadium was with no time left.
Walking out of the stadium, I realized that I had just witnessed one of the greatest college football games in SEC history. What made it great were all the big plays and amazing fans, but what immortalized it was what transpired during the last 19 seconds of regulation. The SEC game of the week lived up to its hype in many regards.
And this is the kind of week that can kickstart a college football season. Don't get me wrong, this season has been a lot of fun with juggernaut matchups, but everything pales in comparison to this past Saturday. Besides one of the greatest games played in one of the greatest places on earth (OK, maybe one of the greatest college towns in America) in the nation's greatest college football conference, America had a lot of fun watching college football this weekend.
First of all, outside the SEC, college football had one of the best weekends to date. Michigan won an old-fashioned, Midwestern, tough football game against a equally tough Wisconsin Badger team. Michigan has further established itself as the primary challenger to Ohio State. They held Wisconsin to under 75 yards rushing, and even more impressively limited Badger quarterback, Alex Hornibrook, to nine completions on 25 attempts. Wow.
In the ACC, Chapel Hill upset Florida State in Tallahassee off of a 54 yard field goal as time expired. This is not your father's UNC football team. The years following Mack Brown the Tarheels' had great recruiting classes and a few eight win seasons, but they never competed at the top level. This Tarheel football team is competing at a Championship level. After a season opening loss to a tough Georgia team, Carolina has followed that with come from behind victories over Pitt and Florida State. I submit to you in years past UNC would have lost these games because of a lack of maturity, mental fortitude, and offensive talent.
And then of course, there is Clemson's goal line stand. Well, goal line stand in that Louisville did not score, however, most of that was a result of Louisville's James Quick shocking inability to either find the first down marker or unwillingness to fight for the first down. Whatever it was, Clemson won a tough, highly contested game. Like how I mentioned this is not your father's Chapel Hill team, this is also not your father's Clemson team. They fight, they are experienced, and they win big time games. By the way, this may sound naive, but it is Louisville. Lamar Jackson or not, I would have been shocked if the Cardinals came into Death Valley and embarrassed Clemson like they did Florida State.
In the SEC there were not as many exciting games, besides what may turn out to be the game of the year, but there are some interesting storylines as a result of this weekends games.
First, I hesitate to say this, but Tennessee may be a team of destiny. In a lot of ways the 2016 Vols feel like the 2013 Auburn Tigers. They win in the most unexpected ways. They are talented, driven, and at times lucky. I have grown to accept these Volunteers for what they are. At the beginning of the season I expected, and wanted, them to destroy teams. I expected a 56-21 type win over App State. A 42-17 type win over Ohio. I expected Tennessee to be leading 21-3 at the half against Florida, and 17-7 at the half against Georgia, not the other way around. But, if this is the way it is going to be, then so be it. Tennessee plays great defense, has great return specialists, runs the football, and is starting to show life in the passing game.
For Georgia, you lost a heartbreaker to the best team in the East and more importantly showed resiliency in coming back strong following a horrific loss to Ole Miss. This game came down to maturity, like we foreshadowed in our Thursday picks. If Georgia shows maturity and "behaves" after their remarkable touchdown, they win this game. Instead, Tennessee advances 15 yards up the field as a result of a Georgia unsportsmanlike conduct penalty for taking a helmet off on the field of play. Tack on five more for offsides on the kickoff, and Tennessee can take a shot into the endzone on their final play.
Elsewhere in the SEC, Auburn looked impressive even if it was against UL-Monroe. Maybe we counted these Tigers out too soon? If Auburn wins this week, they enter the back end of their schedule 4-2 and coming off of a bye before playing Arkansas.
South Carolina's defense has Will Muschamp's swagger all over it. I am impressed with how quickly the Gamecocks have turned around on the defensive side of the ball. The Gamecocks held one of the best offenses in the nation, Texas A&M, to just 200 yards passing and 200 yards rushing, both pretty respectable, in my opinion, especially since A&M put up huge numbers earlier in the season against Auburn and Arkansas. This weekend could be huge for the Gamecocks as they take on a talented, but emotionally and physically fatigued Georgia Bulldog team. Williams-Brice should be electric.
LSU, are you kidding me? Where was that for ole Les? While I don't think Les Miles is solely to blame for the anemic offenses of LSU, I do think a change of message helped LSU have a monster offensive game. We knew this team was talented, and while blowing out Missouri may not be an indicator of things to come, if LSU can start putting things together they should be a dangerous team come November 5 when Alabama comes to Baton Rouge and takes on the Tigers in Tiger Stadium.