Week 4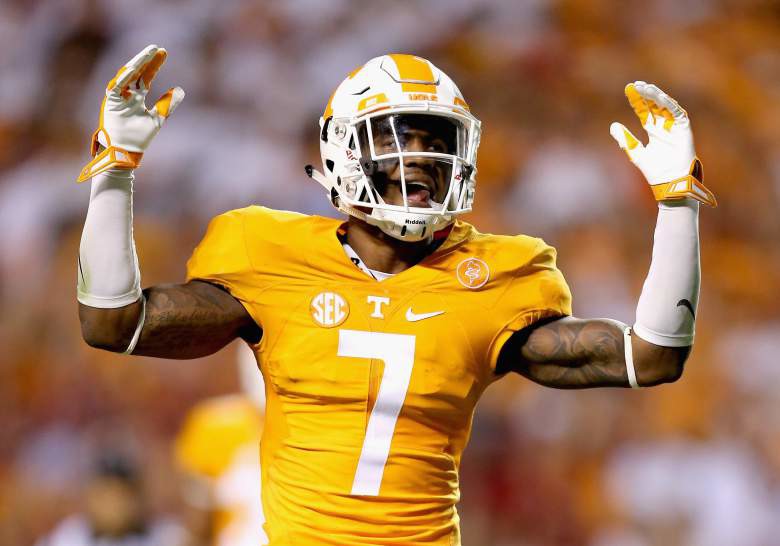 The Tennessee Volunteers. One of the greatest programs in the history of college football. Recently the Volunteers have had a huge black eye on what is an otherwise handsome, proud program. The Florida game. The Vols are now 6-20 in the last 26 meetings. Since 1990, they have only won twice in The Swamp. The last time they have beaten Florida was 2004. The rise in Florida's dominance coincided with the somewhat rocky times that was Tennessee football, especially late into the Fulmer years on into the present day. In the mid to late 2000s and now at the turn of the decade, Tennessee has had losing seasons and mediocre coaches, while Florida has won national and conference championships. Even with the Muschamp era, Florida was able to muster a Sugar Bowl Appearance.
Now it felt as if the tide had finally turned back in UT's favor. In fact, if I was given the pre-season question of, "Chris, between Florida and Tennessee, which is more likely to be 2-2 and which is more likely to be 4-0," I would have said Tennessee was 4-0. In the pre-season, I wrote that the Vols had as good of a shot at 2-2 as they did at 4-0. But, that was under the assumption that the young talent was not mature enough/ game ready to win in the SEC. However, after watching the Florida and Oklahoma games, I think the exact opposite. This team is good enough to win every game on the schedule. Yes, that means a road win, in Bryant-Denny against Bama, and yes that means a mid-October matchup in Neyland against the Dawgs. The issue is that they are missing the "it factor" that great teams have. How does Tennessee blow fourth quarter leads? How does a 4th and forever get converted and then materialize into a touchdown? And what if that field goal had snuck into that right up-right?
I don't think, however, that this is some sort of indictment on Butch Jones and his ability to coach. Butch Jones has this program moving in the right direction. No, they may not win the SEC this year, but it will come. With these recruiting classes, Tennessee will definitely start winning these close games as opposed to losing them. It could come as early as this year. Even if Tennessee does lose a few more games, (and maybe they go anywhere from 6-6 to 8-4), I still say give Butch Jones one more year. Let's see what he can do with players that are only his. Hell, this is only his third season.That being said, the Tennessee-Florida game was a great one to watch. The rest of the conference however, did not have as many fun games to watch.
For South Carolina, it was good to see Lorenzo Nunez come into his own in the second half of that game, and the defense looked a lot better. That being said, they did beat one of the worst teams in the FBS (and in fact were losing at halftime), but nevertheless, sometimes these types of games are the ones that are needed to start a series of wins. The Missouri game is going to be huge for both programs.
Speaking of Missouri, wow, they have looked awful thus far. I finally got a pick right over Brendan in picking the Wildcats over the Tigers last week in Lexington, but the game, while close, was tough to watch. Kentucky has finally got that marquee, big, top 25 win under their belt and hopefully that will catapult them to a winning, bowl eligible season. Patty Towles and these Kentucky Wildcats are gamers.
A great game this past weekend was between, what FPF believed was an over-hyped Texas A&M team and the embarrassing Razorbacks. It took overtime to decide the game in this classic, old-fashioned, former Southwest Conference rivalry. Arkansas is a struggling program going into Neyland. The Vols are probably going to be licking their emotional wounds. This upcoming week could be a great matchup between what are two fighting-to-stay-relevant programs.
A terrible game to watch was the Auburn-Mississippi State matchup. I swear I thought my eyes were bleeding at one point. Mississippi State, however, benefitted from the hard fought victory in Jordan-Hare in leaping back into the top 25. Auburn…I really have no idea what to say.
As for the rest of the league, there really isn't anything that changes my opinion. LSU and Ole Miss, I think, were a little flat coming off of huge weekends for their programs, and it showed somewhat in what was a collection of lackluster wins for each respective program. I don't really think there is anything to be worried about or to read into. Vanderbilt's season continues to take water, even though they seem to be improving each and every week. However, it is tough to salvage much from what has been a horrific season.
Alabama and Georgia basically had bye weeks in preparation for their epic showdown. Blow out victories for each of them. This October 3rd matchup is going to be amazing. Two power-house programs, possibly the two most recognizable for non-Southerners, collide for the first time in the regular season since 2008. I can not wait.
So basically, in closing, week 4 was not the most exciting but we did learn some things. Week 5, however, looks to be one of the best of the season.
P.S. Vol fans, everything is going to be OK. My father went to West Point. I do not remember the last time Army beat Navy in football. It stinks, it really does. But every time we lose, i just think that this will not last forever, and eventually we will win. And we will have bragging rights. And the Cadets will sing the Army Alma Mater second. And that is what keeps me going. One of these times, y'all will beat Florida. Maybe even on a last-second 55 yard field goal. And oh how sweet that will be.