Week 4: Holy Smokes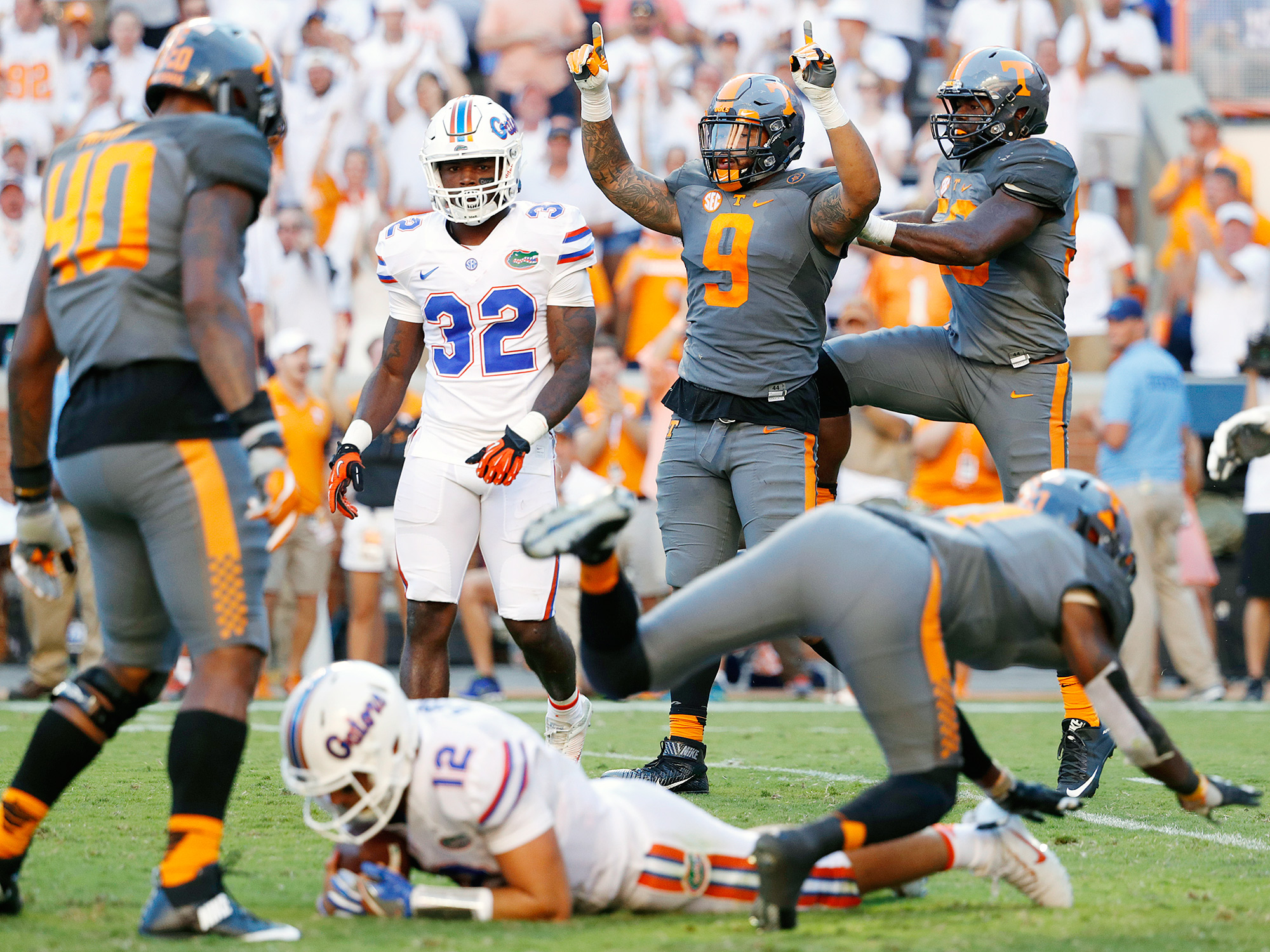 Week 4: Holy Smokes
Now that is what I'm talking about! SEC football was fun and action packed this past weekend. Some teams showed up, some teams fell flat on their face, and some teams pulled off heroic victories that will be talked about for decades. Let's dive right into the week four games.
Georgia 14 Ole Miss 45
When I wrote at the beginning of the season that Ole Miss would win the games they were supposed to win, the Georgia game is what I was alluding too. If Ole Miss is to have a successful season this year, they have to do what they did to Georgia; beat lesser opponents at home, and look impressive doing it. The defense was strong, the offense was spectacular, and they took advantage of Georgia's mistakes.
Speaking of Georgia, Dawg fans, there is nothing to worry about. Yes, you got whipped like a rented mule, but you have to accept that there will be games like this, especially on the road against great defenses. I wrote for Georgia's preseason preview that I feared the offensive line was not as talented as some predicted. However, I also thought this receiving corps was going to be a lot better. You cannot drop balls early in the game with a freshman quarterback and expect any offensive production. It just doesn't happen.
Florida 28 Tennessee 38
Remember when ducks didn't pull trucks? Yeah, well turns out ducks can mess trucks up at times. For those of you who don't know what I am referring to, Quincy Wilson, cornerback for the Florida Gators made a profound assessment of the state of the Florida/Tennessee rivalry by saying this…
Two thumbs up for hilarity, two thumbs down for accuracy. You had to wonder this off season with Jalen Tabor spewing enough BS to stink up the entire state of Florida if it was going to finally catch up to the Gators. It did. This game was a tale of two halves. The first half Florida dominated, leading 21-3 at the halftime. The first half was so dismal for Tennessee that they ran to their locker room with thunderous booing raining down on them.
The second half was a different story. Tennessee scored the first 35 points of the second half and ran away with this game in the fourth quarter. Dobbs threw the football with authority and confidence, the run game produced some much needed yards, and the defense, with the help of 100,000 Volunteer faithful, played lights out.
LSU 13 Auburn 18
I thought Auburn was playing well enough, especially on defense, to upset an SEC West foe at some point this season. But I didn't think it would come against LSU. Apparently LSU AD Joe Alleva didn't think LSU should lose to Auburn either. More to come on the status of LSU football later. Meanwhile, the fiery cajun Ed Orgeron assumes duties as interim head coach and looks to cure some of the ailments LSU has had on the offensive side of the ball.
As for Auburn, what a victory. Six field goals, great defense, and a little luck helped Auburn win its first home conference game since 2014.
This was a much needed win for Gus Malzhan and the Tigers. This is the type of win that can propel a team forward into the heart of its schedule. They played Clemson close, showed some positives against A&M and now have defeated a talented LSU team. Look for Auburn to do better than what most, including myself, had predicted.
Texas A&M 45 Arkansas 21
A&M won this game because of two reasons: 1. They can run the football. 2. They can stop the run. A&M ran away with this game in the fourth quarter and proved that this might be a different Aggie team than in years past. That being said, the traditional mid-season collapse never came against Arkansas, but against Alabama. The Tide has not lost to the Aggies since 2012 against Manziel and Company.  However, Texas A&M looks to be poised for a big season, as for now…
Arkansas, I don't know really what to say. The Hogs ran into a better team on Saturday in Jerry's Palace and lacked the talent needed, especially up front to control the line of scrimmage. Arkansas fans should be content with an 8-4 or 9-3 season.
The Rest of the SEC:
Bama beat up on Kent State…impressive. South Carolina has its worst offensive football team since the Lou Holtz' era. Kentucky is garbage, and don't let a victory over South Carolina fool you otherwise. Vanderbilt had a cute overtime victory over Western Kentucky. And Mississippi State should be featured on the next segment of "c'mon man."
Oh yeah, and Missouri. Yeah you still shouldn't be in the SEC. Nice win over Delaware State.