Week 2 in the SEC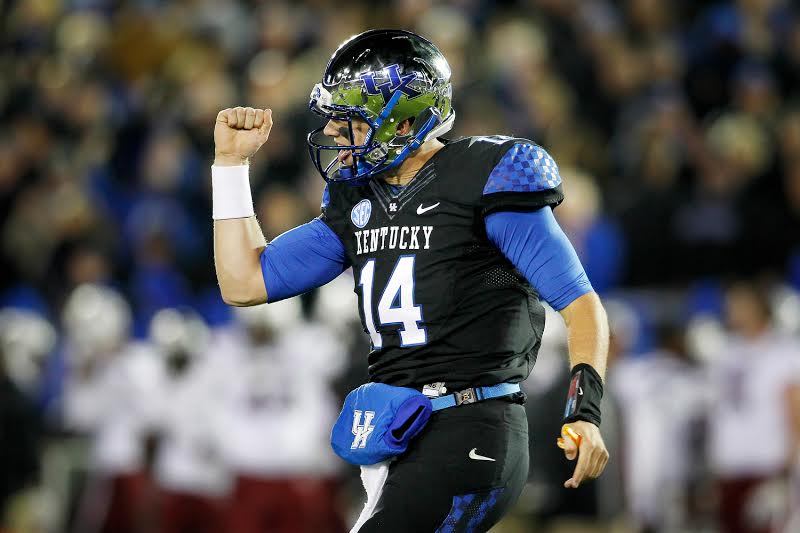 As good as the first week of college football was for the SEC, the second week was just as bad. Besides maybe bowl season last year, the SEC has never taken a tougher beating  than last Saturday. Chris took things especially hard.
I did some soul-searching the next day at church. While others were praying for the sick, pleading for world peace, and asking to help the poor, I was wondering if I had done anything wrong. Was it something I said? Was it the fact I didn't take the trash out? Maybe it was because I blamed my roommate for the noise complaint our room got on Saturday night (hopefully, he is not reading this)? I then asked if this is what the apocalypse looked like. Was I being punished for past sins?
Then it struck me. What if this was a sign from the Lord that Front Porch Football is bad for my health? What if He was punishing the SEC just to try and deter me from going down this terrible path of fandom, addiction, and fanaticism?
Anyway, the website must go on even as I continue to struggle with these real world issues (yes, I am struggling and these are definitely real world issues).
Brendan was more optimistic. Yes Tennessee blew a massive lead to Oklahoma, yes Arkansas lost to Toledo, and yes Auburn barely pulled out a win against Jacksonville State. But let's all just take a deep breath here. Tennessee has taken tremendous strides in less than a year, to where they are competing against Oklahoma ( a team that embarrassed Alabama last year in the Sugar Bowl). There's not much to say for Auburn and Arkansas, but nobody seems to be talking about how Ole Miss put up 73 points, or how quarterbacks Kyle Allen (10-13, 126 YDS, 3 TD) and Jake Coker (15-26, 214 YDS, 1 TD) proved that they deserve a starting spot in their offense. There is still a lot of football left to be played.
THE GOOD: 
Kentucky had a great bounce back after a suspect week one. The Wildcats marched into Williams-Brice Stadium and spanked the Gamecocks in the first half and then subsequently held them off as South Carolina mounted an impressive but unsuccessful comeback. While his numbers were not great, Patrick Towles showed why he is one of the greatest competitors in the SEC, and the running game has continued to make Front Porch Football proud after we predicted they would be a better unit than many expected. The defense played well in the first half and had a game changing-fumble recovery for a score in the second half. FPF is excited to see how the Cats do in Commonwealth Stadium against the Gators.
LSU had to go into cowbell country and play the first game of the season against an underrated, underappreciated, underdog in the Mississippi State Bulldogs. What we learned this week is a simple lesson we all learned long ago, but seemed to have forgotten over the summer. A LSU run defense is still one of the best in the country. Last year the Tigers struggled, especially against Mississippi State and especially on the road. Couple those two things together and FPF predicted a Bulldog upset win. But, the athletes that LSU has on the defensive side of the ball rarely get outmatched and outcompeted. Holding Dak Prescott and company to under 50 yards rushing is something that should bode well for the Tigers later in the season.
THE BAD: 
For Tennessee and Mississippi State, the bad came in that they added a tally in the loss column.  Both were heartbreaking losses but many of the college football pundits did not predict for them to win these games. For the Vols, hopefully they have the experience of losing a big game, in Neyland, and they can use that experience to help them with future huge home conference games. The loss didn't really hurt the Vols in that it was highly unlikely they would make the playoff, and their conference slate is still 0-0. The Mississippi State loss hurt because the comeback was very impressive. With two shots at a 50 plus yard field goal to win the game, the Bulldogs just didn't have enough to beat a talented Tiger team. All's not lost, because this game (even though it was a heartbreaking, home-conference loss) actually showed that MSU has what it takes to compete in the West.
South Carolina is in worse shape than Mississippi State, but I feel they are the comparable eastern division team. They, like MSU, came roaring back in the second half only to see those chances dashed away on a few key mistakes. Unlike MSU, however, the Gamecocks lost their quarterback. I will hold off judgement on this South Carolina team until the month of October starts, because with Steve Spurrier at the helm, the month of September is just too unpredictable and bizarre.
Missouri barely beat Arkansas State on the road and while that is not the sexiest or most encouraging of wins, FPF is not too worried. The Tigers have had a history of traveling to non-power 5 conferences and struggling, yet until Missouri loses, do not count them out. The passing offense will have to improve, however, if Mizzou has a chance in the East.
THE UGLY: 
Chris was debating which was worse: Arkansas losing to Toledo at home, or Auburn needing overtime against Jacksonville State. I am going to go for a tie. Both looked pitiful in these two games. Besides the Tennessee game, these two games were what upset me and so many other SEC fans the most.
So many of us predicted that Jeremy Johnson was a potential Heisman candidate, that Auburn was the team to beat in the West, and that the Arkansas run offense was going to be the best in the conference if not the nation. None of those things seem to be remotely true. Watching both these games, it was painstakingly obvious of two things.
One, Jeremy Johnson has some sort of psychological block/ issue throwing the football. We know he has the talent, and he seems to understand the plays, yet he continues to throw terrible interceptions. Johnson has the quarterback equivalent to yips a shortstop would get in baseball. Cole Stoudt had it last year for Clemson, yet seemed to be freed of them in the bowl game. Hopefully it won't take that long for Johnson.
Second, that Arkansas is having some issues not only in the backfield but on the offensive line, as well. The shuffling and reshuffling of lineman due to injury has hurt the run game. Denver Kirkland was supposed to be mauling people as a superb guard. Instead he looks sluggish and confused at tackle. Fifty-three pass attempts and 103 rushing yards are not what the Arkansas offense is built on.
Vanderbilt is now 0-2. This season may end winless if they can't beat Austin Peay this weekend. There is no way to sugar coat a winless season.
---
We did not learn anything about Bama, Florida, Georgia, Ole Miss, and A&M except that, Henry is still a great running back, McElwain is just as angry as Muschamp, Georgia still has quarterback issues, Ole Miss looks really good against bad defenses, and College Station get's more excited with Johnny Manziel's NFL play than a victory on Saturday.