Turkey Picks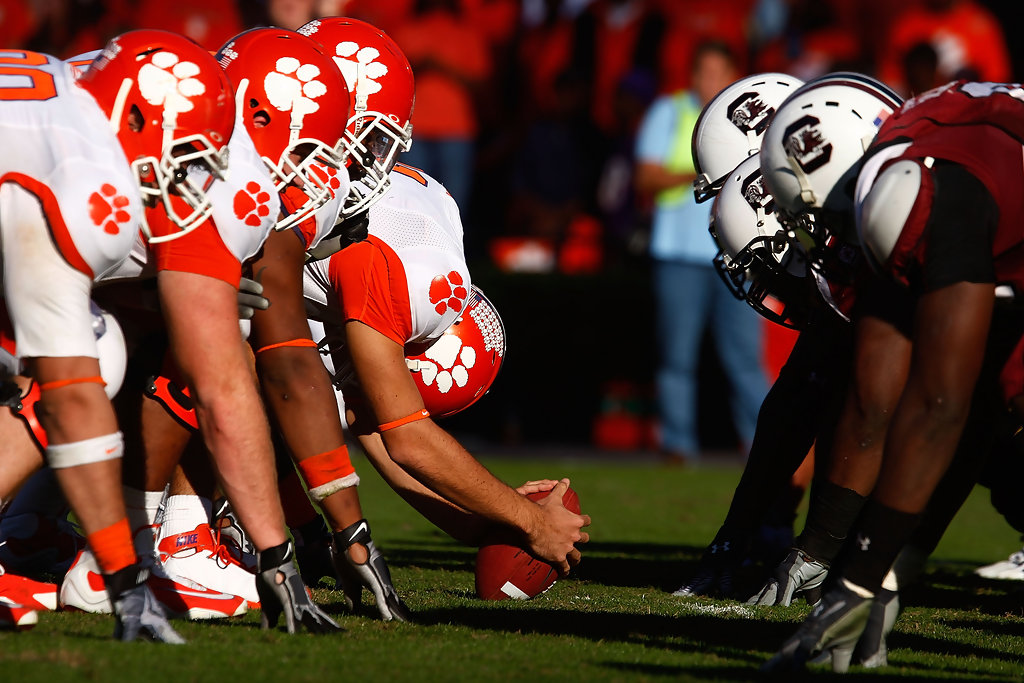 It's Thanksgiving… Chris' favorite day of the year, but what really pumps us up are all the great games right around the corner. We're ending the regular season with a bang. And it wouldn't be FPF post without a HUGE shoutout to the boys from Wofford. The Terriers made the FCS playoffs and play at home this Saturday! Kickoff at 2 PM. Cheer them on in the stadium or watching on ESPN 3. First 300 Student Tickets are free!
Alright, here are 25 Thanksgiving picks,
SEC:
LSU at Texas A&M: Chris (LSU), Brendan (LSU), Pavy (LSU)
---
Arkansas at Missouri: Chris (Arkansas), Brendan (Arkasnas), Pavy (Arkasnas)
---
Kentucky at Louisville: Chris (Kentucky), Brendan (L'ville), Pavy (L'ville)
---
Georgia Tech at Georgia: Chris (Georgia), Brendan (Georgia), Pavy (Georgia)
---
Auburn at Alabama: Chris (Alabama), Brendan (Alabama), Pavy (Alabama)
---
Mississippi State at Ole Miss: Chris (Mississippi State), Brendan (Ole Miss), Pavy (Ole Miss)
---
South Carolina at Clemson: Chris (Clemson), Brendan (Clemson), Pavy (South Carolina)
---
Tennessee at Vanderbilt: Chris (UT), Brendan (UT), Pavy (Vandy)
---
Florida at Florida State: Chris (FSU), Brendan (Florida), Pavy (FSU)
Outside the SEC:
Houston at Memphis: Chris (Memphis), Brendan (Houston), Pavy (Houston)
---
Nebraska at Iowa: Chris (Iowa), Brendan (Nebraska), Pavy (Nebraska)
---
Washington at Washington State: Chris (Washington), Brendan (Washington), Pavy (WSU)
---
Boise State at Air Force: Chris (Boise), Brendan (Boise), Pavy (Air Force)
---
NC State at North Carolina: Chris (State), Brendan (UNC), Pavy (UNC)
---
TCU at Texas: Chris (TCU), Brendan (TCU), Pavy (Texas)
---
Arizona State at Arizona: Chris (ASU), Brendan (ASU), Pavy (Arizona)
---
Michigan at Ohio State: Chris (Michigan), Brendan (Ohio State), Pavy (Michigan)
---
Michigan State at Penn State: Chris (Penn State), Brendan (Penn State), Pavy (Penn State)
---
Notre Dame at Southern Cal: Chris (Notre Dame), Brendan (USC), Pavy (USC)
---
Utah at Colorado: Chris (Utah), Brendan (Colorado), Pavy (Colorado)
---
Virginia at Virginia Tech: Chris (Virginia Tech), Brendan (Virginia), Pavy (Virginia Tech)
---
Duke at Miami: Chris (Miami), Brendan (Duke), Pavy (Duke)
---
App State at New Mexico St.: Chris (App), Brendan (App), Pavy (App)
---
ECU at Temple: Chris (Temple), Brendan (ECU), Pavy (ECU)
---
GAME OF THE WEEK: Charleston Southern at Wofford
Chris (Short Haired Dogs), Brendan (TDawgs), Pavy (T-pups)… Go Terriers!
(Picture Via Zimbio)