Turkey Picks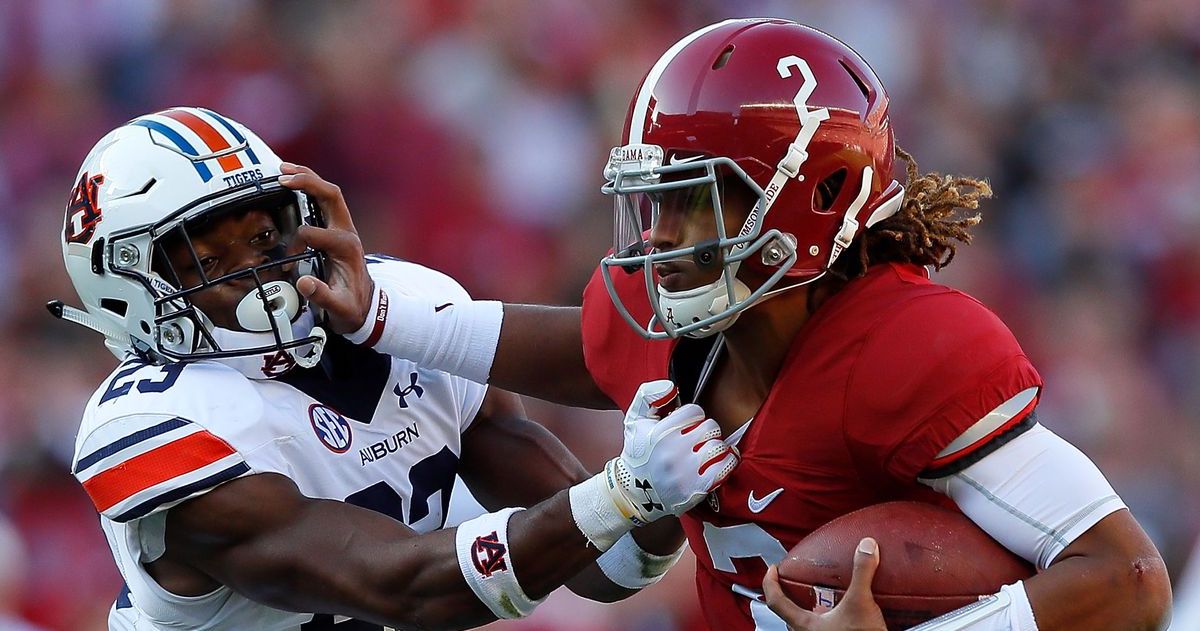 Welcome to Front Porch Football's Second Annual Turkey Picks. This Thanksgiving we are extremely thankful for all the many blessings God has given to us. First, we're thankful for all the support from our friends and family throughout this year. Second, for all the fans. Without you, there would be no Front Porch Football. Last but certainly not least, we're thankful for SEC football. If it weren't for SEC football, we would have to watch the PAC-12 or the NBA or something equally as horrible.
Ironically, after Thanksgiving dinner we move into a weekend full of hate and jealousy. After saying all we are grateful for, we move into our separate camps and prepare for games like The Iron Bowl, The Egg Bowl, and a game referred to as Clean, Old Fashioned Hate. Last week was the calm before the storm, and Week 13 looks to be a category 5 hurricane. Rivalry after rivalry after rivalry. Teams will duke it out mano a mano. While some teams have everything to lose (Clemson), others are looking for revenge and redemption (Carolina). This week's guest picker is Spartanburg native, Ryan Burns. A senior at Wofford, Burns is also a diehard Gamecock. Ladies, he's also single. You might recognize him from our recent videos…
SEC:
Ole Miss at Mississippi State 
Chris: Mississippi State
Brendan: Mississippi State
Max: Mississippi State
Pavy: Mississippi State
Burns: Mississippi State
In spirit of Ole Miss and Thanksgiving…
Missouri at Arkansas
Chris: Missouri
Brendan: Missouri
Max: Missouri
Pavy: Missouri
Burns: Arkansas
Georgia at Georgia Tech
Chris: Georgia
Brendan: Georgia
Max:Georgia
Pavy: Georgia
Burns: Georgia
Florida State at Florida 
Chris: Florida State
Brendan: Florida State
Max: Florida
Pavy: Florida State
Burns: Florida State
Louisville at Kentucky
Chris: Louisville
Brendan: Kentucky
Max: Kentucky
Pavy: Louisville
Burns: Louisville
Alabama at Auburn
Chris: Auburn
Brendan: Alabama
Max: Alabama
Pavy: Auburn
Burns: Roll Damn Tide
Vanderbilt at Tennessee 
Chris: Tennessee
Brendan: Vanderbilt
Max: Vanderbilt
Pavy: Tennessee
Burns: Tennessee
Clemson at South Carolina 
Chris: South Carolina
Brendan: Clemson
Max: South Carolina
Pavy: South Carolina
Burns: Cocks by a Million
It starts with you. pic.twitter.com/PVLgcaOBJB

— Gamecock Football (@GamecockFB) November 21, 2017
Texas A&M at LSU
Chris: LSU
Brendan: LSU
Max: LSU
Pavy: LSU
Burns: LSU
Non SEC:
Ohio State at Michigan
Chris: Ohio State
Brendan: Ohio State
Max: Ohio State
Pavy: Ohio State
Burns: Ohio State
West Virginia at Oklahoma
Chris: Oklahoma
Brendan: Oklahoma
Max: Oklahoma
Pavy: Oklahoma
Burns: Boomer Sooner
Notre Dame at Stanford 
Chris: Notre Dame
Brendan: Notre Dame
Max: Stanford
Pavy: Stanford
Burns: Stanford
South Florida at Central Florida 
Chris: USF
Brendan: USF
Max: UCF
Pavy: UCF
Burns: UCF
Virginia Tech at Virginia 
Chris: Virginia Tech
Brendan: Virginia Tech
Max: Virginia Tech
Pavy: Virginia
Burns: Virginia Tech
App State at Georgia State 
Chris: App State
Brendan: App State
Max: Georgia State
Pavy: App State
Burns: Georgia State
Washington State at Washington
Chris: Washington State
Brendan: Washington State
Max: Washington
Pavy: Washington State
Burns: Washington State
Duke at Wake Forest 
Chris: Wake Forest
Brendan: Wake Forest
Max: Wake Forest
Pavy: Wake Forest
Burns: Duke
Texas Tech at Texas
Chris: Texas
Brendan: Texas
Max: Texas
Pavy: Texas Tech
Burns: Texas
North Carolina at NC State
Chris: NC State
Brendan: NC State
Max: NC State
Pavy: NC State
Burns: NC State
Furman at Elon
Chris: Furman
Brendan: Furman
Max: Furman
Pavy: Elon
Burns: Furman
Bonus Pick: More likely, Pittsburgh upsets Miami or Minnesota upsets Wisconsin?
Chris: Minnesota over Wisconsin
Brendan: Pittsburgh over Miami
Max: Pittsburgh over Miami
Pavy: Minnesota over Wisconsin
Burns: Minnesota over Wisconsin
---
Front Porch Football's Season Records and Week 12's Record
Chris: 169-78 (13-7)
Brendan: 169-78 (12-8)
Max: 157-90 (12-8)
Pavy: 172-75 (16-4)
Guest Picker Drake Cassidy: 15-5
(Featured Image from USA Today )