Top 10 Traditions in SEC Football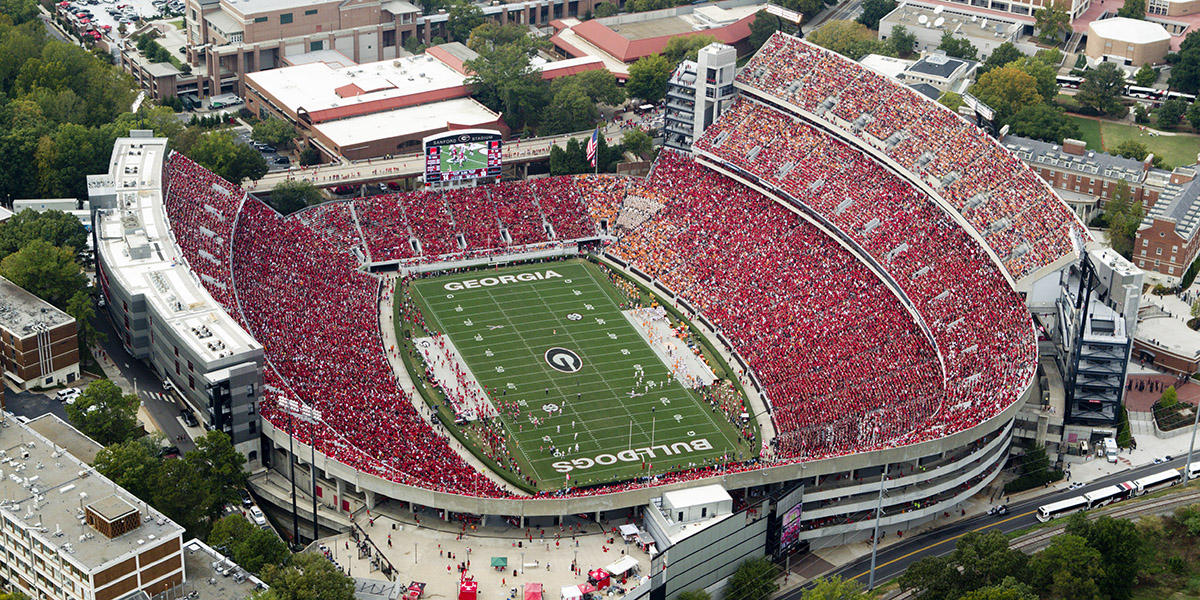 by Chris Paschal
How can you only pick 10? There are a lot of great traditions in the SEC. Traditions are what separate the SEC (and college football in general), from the NFL and the NBA. I cannot stand going to NBA games, especially when I can compare an Alabama, Georgia, or Clemson football game to it. I mean how man times can we really chant "DE-FENSE"? And how excited can grown men and women really get when the lights go out in an arena for starting lineups?
In the SEC there are about as many traditions as there are first cousins in the stadium at a Mississippi State home game. To narrow down the possible list entries, and in the spirit of not being redundant, I eliminated official team fight songs- since we did that last year – stadium entrances – since that was examined earlier in the week – and mascots – since they too were examined earlier this week.
Just missed the cut: Georgia's Victory Bell, Tennessee's Vol Navy, Florida's "Old Boys of Florida," Ole Miss' "Hotty Toddy" cheer, Texas A&M's "Midnight Yell Practice."
10. Jersey #18. It feels like the entire LSU gameday experience is one giant tradition. This is probably one of the youngest traditions surrounding LSU football. The jersey number 18 is not selected, but anointed. The last two national championship teams in 2003 and 2007 had so many great players, but both teams benefited from leaders Matt Mauck and Jacob Hester.  Both wore number 18. Now, every year before the season, the team gathers together and picks the next player to wear jersey number 18. This player is a leader, a gentleman on and off the field, and the type of player that could lead the Tigers to a National Title.
9. Cowbells at Mississippi State. This is my least favorite tradition in all of the SEC, but it is a tradition nonetheless. It feels so high school to me, and it annoys me for multiple reasons. First of all, I don't know how shaking a cowbell can be enjoyable. Second, how it does not hurt Mississippi State in recruiting? While some say it is a home field advantage for the Bulldogs, I think it is so dang annoying that it doesn't matter if you are the visiting team or not, that sound has to drive you up the wall, right?
8. Mr. Two Bits, Florida. Speaking of a tradition feeling like high school, this is another one. But I don't give a dang, this is awesome. Not only does this tradition pump up the Gator faithful, but Mr. Two Bits feels like an old friend. While he is now retired from giving the cheer, the tradition still lives on with Gator alumni, former players, and celebrities doing their best to reenact the cheer prior to kickoff.
7. Calling the Hogs, Arkansas. This cheer is the most bizarre, yet endearing in all of the SEC. Everyone has heard of it, some have witnessed it, and only a few have done it. This cheer has existed for over a century, and while I still question if this cheer can actually call a hog, I cannot question its place on this list.
6. The Grove, Ole Miss. For me, tailgating is not really a tradition. We all do it, some better than others, but they all consist of the same components: lots of food, lots of alcohol, and the drunk uncle who asks you way too many times to pull his finger. But, for every rule there is an exception. The Grove is that exception. The Grove is as Mississippi as Faulkner, magnolias, and getting weird with farm animals. I went for the first time last year, and it was a great time.
5. Rammer Jammer, Alabama. When I was in 11th grade, I went to the Alabama vs. Arkansas game in Bryant-Denny Stadium. I experienced Rammer Jammer. It changed my life. That is all I can really say. Words change to adapt to their opposing team's mascot. "Hey Auburn, Hey Auburn, Hey Auburn. We just beat the hell out of you. Rammer Jammer Yellow Hammer, Give 'Em Hell Alabama."
4. The 12th Man, Texas A&M. Since 1922, the "12th Man" tradition has been a bedrock for Aggie football. Originally, the 12th man was nothing more than a reserve who stood by in case he was needed because of injury. Today, it has blossomed into a challenge, and calling for all A&M students. Whenever you are called upon to help the beloved Aggies, you better be ready to answer that call. This "calling" has allowed Texas A&M to be one of the best home field advantages in all of college football.
3. Toomer's Corner, Auburn. This is one of the greatest traditions in all of college football, and luckily will continue on even after the malicious acts done in 2010 by one Harvey Updyke. Rolling the trees after big Auburn wins is just something that feels right. Auburn may not always win on the field, but they always win off with this tradition.
2. Rocky Top, Tennessee. While it is not the official fight song for the Tennessee Volunteers, it is played time and time again throughout Neyland Stadium on gameday. It signifies anything and everything. It is played after a Tennessee touchdown, after a Tennessee win, after a Tennessee loss, after a 7th grade  Tennessee fan learns how to read and write… literally everything.
1. War Eagle, Auburn. Yep, that's right folks. Auburn is on this list, twice. But can you really blame me? While some can argue that Toomer's Corner is not a great tradition (I said they could argue that, I didn't say they are right), there is no arguing how amazing this tradition is. While there are multiple different legends surrounding War Eagle, there is no denying how epic it is on gameday.
(Photo attributed: http://mediad.publicbroadcasting.net/p/wabe/files/styles/x_large/public/SanfordStadium-modern.jpg)
(Photo attributed: http://mediad.publicbroadcasting.net/p/wabe/files/styles/x_large/public/SanfordStadium-modern.jpg)