The Florida Gators: America's Newest Crime Syndicate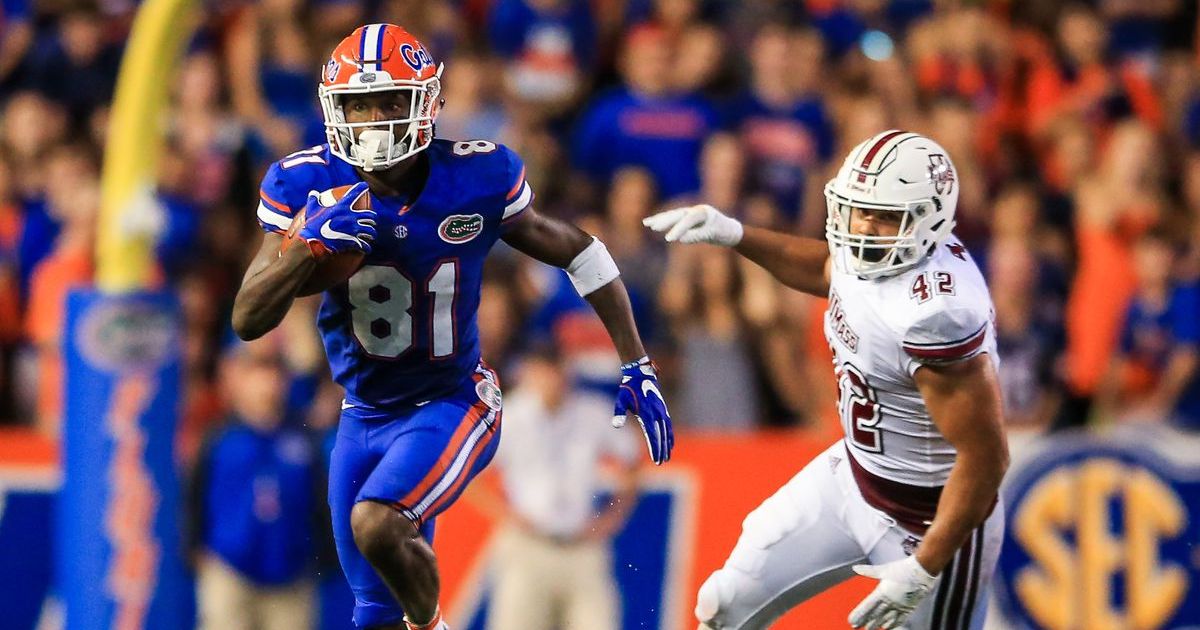 Earlier in the week, four University of Florida football players were charged with multiple felonies, bringing this year's felon total for the Gators to nine. All nine have been charged with fraud, and are currently suspended from the team.
The group is accused of using stolen credit card information to make purchases from the university bookstore and elsewhere. The players even went so far as to take the credit card information, and use it to load cash onto their school issued debit cards. The players suspended are receivers Antonio Callaway and Rick Wells, running back Jordan Scarlett, defensive linemen Jordan Smith, Richerd Desir-Jones, Keivonnis Davis, linebackers Ventrell Miller and James Houston, and offensive tackle Kadeem Telfort.
Callaway and Scarlett are the headliners out of this group, both featured prominently into the Gators offense last year. Callaway, the Gators leading receiver last year with 721 yards, was charged with a singular third-degree felony. Scarlett came into the season listed as the starting running back after finishing with 889 yards last year, was charged with two third-degree felonies. The most interesting case however is the freshman Telfort who's been been hit with 30 charges. Yes you read that right… 30 charges.
The majority of the purchases were electronics, such as laptops and tablets, purchased through the bookstore. Telfort also made multiple purchases through a food delivery website, which is where the extra charges come into play.
The more interesting question to me in all of this however, is who is really the SEC's crime alpha. For years and years I've held the firm opinion that Georgia was unseat-able from the law breaking throne, making the rest of the conference their betas. Under Mark Richt, Georgia's football and preseason arrests and suspensions were synonymous. Going into the 2010 season, Georgia had a total of 11 players arrested. In 2014, another seven players were arrested leading to Richt saying, "Georgia doesn't have a discipline problem." Now those are staggering numbers, but I couldn't find any record of any Georgia player being charged with 30 crimes, or being charged with any crime quite as sophisticated as credit card fraud.
Because of this intricacies of the actions and number of crimes that this group was charged with, it's hard not to side with Florida. But if I'm picking the alphas of SEC crime I have to stick with my morals, and side with a man who I have an unwavering trust for. While coaching South Carolina the Ole Ball Coach once said, "I don't know. I sort of always liked playing them that second game, because you could always count on them having two or three key players suspended."
Obviously Spurrier's comment was intended to reference Georgia's arrest history. Due to this I'm still going to have to stick with the Dawg's as the leaders of the pack when it comes to student-athletes committing crimes. Gator coach Jim McElwain, said to expect changes after the felony charges. While Florida's summer was tumultuous, and filled with off the field issues I don't think its a sign of things to come or an incident that will be repeated if McElwain can help it.
Jacob Sexton is a Media Production major at UNCG in his Senior year of school. He was born and raised in Anderson, SC and hopes to one day work for ESPN or Barstool Sports.
(Featured Image from SB Nation )