The Legend of Syvelle Newton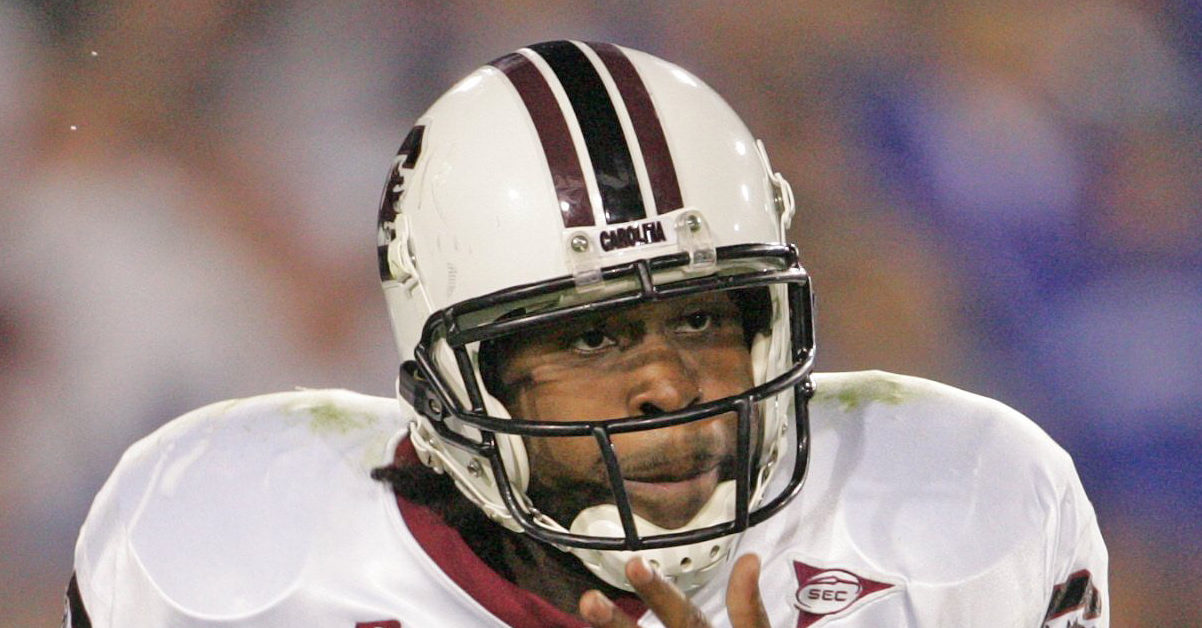 by Guest Writer, Andrew Koontz
The summers after my first two years of college, I worked as a volunteer assistant football coach for Marlboro County High School in Bennettsville, South Carolina. For those unfamiliar with Bennettsville, it's a town of about 15,000 people located a little over an hour west of Myrtle Beach. Despite its small town status, it is home to an incredible number of current and former NFL players. Every morning as I rolled into work, I passed a sign above the field house that had all the retired names and numbers in Marlboro County history; greats such as
Robert Ayers
, Cam Newton (not that 
Cam Newton, the ORIGINAL Cam Newton, who played safety at Furman University and later played for several NFL teams), and
Quinton Teal
. One name and number, however, always stood out to me; that was #17, Syvelle Newton.
Syvelle Newton
Syvelle Newton was a special breed of athlete. How special, you might ask? Well, in 2001, he led Marlboro County High School to a South Carolina High School League 4A State Championship. Impressive, right? Of course. But the really impressive thing about Syvelle Newton's high school career, in my opinion, is the fact that he won the Local News Station WPDE End Zone "Zoneman" Award two years in a row.  Syvelle won the Zoneman Award in
2001
and
2002
. Other two time winners are little known players such as Everett Golson and Hunter Renfrow. Special territory. For those who aren't from the Pee Dee region of South Carolina, WPDE is the local ABC affiliate for a large chunk of eastern South Carolina. Being featured on The End Zone, WPDE's high school football show hosted by the legendary (in my mind, at least) Rich Chrampanis, was the pinnacle of success for a high school football player in the Pee Dee.
This knowledge comes from personal experience; I was featured prominently in the 2012 Trinity Byrnes Collegiate School season preview video for WPDE. I've provided a link to the video
here where I
 miss a key block. I'm number 56.
A moment I'll tell my children about, for sure. Anyways, back to Syvelle Newton. On top of winning the Zoneman award twice, Newton also won the WPDE touchdown run and pass of the year awards in
2001
, as well as the touchdown run of the year award in
2002
. In sports, it is often said that the playing field is divided between men and boys. Syvelle Newton, however, was a god amongst men.
On signing day in 2003, Syvelle Newton made the decision to sign with the University of South Carolina Gamecocks. (His
signing video
is online; in it you'll see him put on a Clemson hat, then quickly toss it by the wayside, only to put on a South Carolina hat. Classic signing day sleight of hand). Newton's time at South Carolina had a slow start. He came into the program at the tail end of the Lou Holtz era; a low point in South Carolina football history. His first two years (2003 and 2004) saw him split time between quarterback, running back, and wide receiver. In 2004, however, he was thrust into the starting quarterback position due to injuries. Newton played well in the position, helping lead the Gamecocks to a 6-5 record. Disappointingly, 2005 was a let down for Newton. Newton was spending his time once again splitting reps at three different positions. However, in a mid-season game against Vanderbilt, Newton tore his achilles tendon.
He would miss the rest of the season and much of the 2006 spring
camp. However, he would come back in 2006 to start a majority of games for South Carolina, leading the Gamecocks to an 8-5 record and their first victory over Clemson in five years. Newton declared for the NFL draft in 2007, expecting to be drafted as a receiver. After going undrafted in 2007, Newton bounced around the NFL, CFL, and AFL before eventually retiring from professional football. Nowadays, Newton finds himself coaching football and teaching digital design at Blythewood High School in Blythewood, South Carolina; not far from Williams-Brice Stadium where he once played for legendary coaches like Lou Holtz and Steve Spurrier.
Syvelle Newton is not the greatest quarterback in Gamecock history. He did not go on to have a distinguished professional career. What he did do, was help pave the way for a new era in college football. Newton was one of the first players to successfully blur the lines of traditional football positions. He could run, catch, and throw, and he could do each one successfully in a single drive. He was one of the first players to run a wildcat offense. Under Steve Spurrier's 'fun-n-gun' system, Newton could do what he did best; be an athlete. With athletes like Jabrill Peppers and Christian McCaffrey we are seeing more and more multi-positional football players, and this rise is being covered by sports analysts and newscasters across the country. When these analysts extol the virtues of this "cutting edge" concept, I ask them to do one thing; think back and remember the name Syvelle Newton.
Andrew Koontz is a c
onnoisseur of ACC football and fried chicken.
Wofford grad. Long suffering Duke football fan. When in doubt, just gotta send it.