Sweet Home, Jacob Coker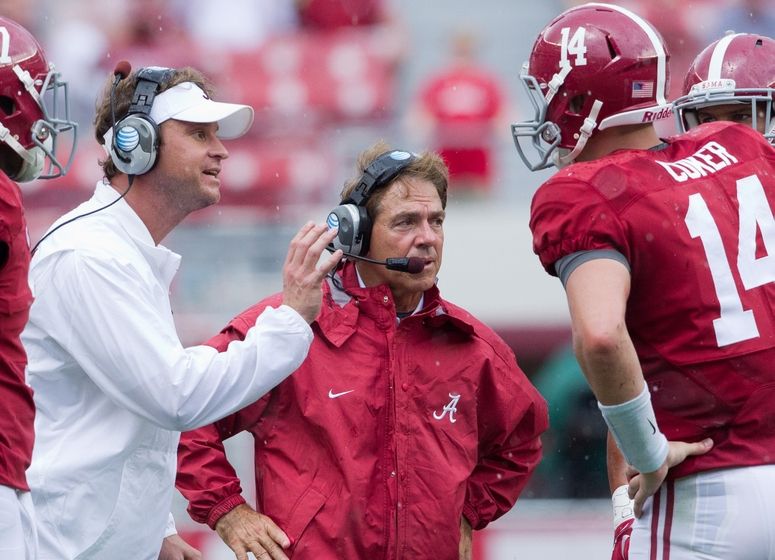 The college football media have already determined the type of season Alabama quarterback Jacob Coker is going to have. At best, it will be mediocre. Saturday Down South predicts 20-22 touchdowns. At worst, he will be a disaster and will be benched in favor of younger players like David Cornwell, Blake Barnet, and Alec Morris. Clay of the Bama Hammer even writes, "Jacob Coker will never start for the University of Alabama."
Whoa, not very high expectations for a guy who has never started a game for Alabama, who has never thrown an interception in his Alabama football career, and who threw four touchdowns in his limited time playing quarterback at Bama, including one against one of the best cornerbacks in the SEC, Florida's Vernon Hargreaves.
I don't see it that way. In fact, I think Coker is going to have a fantastic year. And here are my top three reasons why:
At 6'5", 230 pounds, he looks like a big time college football quarterback. He has a rocket of an arm. And oh, by the way, Jimbo Fisher, head coach at Florida State and Coker's former college coach, said that Coker was the best talent at the quarterback position in all of Nick Saban's years at Alabama.
He has a plethora of weapons around him. Yes, Yeldon and Cooper are gone but, the WR talent, while unproven, is abundant. Also, with Derrick Henry at running back and the return of the dangerous and multi faceted Kenyon Drake, this offense should be fully reloaded and at the disposal of whoever the quarterback is. Not to mention that he has one of the best left tackles in the conference in Cam Robinson.
Lane Kiffin is still the Alabama offensive coordinator. Since 2004, Lane Kiffin has orchestrated his passing offenses at high levels, and it really doesn't matter who the quarterback is or how much talent he has. From Matt Leinert and Matt Barkley to John David Booty and Jonathon Crompton, every single one of his quarterbacks has passed for at least 26 TDs. Crompton, for a mediocre 7-6 Tennessee team, threw for 27 TDs. Booty threw for 29. I doubt Coker is going to put a halt to that trend. In fact, if there was ever a reason for that trend to end, it was last year. Blake Sims, who stands maybe six feet tall, threw for 3,487 yards and 28 touchdowns. Before last season, Sims had played primarily at running back. Even he had an amazing passing season.
Now some say that the running game is going to have a resurgence this year because Saban does not want a repeat of the second half of last year's Sugar Bowl. But come on, this is Lane Kiffin we are talking about. And as long as first downs are being picked up and touchdowns are being scored, I don't think Saban will fight too much on the manner in which they are scored. Therefore, I do not buy into what the other folks are saying. Coker will be just fine this season, and I expect the passing offense to meet Kiffin's standards.