Sugar Bowl: Bama vs. Clemson, Part III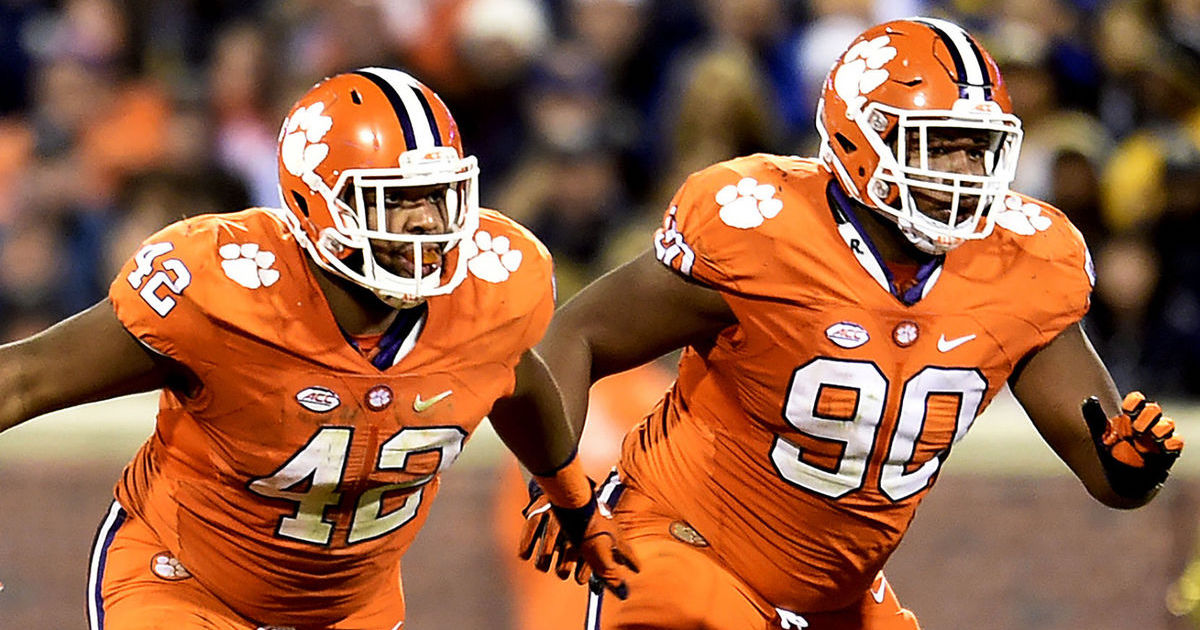 by Christopher Paschal
Location: New Orleans, Louisiana
Kickoff: New Year's Day, 8:45 PM
Part three in New Orleans. The Sugar Bowl always means a lot to teams in the South, but this year it means a whole lot more. The National Title game and the rubber match between these two Southern institutions are on the line. This should be good.
Breaking Down Clemson: There really isn't a significant weakness to this team. Kelly Bryant isn't Dasahun Watson. I'm not really breaking any news here. But, saying because Bryant isn't as good as the greatest Tiger in Clemson history that he becomes a liability is a bit of an exaggeration. Clemson is still a solid offense, averaging over 35 points a game and close to 450 yards per game. Is the passing game lethal? No. Is the rushing attack the best in the country? No. But this offense is good enough to score a lot of points when needed, and the offensive line controls the line of scrimmage, which cures any issues that might arise from a starting quarterback that has only thrown 13 touchdowns. And they have the weapons needed to make big plays.
Clemson's defense is the best in the country. Bama and Georgia fans may disagree, but this is the best defense. O'Daniel and Joseph are excellent linebackers, and Tre Lamar should be healthy, which adds another big bodied linebacker to the mix. Clemson also has two excellent pass rushers in Clelin Ferrel and Austin Bryant. But the stars of the defense are the two big boys that put their hand in the dirt – Christian Wilkins and Dexter Lawrence. These two are the two best defensive linemen in the country. Yeah, you read that right. I know about Nick Bosa (Ohio State) and Bradley Chubb (NC State). I know about Ed Oliver (Houston) and Maurice Hurst, Jr. (Michigan). The two best defensive linemen in the country both reside in the South Carolina Upstate. Wilkins dominates as a three technique, penetrating opposing team's backfields, making tackles, and sacking the quarterback. Lawrence doesn't get as much hype because his numbers aren't amazing. The reason is because he takes two blockers every single play. Lawrence lines up as a one technique most plays and gobbles up offensive linemen. The reason everyone knows about the Clemson linebackers is because of Lawrence. This defense ranks second in scoring defense, sixth in total defense, and leads the country is sacks.
Breaking Down Bama: Number one scoring defense, number two total defense, playmakers throughout the defense. Alabama is a top 10 scoring offense, averages 465 yards per game, and has a starting quarterback who has thrown one interception all year. Hearing that may make it sound like Alabama doesn't have any weaknesses. But I think there are more weaknesses to this Bama team than there are for Clemson. One weakness is injuries. Yes, the Bama defense does get back Mack Wilson, Christian Miller, and Terrell Lewis, but they have lost Dylan Moses, Hootie Jones, and Shaun Dion Hamilton. This is an amazing defense with or without these guys, but it hurts losing them. The second weakness is the passing attack. Alabama has only had to put the game on Jalen Hurts once. That game was a loss at Auburn. Clemson may not have the most explosive passing offense, but it definitely beats Bama's. Alabama's strength is playing Nick Saban football. Control the time of possession, run the football effectively, lean on the best scoring defense in the country, and reap the benefits when great players make great plays.
Key to the Game: Quarterback play. It's that simple. Both of these teams have great offensive lines, great playmakers, and great defenses. The quarterback that is the most efficient and the quarterback that is safest with the ball wins the game.
Chris's Prediction: This was one of the toughest games I had to pick all year. On the one hand, I picked Clemson to win the National Championship months ago, and I have stuck with it up until this point. On the other hand, this situation could not have worked out better for Alabama. In the end, I had to go with my gut instead of my head. Alabama wins the game for a few reasons. One, their quarterback, as pedestrian as he is, has been in this game before. Bryant has played in big games, yes, but Bama vs. Clemson is a whole other animal. If I had to bet which one makes a mistake it is Bryant. Two, Bama literally could not have dreamed of a better scenario. They didn't play in a conference championship game, giving an extra week of rest to this beat up defense. Then, amazingly, without winning their conference, they get to play in a stadium that is an easy drive for most of their fanbase. An extra week of practice and an amazing bowl placement – unbelievable luck for Bama. Third, nobody (except for Hugh Freeze) beats Nick Saban back-to-back. Alabama will be rested, ready, and eager to prove their place in this playoff. Alabama wins in what will be another classic.