So What Now, Ole Miss?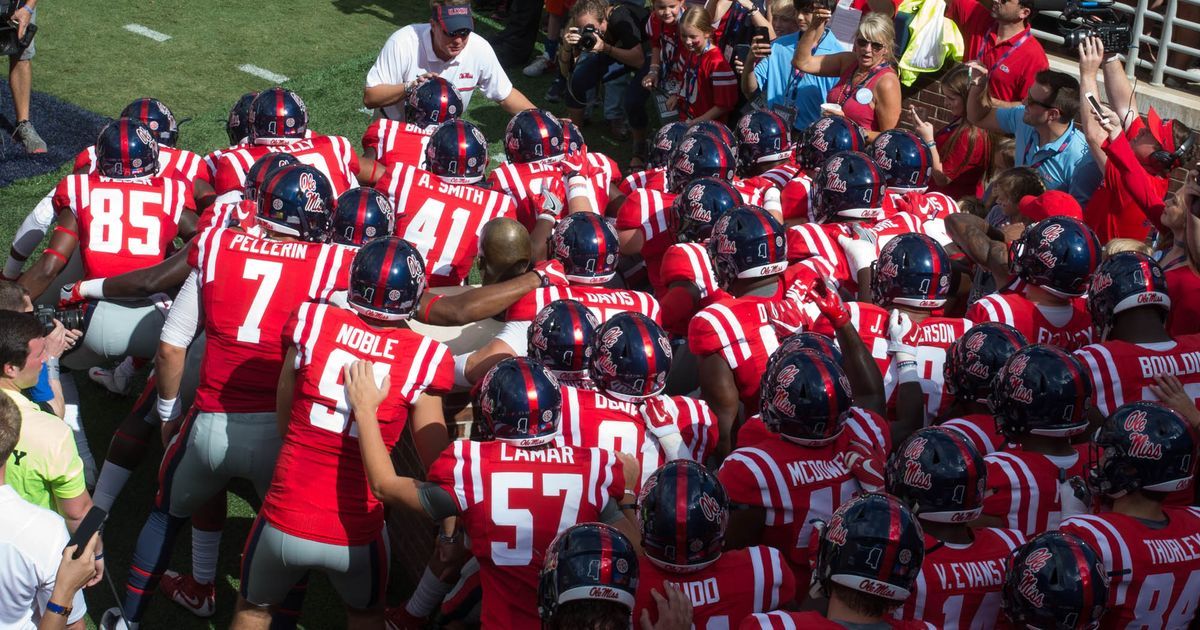 by Chris Paschal
It wasn't that long ago – 568 days to be exact. 568 days ago, Ole Miss had played in its first Sugar Bowl since 1970. And they killed Oklahoma State. To Ole Miss fans, the pain of the 1970s and 1980s and the ups and downs of the 1990s and 2000s had washed away. They were back. They were relevent again. The Alabama's, Auburn's and LSU's of the SEC could no longer treat Ole Miss like a second rate member. Not after they had just stomped LSU at home. Or after they had just gone into Jordan-Hare Stadium and beaten Auburn. And certainly not after they had beaten Alabama two years in a row.
How We Got Here
But that was then. 568 days ago. This is now, and the now looks a heck of a lot different. Ever since that magical night in New Orleans where the Rebels reached the pinnacle of Ole Miss football, the University has taken a turn for the worst. Since January 1, 2016, Ole Miss has been levied 22 NCAA Sanctions, some of which are down right damning: lack of institutional control, paying recruits and players, violating NCAA rules and then lying about it, fixing ACT scores, and so many more.
Following January 1, 2016, former head coach Houston Nutt has brought a lawsuit against Hugh Freeze. Since January 1, 2016, the Rebels have gone from perennial power, a SEC West contender, to a 5-7, uninspired football team. They lost to Vanderbilt – by a lot. They lost to their in-state rival, Mississippi State, by 35 points.
Hugh Freeze
And since January 1, 2016, you lost your head football coach. Hugh Freeze resigned this past Thursday, July 20, when it was discovered that he had been cheating on his wife. Not only was he cheating on his wife, but he was cheating on his wife via an escort service. The terms the media keeps using is escort and escort service, but let's not try and put lipstick on a pig. He was calling a pimp and meeting up with a prostitute.
Hugh Freeze had to go, but he had to go long before this happened. Because whether you think he was a good guy who made horrible mistakes, or a sleazy dude who got what he had coming, we can all agree that he not only has to answer for his moral shortcomings, but also has to answer for his NCAA shortcomings, as well. Whether Hugh Freeze had been cheating on his wife or not, he still was facing a tough situation that I don't think he could get out of, or deserved to get out of.
A Storm is Brewing
This brings us to the question, "what now happens now, Ole Miss?" Your approach this whole time has been to stick with Hugh Freeze. That the University of Mississippi was going to fix what was going wrong, and punish itself for past transgressions. So what did the University decide? A self-imposed bowl ban for the 2017 season. Nobody was buying that. But Ole Miss stuck to its message. Hugh Freeze is our guy and we will clean up the program. Then the news hits that Freeze was out.
I really hope Ole Miss tries to spin this as if they have gotten rid of the problem. Because without the infidelity, Ole Miss would have never canned him. The University couldn't get rid of him without forking over millions of dollars, so instead they decided to push this narrative that they were taking the issue seriously and that Hugh Freeze was the man to help clean it up. He's gone now and that narrative is destroyed. They can't use that message anymore. But they can't can't go back on what they said just weeks before, and claim Hugh Freeze was the issue.
What Next?
Ole Miss is screwed. The NCAA is going to come down hard on Ole Miss. They're going to get everything but the death penalty. Scholarship reductions, bowl bans, TV contracts all are not out of the question when it comes to sanctions levied against the Rebels. They may not look like much of a football team after the dust settles, but they will still be a football team. And this team is going to need a head coach.
If I were in charge of the situation at Ole Miss (Chairman of the Board of Trustees), here is what I would do:
Clean House
Everybody above the head coach needs to go too. This has been an embarrassment for the University. Athletic Director, gone. Chancellor, gone. I know that is extreme. I know they said all the right things, and they are not the ones who cheated on their wives – I get that. But the way this has been handled has been a dumpster fire. The new Chancellor and the AD both need to be an Ole Miss guy. There can not be a national search, either. Do not find someone who views this as a stepping stone towards another job. Find someone who understands the state of Mississippi, its people, and what it will take to restore not only it's football prowess, but its reputation.
If Matt Luke (interim head coach) doesn't pan out, which I don't think he will, then start the search. Ole Miss will know pretty early on if Luke is the right man for the job. And I am not talking about wins and losses. I'm talking about if he wins over the locker room, if he does things the right way, if he has support from the fanbase and alumni. If he doesn't, wipe clean the coaching staff like you did the administration.  The search has to be very, very specific and disciplined.
Enough with this "let's go out and get Chip Kelly" crap. Even if he did accept, he is not the right man for the job. When rebuilding this program you have to remember a few things. First, you're in the SEC West. Second, not only are you in the SEC West, but you are also one of the least successful programs in the West. Third, Ole Miss is located in one of the least populated states in the country. Finally, this is not going to be an instant success. So stop thinking "win right now." It's not going to happen.
Larry Fedora
My first call is to Larry Fedora. Why Fedora? Two reasons. First, he knows what it is like to take over a program in the middle of a scandal. When he took the job at North Carolina, the Tarheel football program was in a really bad place. Not as bad as Ole Miss, but a bad place nonetheless . Fedora has built a respectable program. He has done it his way, and he has done it, from what looks like, the right way. Second, he knows the state of Mississippi. He coached for years at Southern Miss, and he was very successful. He knows all the local high schools, and if I am rebuilding Ole Miss, I am starting with the state of Mississippi. Mississippi State has been able to recruit the state, and has been pretty successful doing it.
Les Miles
If Fedora says no, which I would if I were him, I would reach out to Les Miles. Rumor has it, he is itching to get back into coaching, and Ole Miss is an SEC job. Not only that, but it is in the same division as LSU. Miles is a driven, uber-competitve guy. I feel like nothing would give him greater satisfaction than to build a program from the ashes, and beat LSU. He may take it, and I think he has the temperament and experience to do a good job with it.
Mike Bobo
If Miles says no, I would call Mike Bobo. Bobo is an SEC guy. Not a Mississippi guy (spent almost his entire career and playing days at Georgia), but he gets the SEC. He has a few years of coaching experience under his belt at Colorado State, and an excellent recruiter. You need players to win, but you need the right players to build a program. I think Bobo would do that.
One last thing. Ole Miss fans, it is going to be OK. Be patient and realistic. Jonathon Vilma on Friday's edition of College Football Live said that a successful season would be "at the very least beating Alabama." Don't buy into that garbage. You're not beating Alabama. But you don't need to beat Alabama this year. Or the next year, or the year after that. Take it one step at a time. Enjoy the Grove, and beautiful Saturdays of SEC football. It will work out in the end… I think.
(Image from Sports Spyder)
(Image from Jacksonville.com)