SEC Midterm Grades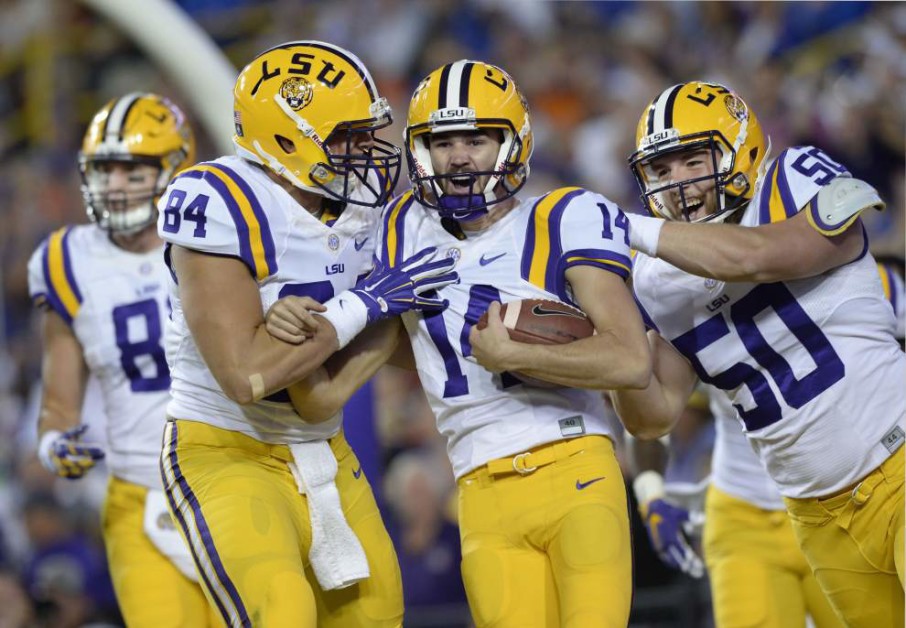 It is the middle of the college football semester, and Chris Paschal is handing out his midterm grades. Remember to like, share, and provide your own thoughts and insights with your comments:
Alabama: A-
The Tide have looked a lot better since the Ole Miss game. It seems to be the kick in the pants they needed. Everything seems to be in place, but they can not afford another loss.
Arkansas: C
It is hard to give Arkansas anything but a C because of the early season woes. They looked good against UT and decent against Bama. A successful season from this point on would be a bowl berth.
Auburn: C
Auburn, too, gets a C, just because they have struggled so mightily in areas we all thought they would be excellent in. Don't look now, but Auburn is 4-2. If they can beat Arkansas, I say they have a shot at eight wins.
Florida: B
This grade is not as much a reflection of their record, but a reflection of the off field distractions. On the field, however, this offensive line that I thought was going to struggle at the beginning of the season finally was challenged against LSU, and this secondary did not play at as high of a level needed to win the big games in the SEC.
Georgia: B-
Started off winning some blowout games, only to be defeated by the Tennessee Vols and the Tide. Their offense is the problem. The QB position is in shambles, and the injury to Nick Chubb was devastating but not insurmountable. The Dawgs could still win the East. I wrote at the beginning of the season that UGA's schedule may hold them out of the SEC championship, but with the downfall of Auburn, the Florida game could decide it all.
Kentucky: B+
So far, not too shabby. The goal for this team was to make a bowl game, and they look to have the team and schedule to do it. Another upset could be in the works, too, either against UGA or late in the season against Tennessee.
LSU: A
This season has been great thus far. The passing game seems to be coming around a little bit, the defense is superb, and they have the best football player in the country in their backfield. The big tests are still to come, however, with Ole Miss, A&M, and Bama.
Mississippi: C+
What in the world has happened? This Ole Miss squad is very inconsistent. If they could only harness what they had during the Alabama game with their early season offense along with the Landshark defense, Ole Miss team has the talent to win out. However after the Memphis game, I'm not too sure that will happen.
MSU: B
For the team that they have and the schedule they have, so far they have played well. But, Bama and Ole Miss remain on the schedule. This weekend will be huge for the Bulldogs, they have to win at home against the Wildcats to have a shot at a nine-win season, which I didn't think possible at the beginning of the year, and which would be a great feat.
Missouri: C+
This season was never really ever promising. The best the Tigers can do is stumble their way into a middle tier bowl, win it, recruit like hell over the offseason, and get ready to play next year. You can't win the East every year.
South Carolina: C
This team did not live up to the potential I thought it had at the beginning of the year. Couple that with Spurrier leaving and this season has been a bit unique. But, not all is lost. The Gamecocks may be able to squeeze out a six win season, but no matter the win-loss total, they should be in good shape to hire a decent coach who can secure some of these good recruits coming in next year.
Tennessee: B
Let me be quite clear. The Vols should be undefeated right now. This Bama-UT game should be featuring two top-10 football teams. Instead, UT has forfeited some big leads in three heartbreaking games. They get a B, however, because I still believe this team is moving in the right direction. Whether that is with Butch Jones at the helm is another question.
Texas A&M: A-
They had a tough game against Bama, but they have really bounced back from last year. This team definitely has a shot at a nine or even ten win season, something I didn't think possible at the outset of this season.
Vanderbilt: D-
This just feels like the same Vandy of old. Mason was not the right hire, but in all actuality, Franklin seems to be the only guy for that job. They have not won an SEC game since he has left. They don't get an F only because Vanderbilt students don't know what an F looks like.