Ranking SEC Fans From Worst to Best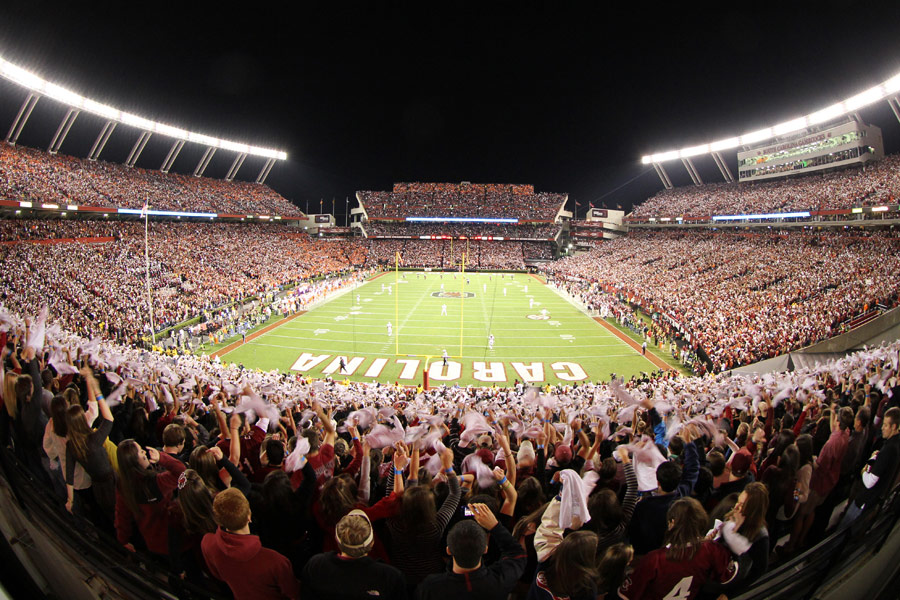 by Brendan Paschal
We can all agree that the SEC has the best fans in the country, but some within the conference do it better than others. For example, we all know Florida has some of the most passionate fans in college football. But, we also know the last time Vanderbilt got excited over anything athletic was when Vanderbilt's Women's Tennis Team defied all odds and accomplished something that did not involve 40 page thesis papers or the Periodic Table. Brendan broke down his grades into five different categories, and then calculated an overall GPA. These categories were fan loyalty, home field advantage (H.F.A.), "travelability" (that is how well they travel to away/neutral site games), tailgating, and football knowledge.
SEC Fan Bases Ranked
14. Missouri – Overall GPA: 0.0
Loyalty: F  H.F.A: F  Travelability: F  Tailgating: F  Knowledge: F
F off, Missouri.
13. Vanderbilt – Overall GPA:  1.21
Loyalty: B+  H.F.A: F  Travelability: F  Tailgating: C  Knowledge: D-
This is the worst report card anyone from Vanderbilt has ever received. The Commodores should reconsider changing their mascot to the Commodoormatts. They are the red-headed step-child of the SEC, and to be frank, nobody wants to go to games when there are more fans of the opposing team in the stands than your own. At least you're not Missouri.  
12. Kentucky – Overal GPA:  1.86
Loyalty: C  H.F.A: C  Travelability: D   Tailgating: B+ Knowledge: D
While in the stands they spend their time practicing their basketball chants in order to stay fresh during the offseason, and thinking to themselves "just wait until basketball season and the tables have turned". They do have a great tailgating scene, however, ranking up there with the best in the SEC. But, when push comes to shove, they are just a bunch of pussycats.
11. Mississippi State – Overal GPA: 2.4
Loyalty: B  H.F.A: B+ Travelability: C- Tailgating: D+ Knowledge: B-
The Bulldogs do some things well, while other things not so well. What holds them back is their tailgating, which is understandable. They are in Stark-freaking-ville, Mississippi and do not have a Grove to harbor their drunken, shoeless people. No, I don't have a fever, and for the love of Pete would you PLEASE stop ringing those cowbells.
T-9. Ole Miss – Overall GPA: 3.32
Loyalty: B+ H.F.A: B- Travelability: B+ Tailgating: A+ Knowledge: B
Ole Miss fans are pros at tailgating, which gives them a rare A+ in this category. Yet where they thrive in tailgating they lack in Home Field Advantage, because they would rather be outside of the stadium enjoying the party. Football knowledge would be higher, but after this idiot thought it was a good idea to run up to the most powerful man since Ghandi, they fall to a grade of a B.
T9. Arkansas – Overall GPA: 3.32
Loyalty: B+ H.F.A: B+ Travelability: B Tailgating: B  Knowlege: A
Razorback fans have nothing to be ashamed of. They are doing things right in Fayetteville. Ranging from the "Calling the Hogs" to fans bringing up past history. In fact, Arkansas fans are so passionate about football that 90% of the stadium claims to have a cousin somewhere on the playing field, and only 5% are lying.
8. Florida – Overall GPA: 3.38
Loyalty: B+ H.F.A: A Travelability: B Tailgating: B+ Knowledge: B+
Gator fans are legit. Opposing teams rue the day they have to play in the Swamp, where only Gators come out alive. Florida fans are great at watching a game, but only slightly above average in everything else. If you're not a Gator, you're Gator bait, or you're a Seminole.
7. Texas A&M – Overall GPA: 3.4
Loyalty: A   H.F.A: A  Tavelability: B Tailgating: B- Knowledge: B+ 
Aggie fans are dedicated to every snap of every game. Home to the "12th Man" these fans get after it. Being located in College Station, Texas prevents fans from being able to escape their everyday lives to travel to even their closest opponent in Baton Rouge, which is five and a half hours away. As a current college student I know as well as anybody, aint nobody got time for that.
 6. Auburn – Overall GPA: 3.54
Loyalty:  A  H.F.A:  A  Travelability:  B  Tailgating:  A-  Knowledge:  B 
Nothing gets an Auburn fan fired up more than when they hear the words War and Eagle. Fear strikes the heart of their opponents right before opening kickoff. There is an infinitesimal number of schools more loyal than Auburn, especially because they have stayed loyal to the school after decade after decade after decade of being second fiddle to Alabama.
T-4. South Carolina – Overall GPA: 3.6
Loyalty:  A+  H.F.A:  A  Travelability:  A-  Tailgating:  B Knowledge: B
When I just said there are an infinitesimal number of schools more loyal than Auburn, South Carolina is one of them. The Gamecocks have sold out every home game since Adam started slinging the ole pigskin around with Cain, Abel, and Seth. Although South Carolina has struggled to stay above water, surrounded by powerhouse teams like Clemson, Georgia, and Tennessee, on gameday Williams-Brice Stadium is always packed. Like the saying goes "if we ain't swaying, we ain't playing." Their tailgating, however, brings their GPA down with a disappointing B, which is understandable. Have you ever been to Columbia, SC in September? It's hotter than a billygoat's ass in a pepper patch. They still know have a good time down there. 
T-4. Georgia – Overall GPA: 3.6
Loyalty: A-  H.F.A:  A-  Travelability:  A  Tailgating: B+  Knowledge: B+
Dawg fans know how to do it. They are top tier with gameday experience and are able to have a presence at almost every away game. They travel to Columbia, they arrive in Knoxville, and show up in Jacksonville for the World's Largest Outdoor Cocktail Party. Although their tailgating is extremely fun with top of the line entertainment and class, it is dispersed throughout the campus. They were originally ranked higher on my list, but for some reason I cannot get this song out of my head sent to me by a Gamecock fan.
3. Tennessee – Overall GPA: 3.74
Loyalty: A  H.F.A: B+  Travelability: A-  Tailgating: A-  Knowledge: A
If I had a nickel for every time I heard a Vols fan say "this is our year," or "we're going to win it all" I would not have to work a day in my life.   They believe in their program more than the Pope believes he's Catholic. Tennessee has an overall great fan base, but only gets a B+ for Home Field Advantage for the simple fact that Neyland Stadium gets taken over at times.
2. LSU – Overall GPA: 3.96
Loyalty:  A  H.F.A: A+ Travelability:  A- Tailgating:  A  Knowledge: A-
Whether it be from the Louisiana heat, or the their burning passion for their team, LSU fans lose their minds. Players on opposing teams are known to have PTSD after playing in Death Valley. Nobody is safe. These fans have been known to cause earthquakes. Even their tailgating is crazy, infusing caijun cooking with their extravagant libations. If any opposing fan is crazy enough to travel to Baton Rouge they must travel in packs or else they become tiger bait. LSU fans are passionate and dedicated, but throughout the past, present and future they fall a hair short of Alabama.
1. Alabama – Overall GPA: 4.0
Loyalty: A  H.F.A: A  Travelability: A+  Tailgating:  A  Knowledge: A-
You may disagree with me where schools ranked on this list, but there is no denying that Alabama is number one. For Tide fans, college football is not something they enjoy on a Saturday afternoon,or a mere interest in the Fall–it is a way of life. There are people who did not attend the school, yet would rather spend most of their salary on season tickets (which some would say is fiscally irresponsible. All that money that could've gone towards buying a trailer with an actual bathroom).
Speaking of football tickets, Alabama fans have been known to go to extreme measures to ensure AWAY game tickets. In 2010, Bama fans bought season tickets for Duke football in order to guarantee that they would be able to get a seat in Wallace Wade Stadium. Alabama fans were not concerned about Duke fans getting all the seats, instead, they were more concerned about losing out seats to other Alabama fans. There is no other program in the nation that has every single fan stay until the bitter end, even if they are up by 60, simply to rub it in their opponents face even more with Rammer Jammer.
Fathers will disown their children if their first words are not "Roll Tide." Their football knowledge would be higher, however, there is a population of Alabama fans that say the most ignorant things. We all know that Bama fan that would say something insane. Have you ever watched the Paul Finebaum Show? 
Outside the SEC
Few schools can hold a light to those in the SEC when it comes to fan bases. These three, however, are right up there with the best of the best.
3. Nebraska – Overall GPA: 3.8
Loyalty:  A  H.F.A:  A-  Travelability:  A  Tailgating:  B  Knowledge:  A+
The Cornhuskers know their football. I mean what else would do they have to look forward to in Lincoln, Nebraska. Nebraska fans have been known to recognize greatness and great football, as well. Nebraska fans will treat you with hospitality when you make it to Lincoln as an opposing fan, and in some instances, have applauded opposing teams running off the field after a great, hard-fought win. Now that is great football knowledge.
2. Penn State – Overall GPA: 3.86
Loyalty:  A+  H.F.A: A Travelabilty:B+  Tailgating:  A- Knowledge:  A
Nothing proves the greatness of a school's fan base more than after an earth shattering scandal. After all the wrongs that happened within that program, it would have been understandable for fans to turn their backs on Penn State. It felt like everything they believed in and held as truth was wrong. In a football sense, it may be hard to see Penn State ever fully recovering from this. They may win games, and Big Ten Championships, but that image of Penn State as the "good guys" has been tarnished by the evils of one man, and the inability to do the right thing by a few others. Yet, every Saturday, thousands of people from Altoona, and Erie, and Scranton and other towns throughout Pennsylvania drive to State College dressed in blue and white. They did not abandon Penn State. They did not turn their back on their school, and they make sure every opposing team remembers that when they enter Beaver Stadium on Saturdays in the Fall.
1. Clemson – Overall GPA: 4.0
Loyalty: A+  H.F.A:  A  Travelability: A  Tailgating: A-  Knowledge: A
Clemson fans are the perfect hybrid of Alabama and LSU fans. They have the loyalty of Alabama and the psychoticness of LSU. Clemson fans are the type of fans that would drop their pregnant wife off at the hospital and then race to Memorial Stadium for opening kickoff, and their wife would understand. It is hard for people outside the South to understand how dedicated and loyal and passionate Clemson fans are. Trust me people, they are insane.
The phrase "to pull a Clemson" or "Clemsoning" has been coined not because the Tigers have lost games they were supposed to win (well, that's part of it), because every team experiences those types of losses (maybe not as much as Clemson, but I digress), but rather the state of turmoil of the fans enter into after the game. Life ceases to exist after a loss, fans don't know if they can continue on in a world filled with such despair and hopelessness. Yet, they return the next week to cheer on their Tigers with the same intensity they bring every game. Clemson fans are obviously dedicated to their team, I mean who in their right mind would wear that ugly shade of orange every Saturday?
(Image: http://www.campuspressbox.com/wp-content/uploads/2014/08/williams-brice-U-lg.jpg)