Season Defining Games in the West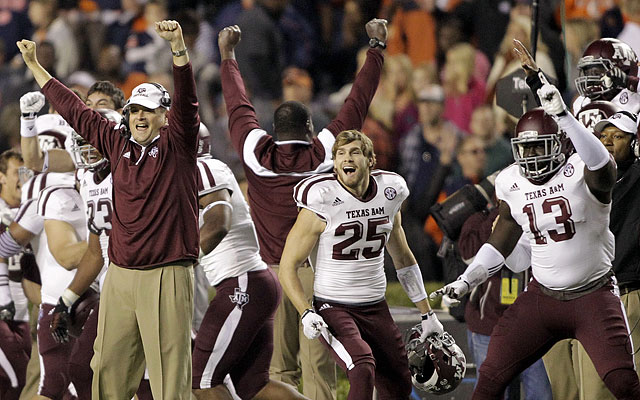 Some games define a season. Whether it is an amazing, season saving victory, or a soul-crushing defeat, these games can alter a season. Chris and Brendan didn't see eye to eye for each team. Who do you agree with?
---
Brendan: Alabama at Georgia: Alabama plays their first true away game in Athens. If Bama loses this game, then they will have to stay perfect (including a road win at Auburn) if they have any shot at the playoff.
Chris:  Alabama vs. Ole Miss: With trips to Georgia, A&M, Auburn, and Mississippi State all still to come, a home loss to the Rebels would almost certainly cripple any chances of winning the West.
---
Brendan: Arkansas at Alabama: This will be the second consecutive week Arkansas will play on the road. After winning by one point last year, the Tide will look to trounce the Razorbacks at home. Arkansas can't afford to get blown out in the middle of SEC play.
Chris: Arkansas vs. Texas A&M (Arlington): This is the first conference game for Arkansas. This game will be huge for Arkansas if they expect to compete in the West. If they win, then it would be the Hogs first conference win outside the state of Arkansas since 2012.
---
Brendan: Auburn at LSU: Rookie quarterback Jeremy Johnson will be put to the test in one of the most hostile stadium atmospheres. LSU also has an elite secondary. If Johnson does not perform well his confidence could be shot early in the season.
Chris: Auburn vs. Alabama: Auburn lucks out by having their three toughest conference opponents at home (Bama, Georgia, Ole Miss). If Muschamp fixes this talented defense, then Auburn could be undefeated in conference play leading up to the Iron Bowl. This could solidify their spot in the playoff.
---
Brendan: LSU at Mississippi State: The Tigers received a good-ole-fashion butt-whooping last year against the Bulldogs. Mississippi State rushed for over 300 yards in their 34-29 victory. LSU cannot afford an early season loss if they are going to contend in the West.
Chris: LSU at Mississippi State: If LSU loses this game, then any shot of winning the SEC West goes out the window. This team is very talented but if they cannot beat the teams they are supposed to, how can they expect to beat Alabama, Auburn, Ole Miss, etc.
---
Brendan: Ole Miss at Auburn: Both these teams could very well still be undefeated when they meet, and this game could decide who makes the playoff. Ole Miss must play at Alabama earlier on this season, and if things don't go as planed in Tuscaloosa then the Rebels cannot afford to lose a second game at Auburn.
Chris: Ole Miss at Florida: The Florida game is going to be a tough game for the Rebels but it is a must win. They have enough talent to win this game, but like LSU, they have to win the games against teams outside the state of Alabama to have a shot at the West.
---
Brendan: Mississippi State at Texas A&M: The Bulldogs will be playing their second game on the road, and could be beaten up from their game against Auburn. With Alabama, Arkansas, and Ole Miss still to play a midseason loss could pin the Bulldogs in a corner.
Chris: Mississippi State at Missouri. There really isn't a game MSU has against a divisional opponent that looks to be a for-sure win. So it is imperative the Bulldogs win not only the four non-conference games, but also the home Kentucky game. If that happens, then Missouri may be a crucial win for MSU to make a bowl game.
---
Brendan: Texas A&M at Ole Miss: The Aggies will be playing their fourth conference game against the Rebels. After playing Arkansas, Mississippi State, and Alabama, the Aggies could very well be 0-3. The offense will have to find a way to win against this tough, "Landshark" defense.
Chris: Texas A&M vs. Arizona State (Houston): This game sets the tone for the rest of the season. If the defense looks to be improved under Chavis and the offense shreds a legitimate Pac-12 opponent, then A&M could be poised to shock the West, especially with both Auburn and Bama coming to College Station.
---
Look for the East edition coming soon.