Season Defining Games in the East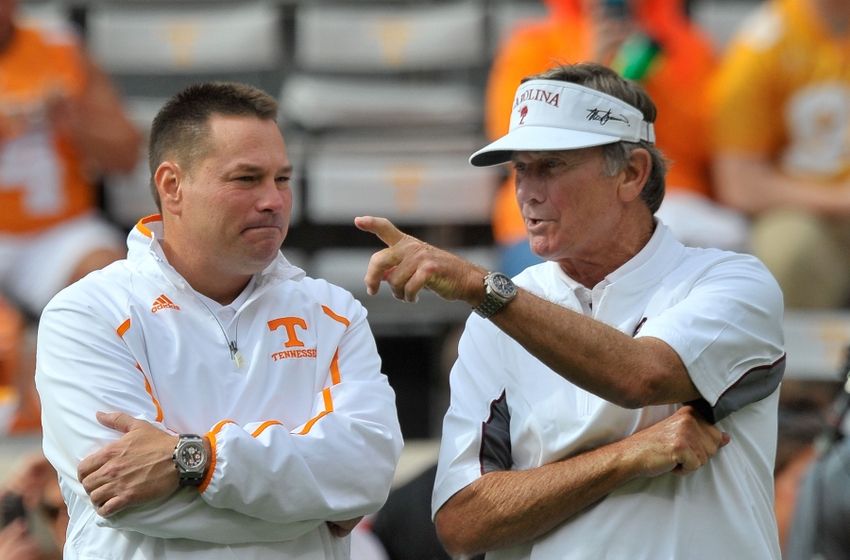 Man alive! When you look at the East, it is hard to pick just one season defining game, but the Front Porch Football brothers gave it their best shot.
---
Brendan: Florida at South Carolina: The Gators barely lost to the Gamecocks (20 – 23) last year. Coming off a disappointing year, Florida is looking to make it to a bowl game, and this could either make or break those chances.
Chris: Florida at Kentucky: Kentucky has a good offense this year. Commonwealth Stadium is going to be going insane for this game. If Florida goes into Lexington and loses then this Gator season might be a disaster.
---
Brendan: Georgia vs. Alabama: Georgia has one of the toughest schedules in the SEC. A loss to the Tide could be detrimental especially since they have to play at Tennessee the following week and Auburn later on.
Chris: Georgia vs. Alabama: What Brendan said. If Georgia loses to Bama, the Bulldogs would probably have to be perfect for the rest of the season, which includes trips to Knoxville and Auburn.
---
Brendan: Kentucky vs. Florida: The Wildcats are working hard for a six win season. With a tough schedule ahead of them this game could determine whether they make it to a bowl game or not.
Chris: Kentucky vs. Louisville: As good as Louisville is, the rest of the season leading up to this game doesn't look any easier. If the Wildcats are going to take the next step forward they have to win against a very good, (not SEC-good) Louisville team.
---
Brendan: Missouri at Kentucky: This will be the Tigers first conference game and it will be crucial for them to start division play with a road win. Kentucky's offense could give Missouri's inexperienced defensive line a little trouble, but if the Tigers play well they should gain a little confidence going into the harder parts of the schedule.
Chris: Missouri vs. South Carolina: This year, if Missouri has a shot to win the East, they have to beat the Gamecocks at home, especially with late-season, daunting road trips to Arkansas and Georgia still remaining on the Tigers schedule.
---
Brendan: South Carolina at Missouri: The Gamecocks lost on last minute scores against Missouri, Kentucky, and Tennessee last year. There is nothing Steve Spurrier can say or do that will give his players any sort of confidence, if they lose this game. Having some of their toughest games still ahead of them, the Gamecocks cannot lose.
Chris: South Carolina vs. Chapel Hill (in Charlotte): This game is HUGE for the Gamecocks' confidence. If they can beat Chapel Hill, then South Carolina will have some momentum and confidence going into the conference games.
---
Brendan: Tennessee vs. Georgia: This will be the first game where the offensive line could cripple Vols' offense. With an exceptional defensive pass rush, Georgia will look to abuse Josh Dobbs in the pocket, and if the Vols cannot produce any rushing yards, then they could get shut out.
Chris: Tennessee at Florida: The Volunteers have lost the last ten games against Florida. That trend must stop if the Vols are going to start contending for SEC titles. This is their best shot at beating the Gators in The Swamp since 2003; another loss would be devastating.
---
Brendan: Vanderbilt at Houston: With a 3-9 record last year the Commodores need to win every single game out of conference. Houston is their last non-conference game and the outcome of this game could very well decide whether Derek Mason keeps his job.
Chris: Vanderbilt at Houston: This is the most obvious choice on this list. The non-conference games are huge for Vanderbilt. There aren't really any conference games that the Commodores have a shot to win this season, so if they can finish the season with four wins and no embarrassing non-conference losses, then the season should be a success.
(Featured Image from Fanside)
(Featured Image from Fanside)