Rose Bowl: Georgia vs. Oklahoma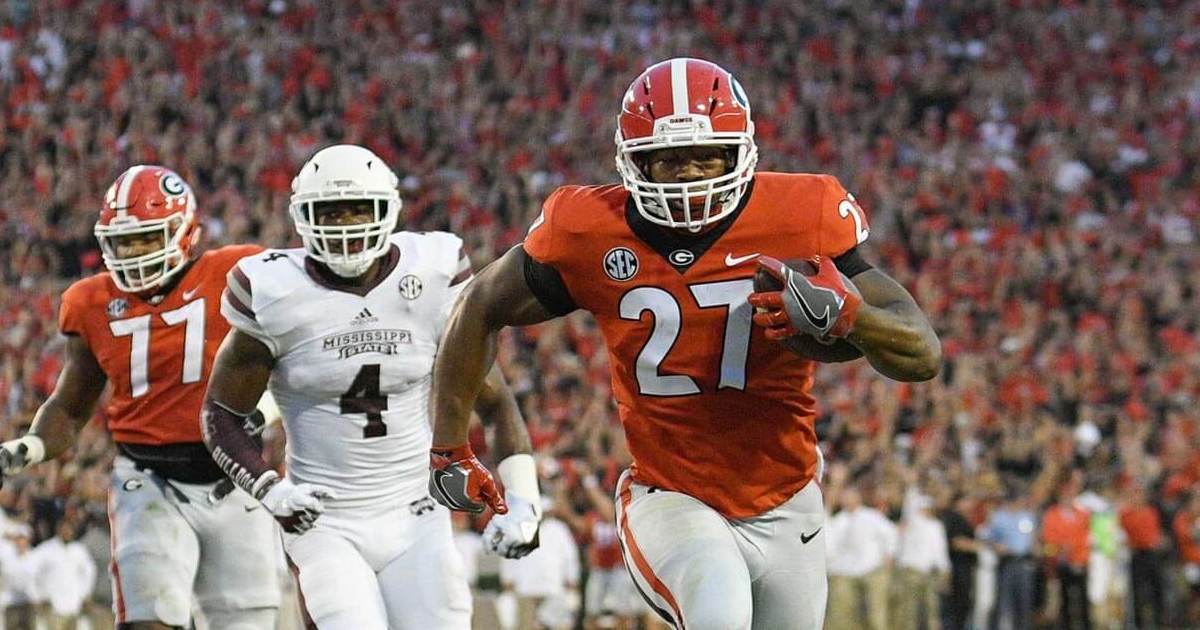 by Christopher Paschal
Location: Rose Bowl – Pasadena, CA
Kickoff: New Year's Day, 5:00 PM
This is the second time Georgia and Oklahoma have visited the Rose Bowl. But this one means so much more. This is the most intriguing bowl game to me. A resurgent Georgia team – one that hasn't won a National Title in over three decades, but feels like an SEC juggernaut again. And Oklahoma – one of the best teams in the country year in and year out, but who only has one National Title to its name over the past three decades. This game has great defense, great offense, great running backs, and a Heisman winner. Buckle up.
Breaking Down Oklahoma: Baker Mayfield is as dynamic as one would expect in a six foot quarterback that won the Heisman. He is elusive, fast, explosive, and can make all types of throws. It doesn't hurt that Oklahoma has an offensive coaching staff that has carefully crafted an offense that Mayfield can thrive in. This is the nation's leading offense in yards per game. Not only does Mayfield have weapons down the field in Lamb, Andrews, and Brown, but he also can turn around and hand the ball off to Anderson, Sermon, and Adams. The Sooners have, I kid you not, ten legitimate weapons at Mayfield's disposal. After sifting through the stat sheets and watching condensed Oklahoma games, I found ten different players that I would consider playmakers.
Oklahoma's defense is not nearly as praiseworthy as its offense. The Sooners rank well outside the top 25 in most statistical categories. They rank 88th in pass defense (allowed passing yards per game), 40th in rush defense (allowed rushing yards per game), and 52nd in scoring defense (points allowed per game). They aren't an exceptional pass rushing team (24 sacks) and they don't force a bunch of turnovers (17). Oklahoma is truly an average defense. They have shown glimpses of excellence – Ohio State comes to mind – but most of the time, the Sooner defense looks pretty average.
Breaking Down Georgia: Best backfield in the country. Five running backs have carried the ball over 50 times this season for Georgia. Everyone knows about Nick Chubb, but Sony Michel, D'Andre Swift, Elijah Holyfield, and Brian Herrien are all great backs. Probably the biggest reason for Georgia's improvement in the run game is the maturation of the offensive line. Last year this line was small and inexperienced. Through recruiting and another year in the weight room, this has become a solid unit. The story of the season has been true freshman quarterback, Jake Fromm. Fromm has put up great numbers for his first season in the SEC. He's athletic enough to evade defenders in the pocket and to pose as a threat in the run game. Receivers Javon Wims and Terry Godwin are putting together excellent years receiving, and Swift and tight end Isaac Nauta are nice receiving options, as well.
Georgia's defense is filthy. I predicted at the beginning of the season that Georgia would finish the season in the top five nationally in scoring defense. They are fourth right now. Team's cannot run or throw on Georgia. They are 12th in rush defense and 2nd in passing defense. The Dawgs aren't amazing at rushing the passer or in forcing turnovers, but when teams don't score on you, nobody seems to care. John Atkins, Trenton Thompson, Roquan Smith and Lorenzo Carter need to have big games in run defense and in rushing the passer, and the Dawgs' secondary has to play their best game. Bold prediction – Dominick Sanders is going to force a huge turnover late in the game.
Key to the Game: Can Georgia control the time of possession? If the Dawgs condense this game, keep their defense rested, and run the ball effectively, they win. If the Dawgs offense is smothered by a fired up Oklahoma defense, then Baker Mayfield pours it on in the second half.
Chris's Prediction: I am much more confident in my pick for this game than I am for the Sugar Bowl. I like the Dawgs in this one, and I think they flex their muscle in the fourth quarter. Georgia is going to run this ball down the Sooner's throat. I seriously think that Georgia will rush for over 300 yards in this game. The Georgia defense is going to get adequate amounts of rest, allowing for this defense to play fast. I think Oklahoma gets their points, but score nowhere near as many as they have all season. And I don't expect Fromm to cower away from Mayfield. Fromm is going to complete a huge pass play for a touchdown. In the end, Georgia is too much for OU's defense, and Mayfield doesn't get the possessions he needs to put up enough points. Dawgs win somewhere in the neighborhood of 35-24.
(Featured Image from Sic'em Dawgs)