Ranking Kickers in the SEC from Worst to Best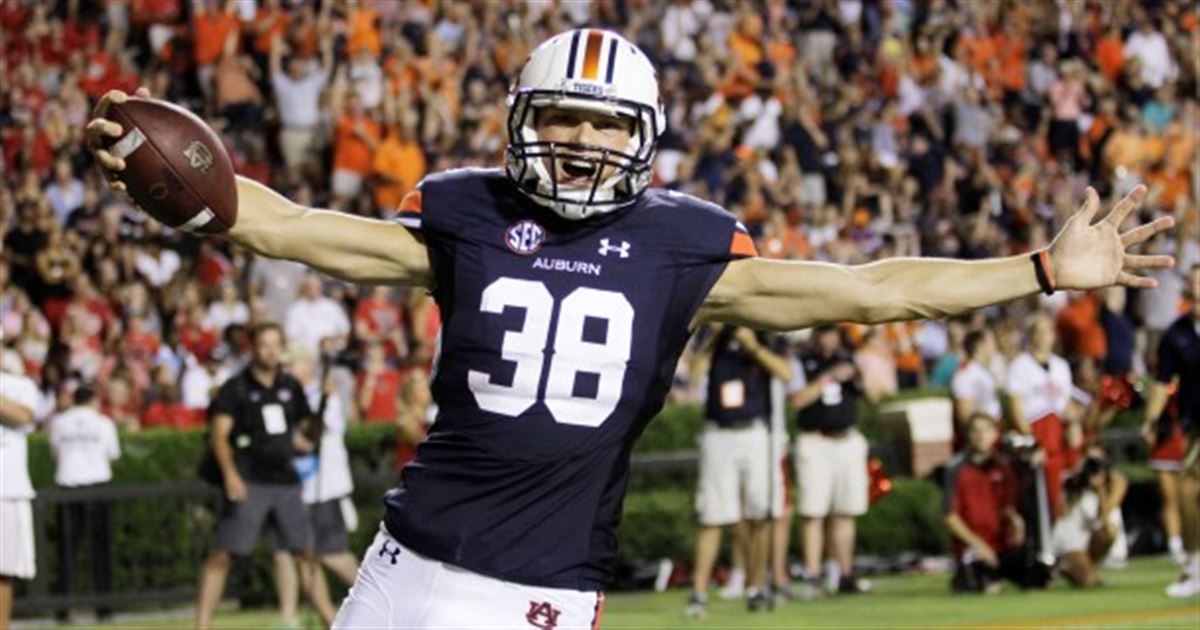 by Ann Taylor
Before I kick off this article on one of my favorite topics in the whole wide world of athletics, let me preface by saying, hey, I am just a gal analyzing all of the specific kicking situations in the SEC. Now, if I was going through and ranking the entire special teams units of each team, we would see the rankings change a good bit. (Sorry A&M, you will not make the top 10 in this category, but I super acknowledge that Christian Kirk is a grade A beast and puts your special teams guys up there for sure.)
14. Missouri: Mizzou, you have got to be kidding me. Your return game is so solid, but this does not remotely make up for the fact that your kicker, sophomore Tucker McCann, went 6 for 12 in field goal attempts last season. The only somewhat impressive thing about the guy is the fact that 65.6% of his kickoffs were touchbacks. Please, for the love of all things holy, if you value the position of placekicker, replace him. Goodbye, I'm done.
13. Mississippi State: Which is worse—a terrible kicker or no kicker at all? Mizzou has the first, and it looks like Mississippi State has the latter. They have no clue who is going to start next year, and there appears to be three options, none of which have truly shined. Dan Mullen even admitted that no one shined in the spring because they "didn't see a lot of positives," and now, no one is sticking out because they aren't "seeing a lot of negatives," so I guess that's a good thing. If you want some names to follow, look for Tucker Day, Jordan Lawless and Daniel Mills, but you won't really be looking at much right now.
12. Arkansas: Looks like Arkansas is in a major pickle. Currently, they are out a starting kicker and have too many average options to choose from. Based on how he has shown himself in the first scrimmages and practices, Bret Bielema is looking at redshirt sophomore Cole Hedlund (right) as the frontrunner for starting placekicker. He didn't see that much action last year, but what we can take away are the statistics that he made 5 out of 7 field goal attempts and all of his extra point attempt, but he appears to be weak off the left hash. On the other hand, we have the freshman walk-on, Blake Maaza who has also been showing up this summer. The third option is sophomore Connor Limpert who is predicted to be their kickoff guy since he lacks the consistency and precision seen in the other two Razorback options. Arkansas has some okay guys, but they just aren't comparable to the other talent in the SEC right now.
11. Texas A&M: Just want to give just one more shoutout to the man who is about to put the A&M special teams unit on his back before I dive into the struggles in the kicking department—Christian Kirk, you're a first round draft pick, and you know it. As for sweet sweet, junior kicker, Daniel LaCamera, that is not the case. Words to describe LaCamera range from "mediocre" to "eh," and honestly, he's just average. He made 17 of 24 field goal attempts, but he is described as being "shaky" on the field—yikes. Also, he does just fine with kickoffs, but he is nothing spectacular. Everywhere I read says he needs to "mature," but the boy has only two seasons left, so he better take some growth hormones or cut out the coffee or figure out another plan.
10. LSU: LSU is not looking super stellar, but I guess they have an option or two. Cameron Gamble, their kickoff guy is returning, but let it be known, this guy was ranked dead last in touchbacks in the SEC last season. Their saving grace could be redshirt freshman and the probable frontrunner, Connor Culp, who was a three start recruit out of high school. They've also got sophomore Jack Gonsoulin. He saw very little action last season (4 kickoffs and 1 extra point), and the biggest news I found about him online going into this season is that he has gained about 25 pounds since high school. Congrats, Jack!
9. Tennessee: Alright, I was originally going to place Tennessee in the 8 slot, but now, I'm worried. Senior kicker, Aaron Medley had a bang-up freshman season, coming in second in the SEC in field goals made and field goals made per game. However, the following two seasons proved to be very disappointing. Last season, he was 11 for 16 in field goal attempts, and it felt like all of the ones he missed were extremely crucial and caused the Vols too many games—seriously, check Twitter. UT fans show him no mercy. Maybe he cracks under pressure, I don't know. But what I do know is he now lacks consistency and has a very erratic leg that does not prove to be very handy for Tennessee. If he could somehow time travel and bring back the confidence and talent he had freshman year, he'd be golden. He's pretty decent with kickoffs though, so that's nice?
8. South Carolina: Before you criticize me for being overly biased, hear me out. First of all, the Gamecocks are in a tough spot right now, losing so many of the program's awesome specialists. Not only did kicker, Elliott Fry, who is now South Carolina's all-time leading scorer, graduate, but so did fifth-year stud, punter, Sean Kelly AND consistent long snapper, Drew Williams. However, with all of these big names leaving the program, everyone assumes that the kicking situation has been demolished—wrong. Redshirt freshman walk-on, Alex Woznick (left) has been looking pretty solid in practice and might be the perfect option to take over placekicker duties. Additionally, you have big, ol' 6'5, redshirt sophomore Joseph Charlton waiting to see some playing time as well. It's looking like Charlton will be the kickoff guy and covering punting duties. See, South Carolina isn't so bad and looks pretty promising. You people are crazy.
7. Vanderbilt: Straight up—Vandy's got a pretty decent kicker in fifth-year senior, Tommy Openshaw. He was 15 for 19 in field goal attempts last season, making all field goals under 40 yards. Additionally, his other four field goals were 47 plus yards. His ability to show up and take care of business has even earned him a spot on this season's Lou Groza Award watch list. There you go, Vandy! Trusty Tommy Openshaw is something you have to actually look forward to this season.
6. Alabama: Although the Tide excels in basically everything on the field, I can't place them in the top five because they're gambling this season. Granted, their special teams unit looks pretty fantastic, having JK Scott, easily the best punter in the SEC, but since losing their fifth-year senior kicker, Adam Griffith, they have been tasked with finding his replacement. From the looks of it, the favored frontrunner seems to be true freshman, Joseph Bulovas (right.) The 6-foot, 3 star recruit out of Mandeville, Louisiana was selected as Rivals.com's top kicker in his recruiting class. Originally, he had committed to play at Georgia Tech, but after receiving the offer at Alabama, he quickly decommitted and agreed to join the Tide for the 2017 season—sorry ACC, you'll get 'em next time…not. Obviously, he has some pretty big expectations to live up to, but with all the hype behind him and a killer high school performance, I think he could be the freshman to watch this season.
5. Kentucky: Kentucky's kicking situation is looking pretty solid coming into the 2017 season with fifth-year senior kicker, Austin MacGinnis. Sure, his best season was his (second) freshman year where he made both first team All-SEC and first-team Freshman All-America. The next season he struggled with an injury, but since then, he has stayed fairly consistent and comes in clutch for Kentucky on a regular basis. Last season, MacGinnis made 16 of 19 field goals attempts, ranking him at third in the SEC and ending the season with 7 straight made attempts. His records with field goals are very respectable, and although he might not have the strongest leg out of all the kickers in the nation, he has never put the ball out of bounds on a kickoff, so let's chalk that up to a win.
4. Georgia: I had a tough time deciding whether or not I wanted to place Georgia at the 4 slot or the 5 slot, but they surpass Kentucky solely because they have options, and darn good ones at that. First and foremost, the Dawgs have redshirt sophomore, 2016 SEC All-Freshman Team, Rec Spec-wearing, Rodrigo Blankenship (left) returning despite the huge scholarship situation—now that was wild. Despite all of the controversy and the fact that Rodrigo did not receive the scholarship that was expected, the guy's got a great leg. He went 14 for 18 in field goals attempts last season, placing him at 6th among SEC kickers. However, as I mentioned, Georgia has options. They recently have brought on fifth –year, David Marvin from Wofford College (go t-dogs) who has a pretty impressive record from his time playing FCS ball. He holds Wofford's school record for most field goals in history and proves to be pretty dependable on the field. It's predicted that Marvin will cover the kickoffs and maybe some longer range field goals, whereas Blankenship will stick to being the starting placekicker.
3. Ole Miss: Ole Miss—you lucky dogs. Your special teams unit is below average, but your kicker is above and beyond. Senior kicker, Gary Wunderlich (right), second team All-SEC, third team All-American and Lou Groza semi-finalist, is nothing short of impressive. He led not only the SEC but the nation in accuracy last season, hitting 22 of 23 field goals for a 95.7% average—yeah, he broke some records there. He rounded out the season by making 17 straight field goals, all the while splitting punting duties with Will Gleeson. He is super consistent, but it looks like he only attempted four kicks that were more than 40 yards, and his only missed attempt was over 50. Great kicker, incredible consistency, and he will be a great one to watch in his final season. Who knows, if he can somehow take that consistency to the next level and start crushing even longer attempts, he might be the one to snag the Lou Groza Award from the projected winner this season.
2. Florida: Honestly, outside the state of Alabama, Florida has it made on the special teams front. Between 2016 All-SEC second team punter, Johnny Townsend and big time Lou Groza watch list guy, Eddy Pineiro (left), Florida easily has the best combined set of legs in the whole conference. Pineiro, the redshirt junior out of Miami, is a stud. Last year he went 21 for 25 in field goal attempts (making his last 12 in a row) and dominated the conference by averaging 64.8 yards with kickoffs. He is single-handedly bringing back Florida' kicking game. Not to mention, his confidence is at an all-time high. Don't believe me? Check all of his social media for the video of him crushing an 81 yarder in practice, in PADS. Yeah, I like to watch it on repeat. Yeah, I drool a little bit. Dude's absolutely insane.
1. Auburn: You knew it was coming. Daniel Carlson (right), nicknamed "Legatron," is a beast, period. As a two-time Lou Groza finalist, second team All-American and holder of so many records at Auburn, it's a clear fact that this senior is going into the 2017 season as the best, most dangerous kicker in the nation. In his career, he is 69 for 83 in field goal attempts, and he honestly is the entire Auburn special teams unit, and he even covers the offense with the egregious amount of points he is consistently putting up. Additionally, he is so confident and comfortable on the field, admitting that he was more nervous proposing to his long-time girlfriend than kicking any field goal. Carlson is the perfect example of a textbook kicker, and it's safe to say that Auburn's other option, sophomore Ian Shannon, will find his position at starting punter this go-round.
A senior accounting major at Wofford College. Born in Flavortown, Ann is a special teams enthusiast, hotdog connoisseur and lifelong Gamecock.
(Featured Image from 247 Sports)
(Featured Image from 247 Sports)