Top 10 Best Coaches in SEC History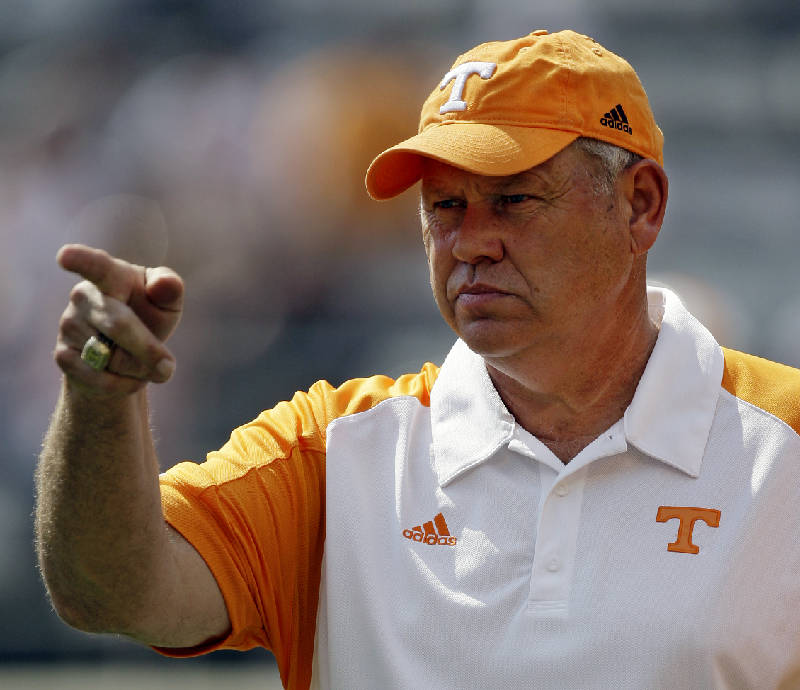 Somebody's feelings are going to be hurt over a list like this one. It was mathematically impossible for me not to leave off a College Football Hall of Fame coach from the best coaches  list. But I gave it my best shot, which isn't always good enough. Just ask Guz Malzhan as he gave this dance his best shot.
By the way, I did not include coaches who coached at schools that are now in the SEC but weren't at the time they coached.  This eliminated legends like D.X. Bible and R.C. Slocum at Texas A&M and Frank Broyles at Arkansas.
Just missed the cut: Pat Dye, Auburn (1981-1992): 4 SEC Titles, 99 wins.
10. Les Miles, LSU (2005-Present): 1 National Title, 2 SEC Titles, 3 Division Titles, 112 wins in the SEC. While some may disagree with this loose cannon in the top ten list, it is hard to deny his dominance in SEC football. Without Nick Saban and the Crimson Tide, Les Miles may have had a few more national titles to go along with his seven double digit-win seasons.
9. Urban Meyer, Florida (2005-2010): 2 National Titles, 2 SEC Titles, 3 Division Titles, 65 wins in the SEC. While almost all SEC fans despise Meyer's current employer (Ohio State), there is no denying his dominance during the short period he was at Florida. In the six years he coached there, Meyer made Florida a national power and dominated not only Georgia and Tennessee, but the entire SEC.
8. Shug Jordan, Auburn (1951-1975): 1 National Title, 1 SEC Title, 175 wins in the SEC. Had Jordan not coached at the same time as Paul Bryant, he would be remembered as one of the SEC's greatest coaches ever. Alabama was Jordan's kryptonite throughout his entire career. That being said, even in the shadow of the Bear, Jordan had an amazing career on The Plains and was awarded SEC Coach of The Year four times in 25 impressive years.
7. Phil Fulmer, Tennessee (1992-2008): 1 National Title, 2 SEC Titles, 6 Division Titles, 152 wins in the SEC. Like Jordan at Auburn, Fulmer probably would have had multiple National Titles, triple the number of SEC titles, and Lord-knows-how-many Division Titles had he not coached at the same time as Steve Spurrier and Urban Meyer. But even while competing against these amazing coaches (and more at Alabama and Georgia), Fulmer still built Tennessee into an SEC Power in its own right.
6. Johnny Vaught, Ole Miss (1947-1970, 1973): 3 National Titles (1 Consensus, 2 Shared), 6 SEC Titles, 190 wins in the SEC. One of the greatest SEC coaches of all time, Vaught started off with a bang, winning the SEC in his very first season leading the Rebels. Vaught had one of the greatest runs in college football history between 1952 and 1963, winning 5 SEC Titles, 7 Sugar Bowls, 2 Cotton Bowls, and a Gator Bowl, along with being named National Champion three times. Just as impressive – Vaught endured only one losing season.
5. Vince Dooley, Georgia (1964-1988): 1 National Title, 6 SEC Titles, 201 wins in the SEC. On the Mt. Rushmore of Georgia Football, Vince Dooley's All-American good looks are etched into the Georgia marble. Not only did he win the third-most games in SEC history, he also coached Georgia in some of its greatest moments: the 1980 National Title game, the "Run, Lindsay, Run" game, and basically anything Herschel Walker did. Dooley was named SEC Coach of the Year five times.
4. General Robert Neyland, Tennessee (1926-1934, 1936-1940, 1946-1952): 4 National Titles (2 Consensus, 2 Shared), 5 SEC Titles (including 2 titles when Tennessee was a part of the SEC's predecessor, the Southern Conference), 173 wins in the SEC. Neyland is simply one of the greatest the SEC ever had. He still leads the conference in overall win percentage at .829 (when only including a coach's years at an SEC school). Maybe even more impressively, his 1939 team did not give up a single point in the regular season, outscoring opponents 212-0. A West Pointer, Neyland added so much more to Tennessee than his teams' amazing on-field performances. He also was Athletic Director from 1936-1941 and 1946-1962, the architect of the 7 Maxims of Tennessee Football (still used today), and designer of the cathedral that is named after him – Neyland Stadium.
3. Steve Spurrier, Florida (1990-2001), South Carolina (2005-2015): 1 National Title, 6 SEC Titles, 8 Division Titles, 208 wins in the SEC. The Head Ball Coach was one of the finest the SEC had to offer, and the entire nation was mesmerized by him. He is second in the SEC in all-time wins while at an SEC school, he won seven division titles in ten years at Florida following the merger in 1992, and he was the greatest coach in South Carolina football history. He terrorized Georgia, winning 16 of his 24 match ups with the Bulldogs, he owned Fulmer and Manning in the '90s, and he entertained fans with his hilarious quips. And Spurrier never had a losing season (although if he had finished the 2015 season he almost surely would have experienced his first and last).
2. Nick Saban, LSU (2000-2004), Alabama (2007-Present): 5 National Titles, 6 SEC Titles, 9 Division Titles, 148 wins in the SEC: Saban is the greatest coach in college football today. He has built a dynasty at Alabama and he has done it all through "The Process." He has won at both LSU and Alabama, and he has done it during a time where the SEC West has been as loaded as ever. Following a seven-win first year at Alabama (2007), his Alabama teams have reeled off eight straight double digit-win seasons. He has coached Alabama's only (!) two Heisman winners, along with countless first round draft picks.  And his coaching tree includes not only three current SEC head coaches – Jim McElwain, Will Muschamp, and Kirby Smart – but also Jimbo Fisher, Derek Dooley, Mark Dantonio, and defensive guru Jeremy Pruitt.
1. Paul W. "Bear" Bryant, Kentucky (1946-1953), Texas A&M (1954-1957), Alabama (1958-1982): 6 National Titles (3 Consensus, 3 Shared), 14 SEC Titles, 292 wins in the SEC. Paul Bryant is the Godfather of all College Football. There are other legends: Knute Rockne, Woody Hayes, Bobby Bowden, Joe Paterno, Earl Blaik, to name a few.  But all pale in the presence of The Bear. He has the most wins in SEC history. He has the most National Titles in SEC history. He has the most SEC Titles in SEC history. He was SEC Coach of the Year 12 times. He integrated Alabama's football team, he wrestled a bear when he was a teenager, and he represented the South at times the South badly needed it. When asked why he returned to Alabama to be the head football coach, he replied, "Mama called." Thank goodness she did.