Porch Picks Week 6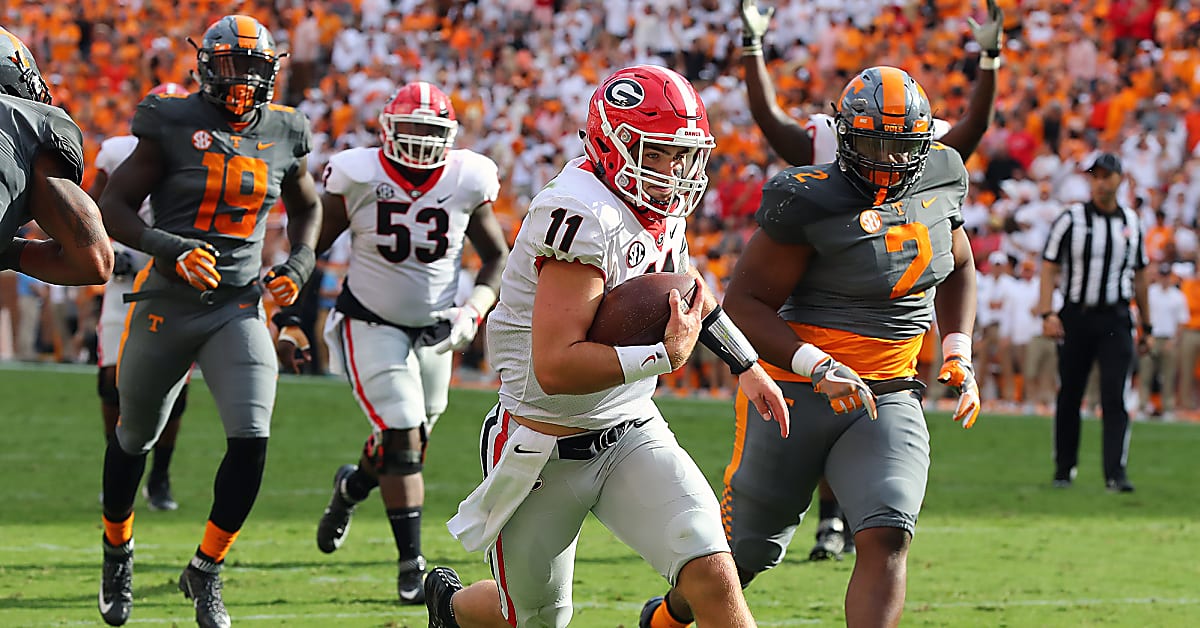 Prior to the season starting, Week 6 had the potential to hold some of the most exciting games we would see all year. However, with the collapse of certain programs in the SEC – Ole Miss, LSU, and Missouri – this weekend should not hold any surprises. The biggest game of Week 6 could actually determine who stinks more, Arkansas or South Carolina? Both teams have struggled in the front half of the year, and this could make or break their seasons.
This week, the boys from Front Porch Football are happy to welcome Mrs. Kelly Mattei! She is a graduate of the University of Alabama, and bleeds crimson. You may never meet someone as dedicated to the University of Alabama as she is, but don't worry Auburn fans, she's no Harvey Updyke. Mattei resides in Charlotte, NC with her loving husband and daughter. She is also one of Front Porch Football's original supporters and most loyal followers! Good luck this weekend!
Porch Picks in the SEC
Alabama at Texas A&M
Chris: Alabama
Brendan: Alabama
Max: Alabama
Pavy: Alabama
Mattei: Roll Tide!
Georgia at Vanderbilt
Chris: Georgia
Brendan: Georgia
Max: Georgia
Pavy: Georgia
Mattei: Georgia
Ole Miss at Auburn
Chris: Auburn
Brendan: Auburn
Max: Auburn
Pavy: Auburn
Mattei: Auburn
LSU at Florida
Chris: Florida
Brendan: Florida
Max: Florida
Pavy:LSU
Mattei: Florida
Arkansas at South Carolina 
Chris: South Carolina
Brendan: South Carolina
Max: South Carolina
Pavy: South Carolina
Mattei: South Carolina
Missouri at Kentucky
Chris: Kentucky
Brendan: Kentucky
Max: Kentucky
Pavy: Kentucky
Mattei: Kentucky
Non- SEC:
Louisville at North Carolina State
Chris: North Carolina State
Brendan: North Carolina State
Max: North Carolina State
Pavy: Louisville
Mattei: Louisville
Wake Forest at Clemson 
Chris: Clemson
Brendan: Clemson
Max: Clemson
Pavy: Clemson
Mattei: Clemson
Iowa State at Oklahoma
Chris: Oklahoma
Brendan: Oklahoma
Max: Oklahoma
Pavy: Oklahoma
Mattei: Oklahoma
Penn State at Northwestern 
Chris: Penn State
Brendan: Penn State
Max: Penn State
Pavy: Penn State
Mattei: Penn State
West Virginia at TCU
Chris: TCU
Brendan: TCU
Max: West Virginia
Pavy: TCU
Mattei: West Virginia
Notre Dame at North Carolina
Chris: Notre Dame
Brendan: Notre Dame
Max: North Carolina
Pavy: Notre Dame
Mattei: Notre Dame
Maryland at Ohio State
Chris: Ohio State
Brendan: Ohio State
Max: Ohio State
Pavy: Ohio State
Mattei: Ohio State
Army at Rice
Chris: Army
Brendan: Army
Max: Army
Pavy: Army
Mattei: Army
SMU at Houston 
Chris: Houston
Brendan: Houston
Max: Houston
Pavy: SMU
Mattei: SMU
New Mexico State at Appalachian State
Chris: Appalachian State
Brendan: Appalachian State
Max: Appalachian State
Pavy: Appalachian State
Mattei: Appalachian State
Michigan State at Michigan 
Chris: Michigan
Brendan: Michigan
Max: Michigan
Pavy: Michigan
Mattei: Michigan
Miami at Florida State
Chris: Miami
Brendan: Miami
Max: Miami
Pavy: Florida State
Mattei: Miami
Western Carolina at Wofford  
Chris: Wofford
Brendan: Wofford
Max: Wofford
Pavy: Wofford
Mattei: Wofford
Washington State at Oregon
Chris: Oregon
Brendan: Oregon
Max: Washington State
Pavy: Washington State
Mattei: Washington State
Bonus Pick:
Chris: The Citadel over Mercer
Brendan: Southern Cal over Oregon State
Max: Mercer over The Citadel
Pavy: UCF over Cincinnati
Mattei: Utah over Stanford
---
---
Front Porch Football's Season Records and Week 5's Record
Chris: 69-36, (13-6)
Brendan: 70-35, (14-5)
Max: 63-38, (13-6)
Pavy: 76-25, (16-3)
Guest Picker Jacob Allen : (13-6)
(Featured image from Dawg Nation )