Porch Picks Week 12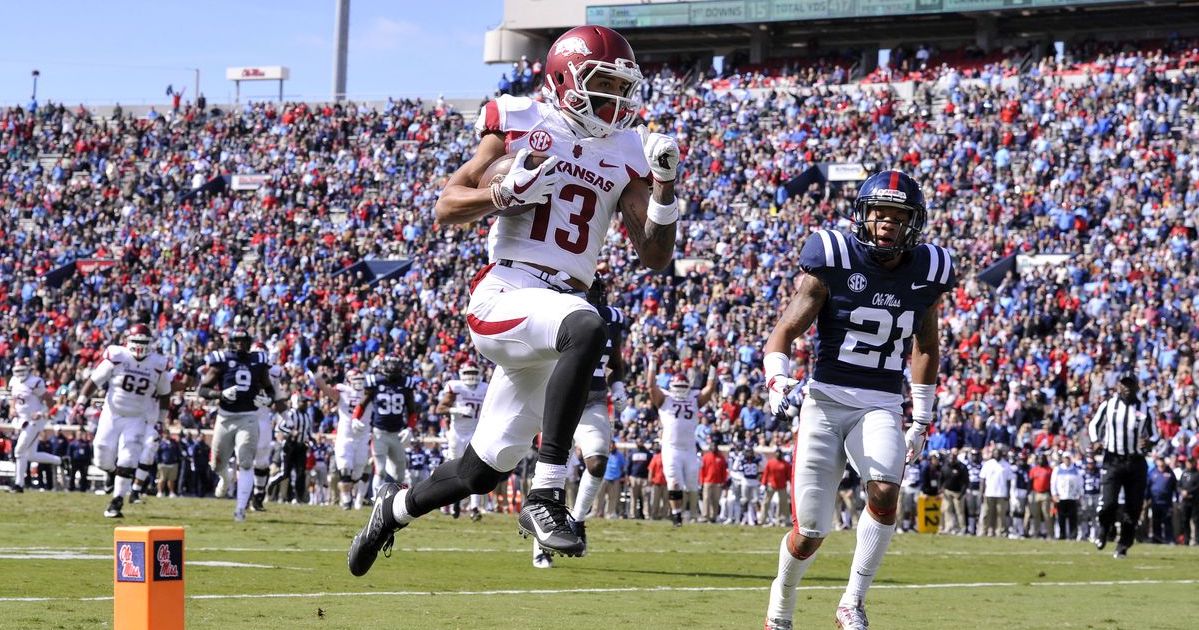 After Georgia fell to Auburn last week, Clemson moving up to number 2 in the CFP Poll, and Missouri obliterating Tennessee, this week has a tough act to follow. However, fans should not sleep on Week 12. Kevin Sumlin and Bret Bielema's seat continue to heat up, so both Texas A&M and Arkansas need a win against teams that could give them trouble. Barry Odom and the Missouri Tigers look to continue their hot 4 game win streak as they head into Nashville, Tennessee to face Vanderbilt.
Our guest picker this week is one of Wofford's finest. Drake Cassidy is senior golf star from Hartsville, SC.  Although  he is normally a huge Gamecock fan, he will be cheering against them this week as his T-dogs travel down to Columbia, SC. This could arguably be the biggest game of the week where the recently named Southern Conference Champs look to upset Gamecocks. Week 12 should be full of great southern football!
SEC:
Mississippi State at Arkansas 
Chris: Mississippi State
Brendan: Mississippi State
Max: Arkansas
Pavy: Mississippi State
Drake: Mississippi State
Kentucky at Georgia 
Chris: Georgia
Brendan: Georgia
Max: Georgia
Pavy: Georgia
Drake: Georgia
LSU at Tennessee 
Chris: LSU
Brendan: LSU
Max: Tennessee
Pavy: LSU
Drake: LSU
Texas A&M at Ole Miss
Chris: Ole Miss
Brendan: Ole Miss
Max: Texas A&M
Pavy: Texas A&M
Drake: Texas A&M
Missouri at Vanderbilt
Chris: Missouri
Brendan:Vanderbilt
Max: Vanderbilt
Pavy: Missouri
Drake: Missouri
Wofford at South Carolina 
Chris: Wofford
Brendan: Wofford
Max: Wofford
Pavy: Wofford
Drake: Wofford
Non SEC
Virginia at Miami
Chris: Miami
Brendan: Miami
Max: Miami
Pavy: Miami
Drake: Miami
Michigan at Wisconsin 
Chris: Wisconsin
Brendan: Michigan
Max: Wisconsin
Pavy: Wisconsin
Drake: Michigan
TCU at Texas Tech 
Chris: TCU
Brendan: TCU
Max: TCU
Pavy: TCU
Drake: TCU
SMU at Memphis 
Chris: Memphis
Brendan:Memphis
Max: Memphis
Pavy: Memphis
Drake: Memphis
Minnesota at Northwestern
Chris: Minnesota
Brendan: Minnesota
Max: Northwestern
Pavy: Northwestern
Drake: Northwestern
Texas at West Virginia 
Chris: West Virginia
Brendan: Texas
Max: West Virginia
Pavy: West Virginia
Drake: West Virginia
Fresno at Wyoming 
Chris: Wyoming
Brendan: Wyoming
Max: Wyoming
Pavy: Wyoming
Drake: Wyoming
North Carolina State at Wake Forest 
Chris: North Carolina State
Brendan: North Carolina State
Max: North Carolina State
Pavy: Wake Forest
Drake: North Carolina State
UCLA at Southern Cal
Chris: USC
Brendan: USC
Max: USC
Pavy: USC
Drake: USC
Navy at Notre Dame 
Chris: Notre Dame
Brendan: Notre Dame
Max: Notre Dame
Pavy: Notre Dame
Drake: Notre Dame
Army at North Texas 
Chris: Army
Brendan: Army
Max: Army
Pavy: Army
Drake: Army
California at Stanford 
Chris: Stanford
Brendan: Stanford
Max: Stanford
Pavy: Stanford
Drake: Stanford
Utah at Washington 
Chris: Washington
Brendan: Washington
Max: Washington
Pavy: Washington
Drake: Washington
Harvard at Yale
Chris: Yale
Brendan: Yale
Max: Yale
Pavy: Yale
Drake: Yale
Bonus Pick: Next Coach Fired in the SEC?
Chris: Kevin Sumlin – Texas A&M
Brendan: Barry Odom – Missouri
Max: Barry Odom – Missouri
Pavy: Bret Bielema – Arkansas
Drake: Bret Bielema – Arkansas
---
Front Porch Football's Season Records and Week 11's Record
Chris: 156-71 (16-4)
Brendan: 157-70 (16-4)
Max: 145-82 (14-6)
Pavy: 156-71 (12-8)
Guest Picker Jonathon Garwood: (15-5)
(Featured Image from USA Today )