Porch Picks Week 9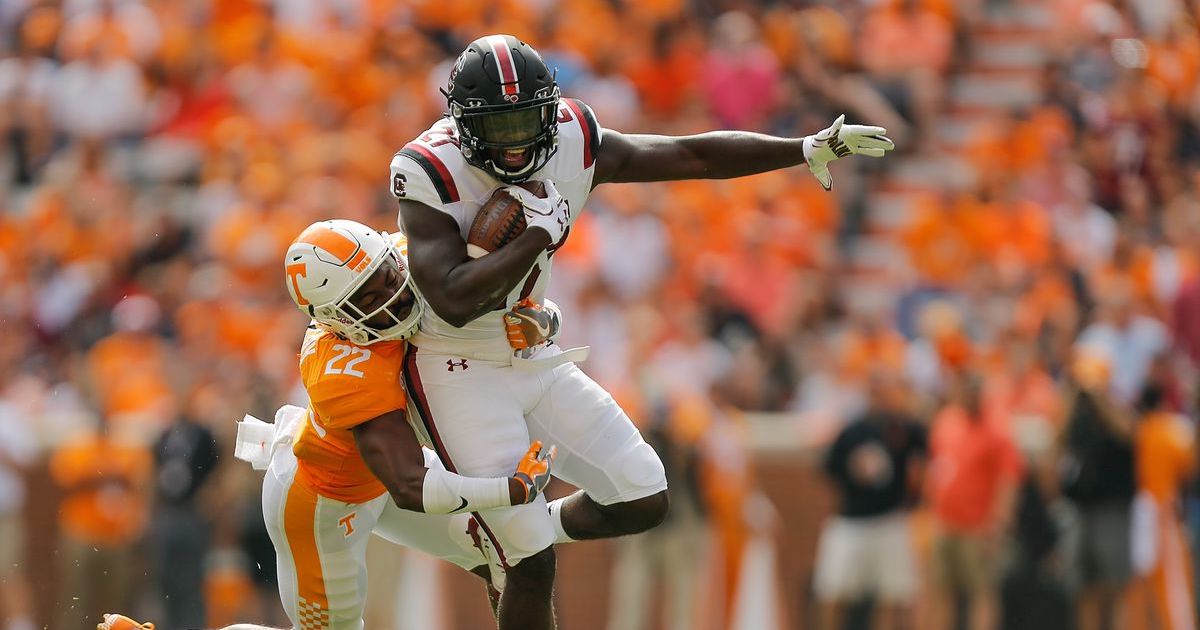 This is when college football is at its best. The biggest games with huge implications. This week there are a ton of great games in the SEC and throughout the country. This week, The World's Largest Outdoor Cocktail Party takes place in Jacksonville for the Florida-Georgia game. This week's guest picker is one of the biggest Dawg fans Front Porch Football knows. Dale Thompson is a Wofford graduate who now resides in the Lowcountry of South Carolina. And while he may be a resident of the Palmetto State, Dale will always be found on Saturdays decked out in his red and black. Good luck Dale, and we wish all of you a fun and exciting weekend full of Southern College Football.
Arkansas at Ole Miss
Chris: Ole Miss
Brendan: Ole Miss
Max: Ole Miss
Pavy: Arkansas
Dale: Arkansas
Georgia vs Florida 
Chris: Georgia
Brendan: Georgia
Max: Georgia
Pavy: Georgia
Dale: Dawgs on Top
Vanderbilt at South Carolina 
Chris: South Carolina
Brendan: South Carolina
Max: South Carolina
Pavy: Chickens
Dale: South Carolina
Missouri at Connecticut 
Chris: Missouri
Brendan: Missouri
Max: Connecticut
Pavy: Connecticut
Dale: Connecticut
Tennessee at Kentucky
Chris: Kentucky
Brendan: Kentucky
Max: Kentucky
Pavy: Tennessee
Dale: Kentucky
Mississippi State at Texas A&M
Chris: Texas A&M
Brendan: Mississippi State
Max: Texas A&M
Pavy: Texas A&M
Dale: Texas A&M
Non-SEC:
Oklahoma State atWest Virginia
Chris: Oklahoma State
Brendan: Oklahoma State
Max: West Virginia
Pavy: West Virginia
Dale: Oklahoma State
Penn State at Ohio State
Chris: Penn State
Brendan: Penn State
Max: Penn State
Pavy: Penn State
Dale: THE Ohio State
Iowa State vs TCU
Chris: Iowa State
Brendan: TCU
Max: TCU
Pavy: TCU
Dale: TCU
North Carolina State at Notre Dame
Chris: Notre Dame
Brendan: North Carolina State
Max: Notre Dame
Pavy: Notre Dame
Dale: Notre Dame
Washington vs UCLA
Chris: UCLA
Brendan: Washington
Max: UCLA
Pavy: Washington
Dale: Washington
Appalachian State at UMASS
Chris: Appalachian State
Brendan: Appalachian State
Max: Appalachian State
Pavy: Appalachian State
Dale: Appalachian State
Iowa vs Minnesota
Chris: Iowa
Brendan: Iowa
Max: Iowa
Pavy: Iowa
Dale: Iowa
Duke at Virginia Tech 
Chris: Virginia Tech
Brendan: Virginia Tech
Max: Virginia Tech
Pavy: Virginia Tech
Dale: Virginia Tech
Georgia Tech at Clemson
Chris: Clemson
Brendan: Clemson
Max: Clemson
Pavy: Clemson
Dale: Clemson
Houston at USF
Chris: USF
Brendan: USF
Max: USF
Pavy: USF
Dale: USF
Texas Tech at Oklahoma 
Chris: Oklahoma
Brendan: Oklahoma
Max: Oklahoma
Pavy: Oklahoma
Dale: Oklahoma
Washington State at Arizona
Chris: Washington State
Brendan: Washington State
Max: Washington State
Pavy: Washington State
Dale: Washington State "Fighting Leach's"
Southern Cal at Arizona State
Chris: Southern Cal
Brendan: Arizona State
Max: Southern Cal
Pavy: Southern Cal
Dale: Arizona St
ETSU at Wofford 
Chris: Wofford
Brendan: Short Hair Dawgs
Max: Wofford
Pavy: Wofford
Dale: T Dogs
Bonus Pick: Who is Tennessee's next head football coach?
Chris: Charlie Strong
Brendan: Butch aint going anywhere. Tennessee is too cheap.
Max: John Gruden
Pavy: Scott Frost
Dale: PJ Fleck. Row the boat for the Vol Navy
---
Front Porch Football's Season Records and Week 8's Record
Chris: 114-52 (13-7)
Brendan: 115-51 (13-7)
Max: 107-59 (13-7)
Pavy: 122-44 (14-6)
Guest Picker Ben McDougald: (13-7)
(Featured Image from Getty Images)