Peach Bowl: UCF vs. Auburn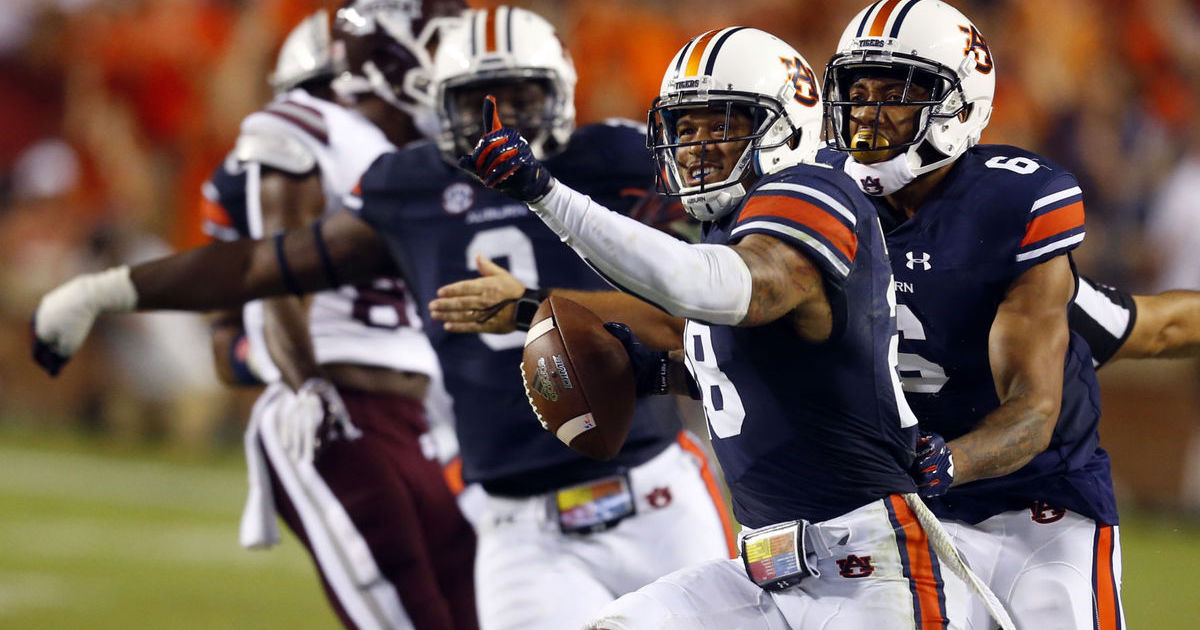 by Chris Paschal
Location: Atlanta, GA
Kickoff: New Years Day, 12:30 PM
This is going to be a who wants it more football game. If you look at the rosters of each team, Auburn has the clear advantage. If you look at the body of work for each team, Auburn has a more impressive body of work. But these games are not played on paper. If Auburn views this game as a disappointing finish to the season, UCF could whip the Tigers. Central Florida is definitely going to be excited to play in this game. The question is are the Tigers excited to be playing in this year's Peach Bowl?
Breaking Down Auburn: Phenomenal rushing attack, solid quarterback, veteran offensive line, dominant defensive line, and a few elite players (Tray Matthews and Jeff Holland to name a few) throughout the back end of the defense. This is a top 25 scoring offense, top 25 total offense, top 10 scoring defense, and top 15 total defense. Auburn is dang good. Kerryon Johnson is playing, which not only speaks to his toughness and character, but also speaks to Auburn's willingness to play this game. If your star running back is risking it all for this game, you would have to think his teammates see that and want to match his intensity.
Breaking Down UCF: UCF isn't just a good football team according to AAC standards. They are a good football team according to SEC standards. Two wins over Memphis and wins over Navy, SMU, Maryland, and USF are all great wins for UCF. But are they elite? UCF had a game cancelled because of Hurricane Irma, and still ranked 93rd in the country in total defense. Not elite. UCF recorded 21 sacks this season. If UCF was in the SEC, only Arkansas would rank behind them in that category. Not elite. UCF forced 29 turnovers, including 18 interceptions. Elite. UCF scores close to 50 points a game. Elite. UCF ranks as one of the top offenses in the nation in multiple categories. Elite. Stud running back Adrian Killins averages 6.7 yards per carry and quarterback McKenzie Milton has thrown for over 3,700 yards and 35 touchdowns. So is UCF elite? Kind of.
Key to the Game: Does Auburn show up? If Auburn wants to, they could win this game by three or more scores. But it is impossible to tell which Auburn team shows up. Will they be motivated to show they are one of the nation's best teams? Will they be fired up after UCF trash talked their "lack of speed"? Or will they be disappointed they didn't make the playoff and sleep walk their way through this game? If Auburn doesn't show up, this UCF defense could potentially bend without breaking (like they have all season) and force a few costly turnovers.
Chris's Prediction: Auburn shows up focused, motivated, and madder than hell. I truly think this team will have the right mindset heading into this game. If that is the case, I think Auburn's offense abuses this UCF front and rushes for over 300 yards. I also think Stidham works off the run, and the play action hurts UCF for a couple of big passes. Auburn will also win the turnover battle, which will be a huge blow to UCF. Then there is this Auburn defense. UCF has a great offense, but it hasn't faced anything like Auburn. I think this will be like the Georgia vs. Hawaii Sugar Bowl of 2008. A lot of hype about a fast paced, prolific offense, only to be pulverized by a superior SEC defense.
(Featured Image from Auburn Athletics)