National Championship Preview: Dawgs vs. Bama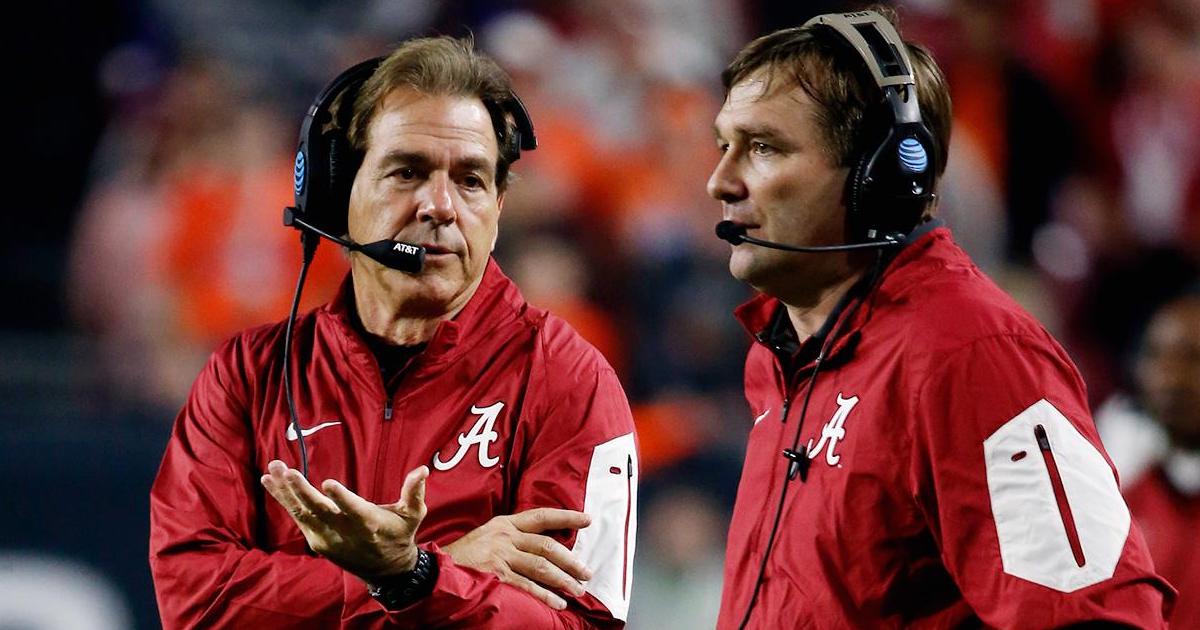 by Chris Paschal
Location: Atlanta, Georgia
Kickoff: Monday, January 8; 8 PM on ESPN
Joel Klatt and Danny Kanell cover your eyes because we got ourselves a little SEC showdown in the National Championship game. After winning one of the most thrilling games in Rose Bowl history, the Georgia Bulldogs return home to the Peach State only one win away from claiming their first National Title in over 37 years. Their opponent, the Alabama Crimson Tide, has won five National Titles in that 37 year span. Alabama returns to the National Championship game after avenging last season's championship loss to the Clemson Tigers. Nick Saban's team rolls into Atlanta with a Sugar Bowl victory, but no 2017 SEC Championship. That belongs to the Georgia Bulldogs. Will the Dawgs finish the 2017 season with one or two trophies? That is what we will breakdown in this post.
Breaking Down the Offense
Quarterback: Both of these quarterbacks are unbelievably young. Alabama's Jalen Hurts is a true sophomore while Georgia's Jake Fromm is a true freshman. But both play like seasoned veterans. While only being a sophomore, Jalen Hurts has already started in and played in a ton of big time games at quarterback. Last year he beat Southern Cal in the season's opening weekend, he played in and won the Iron Bowl and SEC Championship, and he played in the National Title game. This year, many people were expecting him to take a huge step forward. That didn't really happen. He threw for less yards and touchdowns this season, and he has not been as sharp as Bama fans would have hoped. However, where he lacks in stats and big play ability, he makes up for in grit and decision making. He is 12-1 this season as a starter and he has only thrown one interception. Jake Fromm on the surface seems to be a game manager, much like his Alabama counterpart, but that isn't necessarily the case. Georgia has actually leaned on him in big moments. In the first eight games of the season, Fromm threw for over 180 yards in a game just twice. However, in the last six games, he has accomplished that feat five times. He was the difference in the South Carolina game. He had some big throws in the SEC Championship game. And he lead the game tying drive in the fourth quarter of the Rose Bowl. This kid is cool, calm and collected. He has shown great poise and maturity, but Alabama is a different monster. Can the Tide rattle a freshman that seems unshakeable and can Georgia force a turnover against a quarterback that has thrown a single interception all year? Edge: Georgia. If the Dawgs can protect him well enough, he is capable of making plays. Hurts won't lose Bama the game, but he isn't winning them the game.
Running Backs: Both backfields are loaded. Georgia has possibly the greatest backfield in college football history. Up there with SMU's Pony Express, Arkansas' McFadden, Jones, Hillis trio, and Nebraska's 1990s rushing attack. But Alabama is no slouch. Harris ran well against Clemson, Bo Scarbrough is possibly the most imposing back in this game, and Najee Harris is playing well as a freshman. Alabama also has a dynamic rusher in quarterback Jalen Hurts (808 yards, 8 touchdowns). But it's hard to beat Chubb, Michel, Holyfield, Swift, and Herrien. This is one of the best backfields in the history of college football. Edge: Georgia. But both teams rank top 10 nationally in rushing yards per game.
Wide Receiver/Tight End: Alabama and Georgia both have playmakers out on the edge. For Alabama, it seems to be the Calvin Ridley show, and in part that is correct. Ridley leads the team with 59 receptions. The next closest pass catcher is running back Bo Scarbrough with 16. But Alabama has a plethora of options every game, which is evident in the fact that 11 different Alabama players have caught a touchdown this year. One guy may catch a lot of balls, but there are a ton of different guys that catch touchdowns. Georgia spreads it out a little bit more. Javon Wims and Terry Godwin are the two "primary receivers," but Mecole Hardman, Riley Ridley, tight end Isaac Nauta, and running back D'Andre Swift have all been thrown some balls and caught a few touchdowns. Heck, tight end Charlie Woerner had three catches in the Rose Bowl after entering the game with six. Georgia also has a tight end, Jeb Blazevich, that is instrumental in the Georgia rushing attack. He is a big, strong senior who blocks extremely well. Edge: Push. I don't see an edge one way or the other.
Offensive Line: Is Lester Cotton playing for Alabama or not? That is a huge factor in which offensive line plays better. Both of these teams have strong, athletic offensive lines. Georgia has shown drastic improvement from last year in their play up front. Part of that is due to recruiting some solid offensive linemen these past two years, and part of that is due to an off season that got these Dawgs a lot bigger, stronger, and meaner up front. Tackles Isaiah Wynn and Andrew Thomas are the key Bulldogs up front. However, Alabama has an offensive line with some experience and some serious talent, too. Watch the Sugar Bowl if you need proof? These guys went toe to toe with the country's best defensive line. Tackles Jonah Williams and Matt Womack are big and athletic, and guard Ross Pierschbacher is a three year starter. If Lester Cotton is healthy and starts at the other guard position for Alabama, I give them the slight edge. If not it is a push. Edge: Alabama. 
Defense
Defensive Line: Both of these team's have great, athletic players up front, but Bama is a different animal. Alabama's defensive line is filthy even with the loss of LaBryan Ray. Here are a list of guys that share the defensive line with each other at Alabama, but who would probably be the best defensive lineman on a majority of college football teams: Raekwon Davis, Da'Shawn Hand, Joshua Frazier, Daron Payne, Isaiah Buggs, Quinenn Williams. Some of these guys are freshman. Some of these guys don't have eye catching stats. But all of these guys are studs. Georgia is pretty dang good, too, don't get me wrong. Trenton Thompson is a solid defensive tackle who could be an early draft pick come April. John Atkins is a large human being that demands two blocks. Clark, Ledbetter, and Rochester all play really good football. But Bama is a different animal. Up there with Clemson and Michigan. Edge: Alabama. 
Linebacker: The injury bug bit Alabama's linebacking corps and bit it hard. But if there is a coach that can survive multiple injuries to the linebacker position, it is Defensive Coordinator Jeremy Pruitt. The man is a linebacker whisperer. Dylan Moses, Shaun Dion Hamilton, and now Anfernee Jennings are all out for the National Championship game, but I am not the slightest bit worried. As long as Rashaan Evans and Mack Wilson are playing, I'm good. By the way, can you imagine how filthy this already sick defense would be if Jeremy Pruitt had all his linebackers healthy. Then there is Georgia. The Bulldogs have one of the best linebackers in the country, and one of the most dynamic linebackers in the country. The best linebacker is middle linebacker Roquan Smith. The man is a tackling machine – over 120 tackles this season, 11.5 for loss, 3 missed tackles (unheard of) and 5.5 sacks.  Smith was awarded the Butkus Award which is given to the nation's best linebacker. His performance in the second half of the Rose Bowl was legendary. The most dynamic linebacker is Lorenzo Carter. Carter has 8.5 tackles for loss, 4.5 sacks, three forced fumbles, three fumble recoveries (including the game winning recovery over Notre Dame), and made the best defensive play in the Rose Bowl blocking Oklahoma's field goal in the second overtime. Georgia also has stud linebackers in Reggie Carter, David Marshall, Davin Bellamy, Monty Rice, Tae Crowder and Juwan Taylor. All of these guys are impact players. Edge: Georgia. 
Secondary: Both secondaries are elite. Both rank nationally in the top 10. Alabama forces more interceptions, 17 to Georgia's 11, and Alabama benefits from a better pass rush, five more sacks than Georgia's defense. But both team's have great players that make great plays. Alabama has the best defensive back in the country in Minkah Fitzpatrick. Georgia has a talented, seasoned vet in safety Dominick Sanders who had a key interception in the Rose Bowl. To be honest, I have a high opinion of both secondaries, but if I had to choose one, it would be Alabama simply because of their playmaking ability. If Hootie Jones can return from injury to join Fitzpatrick and Ronnie Harrison, I like their chances in bating Jake Fromm into a mistake. Edge: Alabama. 
Special Teams: Both teams have great kickers (Georgia has two), decent returners, and good punters. But Georgia has blocked three more kicks than Bama. Slight Edge: Georgia. 
Key to the Game: Can Georgia run on Bama? The player of the game will be determined on this question, as well. The winner of this battle wins the game. Do Daron Payne and Rashaan Evans stymie the Dawgs' rushing attack, or will Georgia wear down Bama like they wore down Oklahoma?
Chris's Prediction: This is going to be a heavyweight fight. If there is ever a Nick Saban assistant to beat him (Saban is 11-0 against former assistants) it is Kirby Smart. Both Bama and Georgia are veteran heavy, mature teams. Bama has been in the moment more than Georgia has, but the Dawgs didn't seem fazed in the SEC Championship game or in the Rose Bowl. The difference will be the defensive line. I think Alabama will wear down the Georgia defense late in the fourth quarter. I don't see Bama's defensive line getting tired. There will be a moment where Daron Payne stuffs Georgia in the backfield or Raekwon Davis sacks Jake Fromm that will alter this game. It's going to be close, but I like Bama's defense more than I like Georgia's defense to make the stop needed to win the game. Winner: Bama in a nail-biting classic.
---
 Pavy's Prediction: Last week, I could have been quoted saying Clemson was going to blow out an Alabama team that, in my opinion, hadn't proved anything throughout the season. I will not make that same mistake again this week. Alabama's defense looked incredible, the offense had a new life, and they are looking to prove everyone wrong about this season. Alabama wins… Unless the Georgia defense plays the best game it has all season.
Max's Prediction: I think the National Championship game experience will play a big factor in this game. Jalen Hurts is going to be a man on a mission who is looking for revenge after last year's heartbreaker. I also believe the Alabama defense will be ready for the Georgia rushing attack. This will be a very close game but in the end I think Bama comes out on top.
Brendan's Prediction: Alabama's linebacking corps is hobbling into this game, which gives Georgia's elite rushing attack an advantage. However, the Dawgs will more than likely not have thirty-plus-yard gains against Bama like they did in the Rose Bowl. Georgia must score early and often. If they do, Georgia will win this game. Prediction: Dawgs on top.
(Featured Image from Sports Illustrated )