Let's Find the Good in This Vanderbilt Season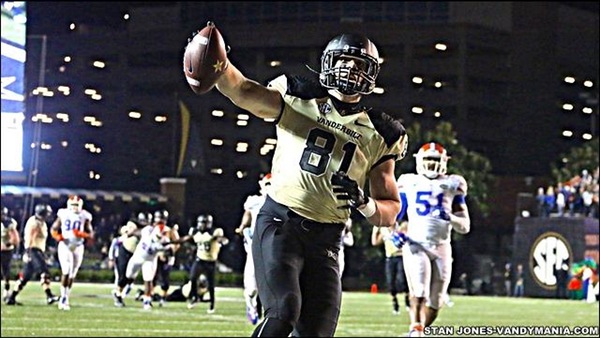 Vanderbilt fans have a great skill that really all SEC football fans should acquire. That skill is finding the good in really about any situation. During the Bobby Johnson era, it was the fact that they won a bowl game in 2008, or that they upset Tennessee during Jay Cutler's senior season. The season Robbie Caldwell coached, Vanderbilt fans were just happy to have an excuse to tailgate. When it was the James Franklin era, they savored every season as if they were the national champions. If you need any more proof of just how easygoing and thankful Vanderbilt fans are, watch Willie Geist in "The Stars Are Aligned." Geist is literally the epitome of a Vanderbilt fan. This skill is yet another skill Vandy fans can point to as impressive.
This year, I wonder what they will be able to take away from this season. Last year was a dumpster fire. Losing to Temple by 30 points on opening night in Vanderbilt Stadium had to have tested even the most patient Vanderbilt fans. Vanderbilt returns a team that ranked dead last in the conference in both scoring defense and scoring offense. It is hard to locate a bright spot, position, or group that should be great, or even top half of the league. But, that being said, the whole team looks to be improving. In fact, Vanderbilt could contend for a bowl game as early as next year. This year, I see only one of two scenarios playing out and I really don't think there will be any middle ground.
The first scenario is this: Vanderbilt wins one game easily and has to fight for the second and third. The Commodores lose on the road at Houston because the Vanderbilt secondary (ranked 102nd in the nation in pass yards per attempt) is violated by a quarterback (Greg Ward, Jr.) who put up over 1,000 yards and nine touchdowns in the final three games of the season. They are not even competitive with their SEC opponents, and Derek Mason enters the 2016 season with one finals chance to show improvement in the win column.
The second scenario is that they beat all four of their non-conference opponents because they have a roster that is more talented and built on better recruiting classes. They will beat Kentucky at home because they will face a defense that is not the caliber of other SEC programs, and somehow, by the grace of God, they upset another SEC program and find themselves in a bowl game for the fourth time in five years. If this scenario somehow manages to work itself out, I am confident I will be joined by others when I say, Vanderbilt will be the worst team in college football history to make it to a bowl game.
So that is how I see it this season. Further, if Vanderbilt loses to Western Kentucky in the opening game of the season, then this will be just as long as a season as last year. But, if they beat WKU resoundingly at home, then the rest of the season…well, stranger things have happened in college football.