Famous Fathers of the SEC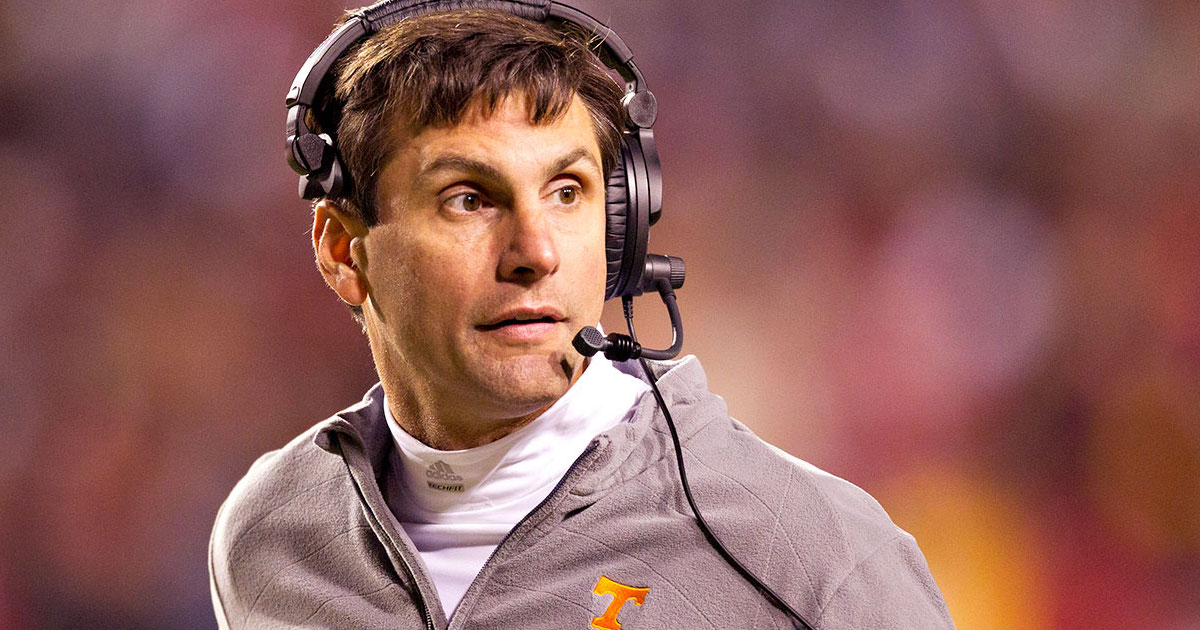 by Chris Paschal
It's Father's Day. Dad, I am so very grateful for all of the sacrifices made and lessons taught these past 22 years. You truly are a great role model and father. But, I have to say that in just a few short years, I am going to be very jealous of you. Why, you ask? Because I base all of my life decisions and predictions off of SEC football, and if the SEC has taught me anything it is that the father is way more successful than the son. Basically, it boils down to this: if the father is famous/legendary/successful, then the son is not famous/not legendary/not successful.
Now you may be instantly throwing up an objection, because I know you and you are a gentleman and a scholar. I can hear it now, "What about the Manning's?"
Hold up, Dad. Of course the Manning's are a counter-example to my thesis, but I have way more evidence on my side. I present my first piece of evidence, Lou Holtz and Skip Holtz.
If we are strictly talking about success on the football field and not bringing up the fact that Skip is much better at speaking words that are understandable, then Lou is way more successful than Skip. Lou Holtz won everywhere he went in college football: NC State, Arkansas, and Notre Dame. Heck, Lou took South Carolina to back-to-back January Bowl games in which the Gamecocks beat Ohio State both times. He won a National Title, he is a College Football Hall of Famer, and he even found a way to land a television gig with the world's worst lisp. That's the definition of success. What has Skip done? Well, he has been successful too, but it is a different kind of successful. Lou won a National Title. Skip won the Meineke Car Care Bowl. Lou was fired from Arkansas after winning 60 games in seven years. Skip was fired from South Florida after winning 16 games in three years. Lou was awarded nationally recognized Coach of the Year awards seven times. Skip was once named the Conference USA Coach of the Year the same year he lost five games and the conference championship game.
Not convinced? I have another piece of evidence: the Spurrier's. Steve Spurrier is Steve Spurrier. Steve Spurrier, Jr. is not Steve Spurrier. Junior is a pretty good coach. However, I feel like being known as a great Wide Receiver Coach and being known as one of the greatest SEC football coaches of all time is a good example of the Father being more famous/legendary/successful than the son. Shall we move on to my most convincing example yet?
Vince Dooley is one of the greatest figures in Georgia, SEC, and College football. He won six SEC titles, a National Title, and served as Athletic Director for 16 years after he retired as head football coach. He's a College Football Hall of Famer. He was awarded the Paul "Bear" Bryant Lifetime Achievement Award, one of the most prestigious honors a coach can be given.
His son, Derek Dooley? A jack of all trades, a master of none. A lawyer, a football coach, a historian, a mathematician, and a comedian. To be honest, I loved Derek Dooley, but he was not a successful football coach. He won 15 games in three years and was fired before his third season was even complete. A former lawyer, Dooley had just three seasons of head coaching experience before being thrust into one of the most demanding jobs in college football, head coach at the University of Tennessee. He had a ton of heart-breaking losses, a bunch of roster issues between injuries and transfers, and one of the hardest schedules in the SEC in both 2011 and 2012. But he sure knew how to give a wonderful interview/press conference. Between implementing "shower discipline" after personal hygiene became a concern, and stating "when is the lowest good enough" when asked about Tennessee's atrocious Academic Progress Report, Dooley was always good for a laugh.
So there you go, Dad. It's tough being the son of a successful father. Just remember Derek Dooley, Steve Spurrier, Jr. and Skip Holtz when I don't turn out to be Peyton Manning.
(Featured Image Provided by: Outkick the Coverage)
(Image from whole hog.com)