Define Greatness: The Erik Kimrey Story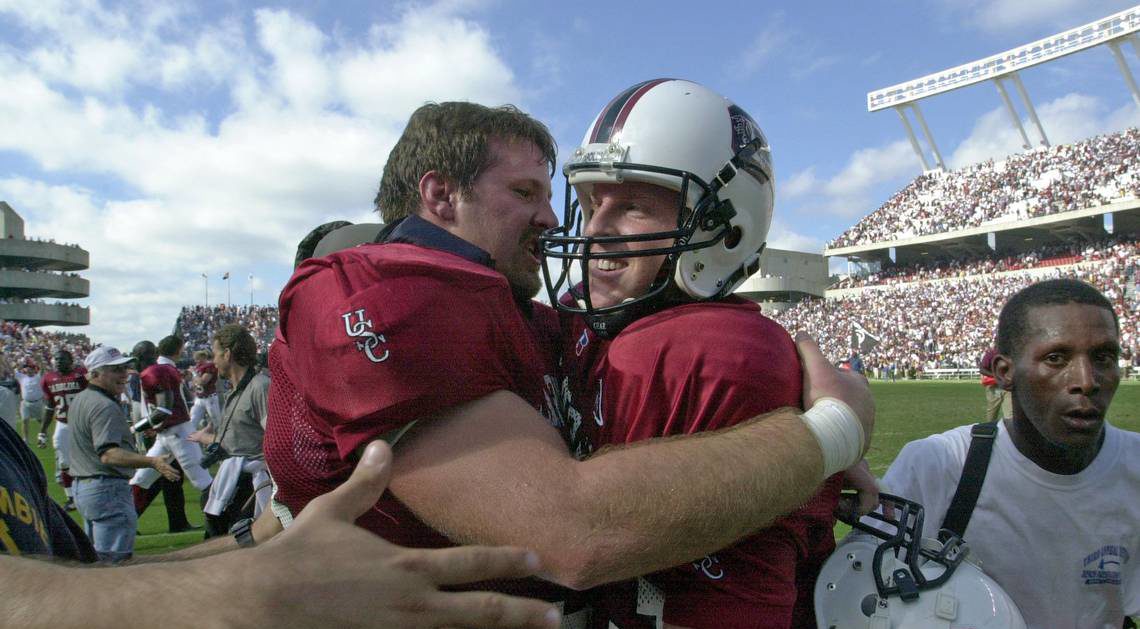 by Guest Writer, Andrew Koontz
As the famous quote from William Shakespeare's play
Twelfth Night
goes, "
some are born great, some achieve greatness, and some have greatness thrust upon them." In football, some players are born great; Jerry Rice and Peyton Manning, for example. Others have to work to achieve greatness; your Tom Brady's and John Randle's. Others simply have greatness thrust upon them – no player more so than former backup South Carolina quarterback Erik Kimrey.
Now, I don't know this from personal experience as I never played a down at quarterback in my four years as a high school football player. However, I always imagined the gig of backup quarterback to be the ultimate position in terms of coolness. You almost never get hit, you take reps with the second team, and you get to wear the classic backwards hat + headset combo on gameday. If I had to sum up my idea of a backup quarterback in one moment or phrase, it would be this video of

Mark Sanchez eating a hot dog
on the sidelines during a regular NFL season game between the New York Jets and the Oakland Raiders. That's basically what a backup quarterback does in a nutshell. He chats with the quarterback's coach while the offense is on the field, and he eats a hot dog during a timeout. Sounds like the life.
Alright, enough about Mark Sanchez (who went to the fake, hippie USC anyways) and enough about hot dogs (though I do love a good dog). Back to Erik Kimrey's moment of greatness. Nowadays Kimrey is most well known for being one of the best prep school football coaches in the U.S., having led the Hammond School to eight South Carolina Independent School Association state titles. However, Kimrey originally made his mark at Dutch Fork High School in Irmo, S.C. by throwing for over 3,500 yards and 40 touchdowns as a high school senior. He could have likely started at a school such as Furman, Appalachian State, or Wofford his freshman year of college, but Kimrey instead decided to walk on to his hometown team. Making the squad and lettering for four years would've been an accomplishment in its own right. Little did Kimrey know, that he would be responsible for one of the most famous moments in Gamecock football history.
Greatness was thrust upon Erik Kimrey on September 23rd, 2000. Down 19-13 with 4:47 remaining in the fourth quarter and facing a 4th & 10, South Carolina quarterback Phil Petty went down with an injury. Kimrey, being the second string quarterback for the Gamecocks, was the next man up. Lou Holtz, then head coach of the Gamecocks, reportedly asked Kimrey what play he wanted to run. Now before I go on, put yourself in Kimrey's shoes for a moment. You are a walk on redshirt sophomore. You've never played a snap at quarterback that wasn't  garbage time. You have a national championship winning head coach asking what play YOU think should be ran on 4th & 10. You are in front of 80,000 screaming fans in Williams-Brice Stadium. I don't know what you would do, but just thinking about that scenario makes me a little nauseous.
Kimrey, apparently unfazed by the gravity of the situation, simply replied "I can throw the fade, coach." So naturally, that's what Holtz called. The rest is history. Kimrey connected with Jermale Kelly on the fade route for a twenty five yard touchdown pass and cemented his name forever in Gamecock lore. Like all great moments in SEC and ACC athletics,
the play was captured by Jefferson Pilot Sports (below)
.  To this day, that play is simply known as "the fade" among Gamecock fans. What impresses me most about this play call is that Kimrey chooses to go for everything rather than play it safe. Maybe he really did feel more comfortable throwing the fade than any other route. After all, seeing that Mississippi State was in man coverage meant that Kelly just had to get enough separation from the defensive back to make a play on the ball. Throwing the ball towards the middle of the field would mean more bodies near the ball, which means more chance of an error. Also, the fade is guaranteed to get at least ten yards, whereas throwing a slant, curl, or in route might not guarantee the full ten yards that were needed to ensure the Gamecocks' survival.
Or maybe somewhere inside of him, Erik Kimrey knew that he was destined for that moment. Maybe somewhere in his soul, he knew that he had what it took to be great in the most unlikely and improbable of circumstances. 
Andrew Koontz is a connoisseur of ACC football and fried chicken. Wofford grad. Long suffering Duke football fan. When in doubt, just gotta send it.