Coaching Moves According to Chris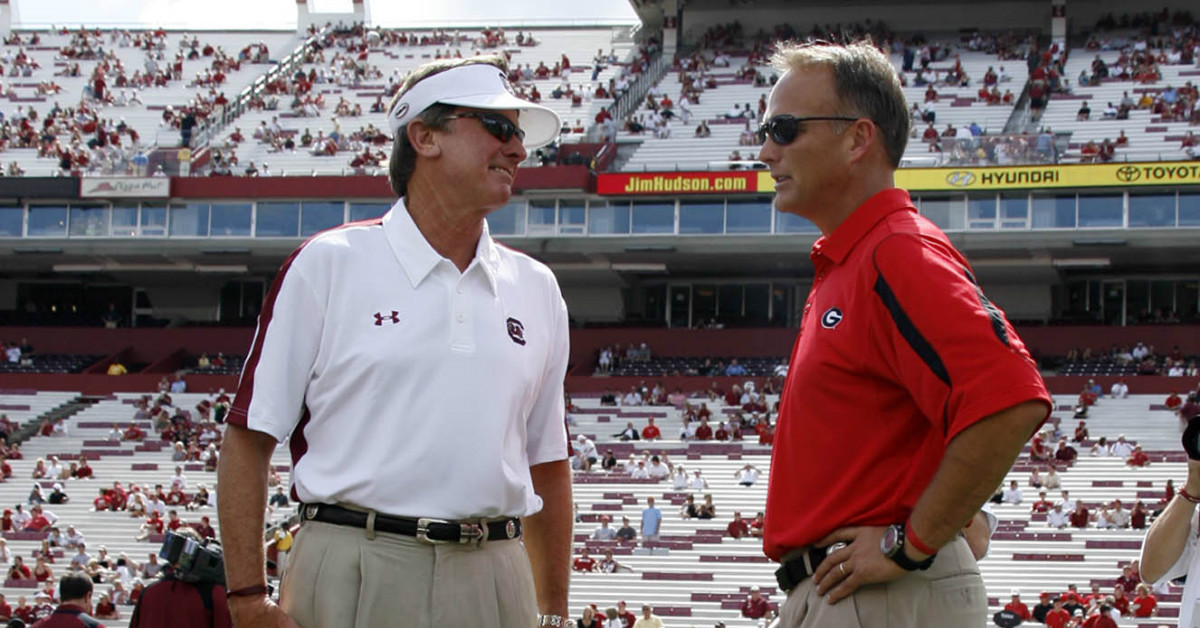 This past weekend was a huge weekend in college football. There is so much parity in the sport that it is tough to wrap your mind around "who-beats-who" on any given weekend. Derek Henry, in my opinion, locked up the Heisman with a mammoth game against Auburn. South Carolina showed that with the right coaching and the right motivation, this program could have easily made a bowl this year. I was very impressed and not entirely shocked South Carolina gave Clemson such a good game, but at the end of the day, Clemson, Dabo Swinney, and Deshaun Watson all showed why the Tigers are the number one team in the country. Florida's offense is utterly incompetent, Ole Miss really had a tale of two seasons, and the Louisville game was very much a microcosm for how Kentucky's season played out this year (very impressive first half of the season with the second half collapse to follow).
Beyond the games this weekend, however, a lot of other interesting moves happened concerning head coaching positions in the SEC. Here is where we are at:
The HBC, Steve Spurrier, resigned (not retired) from South Carolina. He may come back in an ambassador-type role, like Bobby Bowden did at FSU. Shawn Elliott was named interim head coach and very few think he will be named the permanent replacement.
Gary Pinkel, as a result of a tumultuous time at Missouri, growing health concerns, and the fact his football team was not playing well, announced he would step down at season's end. We wish him the best of luck, and we pray that he enjoys a long, healthy life beyond football.
Les Miles was as close to fired as a coach can get, but he saved his job with not only a win against border state foe, Texas A&M, but also by an outpouring of support for him and his family.
I was one of many to think it foolish for LSU to fire Miles after so many great years. The only complaint was he has lost five in a row to Nick Saban and Alabama, but sometimes you just have to accept the fact that you can't always get what you want.
Mark Richt parted ways with Georgia. So many years Georgia fans were calling for his head, and now that he is gone, every Georgia fan I talk to wishes they had given him another year. Richt left in a classy manner.
Here is how I feel it plays out:
First off, Georgia is going to hire Alabama's Defensive Coordinator, Kirby Smart. Smart is a Georgia grad, and reports have it that Georgia has locked in on Smart as their number one choice. If Georgia wants Kirby Smart, which it looks like they do, they will get him.
Barry Odom, the Defensive Coordinator at Missouri will take the head coaching position at Memphis, after Missouri hires Sonny Dykes of California to be their new head coach.
That leaves me with South Carolina. I can't see the Gamecocks sticking with Elliot. Sorry, but when you lose to The Citadel it is hard to keep your job. Next, reports are leaking that South Carolina is interested in Will Muschamp. While that could bring an exciting new dynamic to Columbia (in that Muschamp is the polar opposite of Spurrier), I don't see that ending well. Muschamp was a battered and broken head coach after four years at Florida, and things wont be easier at South Carolina. I also think that Alabama might go after Muschamp for the Defensive Coordinator position if Smart does in fact leave. At the end of the day, I am going to go out on a limb and say it is Mark Richt. If it isn't Richt, I don't know who South Carolina hires. It won't be Tom Herman. It won't be Chip Kelly. It won't be the master of the hard count, Jon Gruden. I really don't know who else but Mark Richt. He knows the recruiting layout in the area and he knows the dynamics of the division. I think the dark horse for this job could be another Georgia Bulldog in Mike Bobo. At the end of the day, South Carolina needs to find somebody, and find him fast.