2017 Season Preview: Wofford Terriers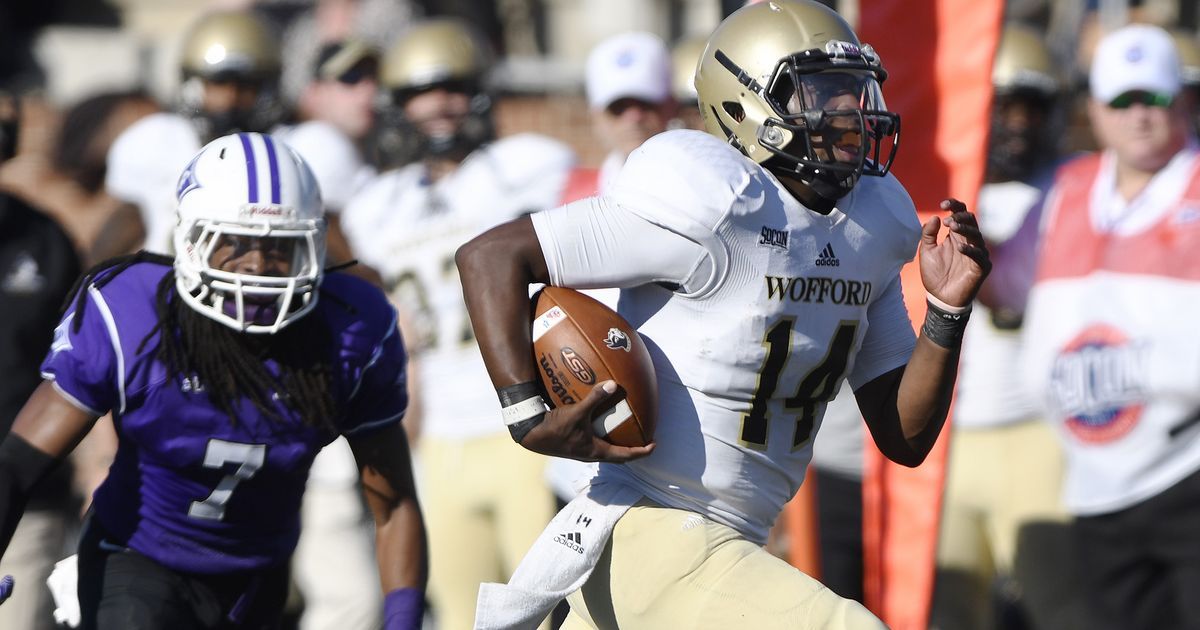 by Brendan Paschal
In the mist of all this preseason SEC talk, Chris and I would like to pay homage to Wofford College. Chris, now being an alumnus, and myself going into my senior year at Wofford, have both become huge fans of the Terriers. Last year, Wofford went 8-3 (6-2) in regular season play, which could have easily been 10-1. Their only loss by more than a possession was to Ole Miss. The T-Pups could have easily gone undefeated in conference play. Last year, Wofford landed 6th in the SOCON pre-season polls, then climbed their way to the top, making it all the way to the FCS quarterfinals. This is 2017, however. 2016 is old news. The Terriers are back this year with a vengeance, and are as serious as ever.
Mike Ayers, enters his 30th season at Wofford. With many returning starters on both sides of the ball, and one of the best defenses in the Southern Conference, Ayers should reach 200 career wins as Wofford's head coach.
Offense
Quarterback: Fifth year senior Brandon Goodson entered Wofford with two other quarterbacks in his class, Evan Jacks and Brad Butler. The beginning of last season, Goodson was battling for a starting position with Jacks and Butler. It was not until three became two (Jacks tore his ACL in preseason), and two became one, (Butler also ended his season with a knee injury against Ole Miss), that Goodson became the undisputed starter for Wofford. He handled it well, however, and showed that he had the athletic ability and poise to lead this offense. This year with Jacks and Butler both graduated Goodson is now the go-to-man. Although he did have a very successful season last year, there were times where Goodson attempted to force a play. But shooters are going to shoot, and Goodson helped lead the Terriers to own of their most successful season in school history.
Wofford's offense, the triple option, starts and ends with the quarterback. Goodson (6-0, 210), is athletic enough to tuck it and run, strong enough to make the deep pass, and knows the option well. With the experience he now has, Goodson is setting up for a fantastic season.
Behind Goodson is sophomore Joe Newman. Although Newman has had little exposure to college football, what he has shown is impressive. He has speed, agility, and power, however, that is not the most impressive thing about Newman. His most impressive quality is his composure. Last year, Goodson went down against The Citadel in the FCS Playoffs, which forced Newman to take over as quarterback. And boy, did Newman take over. On one of his first plays, Newman ran a simple option play, tucked the ball, and ran 36 yards for a touchdown. Newman gives, head coach, Mike Ayers, a peace of mind at night.
Running Game: While Wofford loses Will Gay, Hunter Windham, Nick Colvin and Chris Martin to graduation, the Terrier's offense will have the toughest time finding a replacement for their star fullback, Lorenzo Long. Last year, Long lead the Southern Conference with 294 carries for 1,424 yards, and averaged over 100 yards per game. Any school would have a tough time replacing Long, but a school that runs the triple option will feel it more than most other schools. Having said that, Wofford has plenty of talent and depth in the backfield to take on the work load. It is unlikely that one particular player will automatically step up and replace Long. Instead look for a plethora of guys step up.
Senior Chase Nelson and junior Andre Stoddard are both experienced fullbacks looking to pick up where Long left off. Both can break for big yards while also running over defenders in dive situations. At halfback, look for junior Lennox McAfee and sophomore Blake Morgan to line up next to Goodson more often. Senior, Ellis Pace, is not only a threat in the backfield but as a return specialist, as well. Although Long's departure will be felt, Wofford's running game will hardly miss a beat with these veterans returning.
Wide Receiver/Tight End: With almost everyone returning at this position, Wofford could look to pass more than in recent years. Senior R.J. Taylor, junior Cole Cleary, and sophomore Jason Hill will be primary targets, after successful seasons last year. Each has the ability to take the top off the defense, while also throwing a block. At tight end, senior Chandler Gouger also returns after leading the team in receptions and yards in 2016. A big target with great hands and speed, he is the type of player that quarterbacks enjoy throwing to.
Offensive Line: I know I stated earlier that the option starts and ends with the quarterback. Although that is true, the option is won or lost in the trenches. Wofford's offensive line returns three of their starters, and has experienced players to fill in the gaps. At center is senior and returning starter, Roo Daniels, who provides leadership not only to his guys up front, but to the entire team, as well. Jared Jacon-Duffy returns at guard after an extremely successful sophomore campaign. Senior Chuck Rouse, is also likely to take on the other starting guard position. The T-Dawgs biggest loss was right tackle, Anton Wahrby who was named unanimous first team All-SOCON team. As Goodson is left handed, Wahrby also protected Goodson's blind side. With Wahrby gone, Wofford will have to replace him. Senior Ross Demmel started all 14 games last year at left tackle, and could possibly move to the other side. Like Long, Wahrby will be missed, and look for some younger guys to step up.
Defense
Defensive Line: Last year, members of this defensive line were demanding double teams, were constantly in the backfield, and never allowed a quarterback to feel comfortable in the pocket. This front was scary good last year, and you guessed it, most of them return for 2017. The middle is occupied by sophomore Mikel Horton (6'1, 305), who started 12 and played in all 14 games last year as a true freshman. Horton is the type of player that not only clogs up holes, but breaks through them. With Horton inside, he will be joined by two, first team All Southern Conference players – senior leader, Tyler Vaughn and junior standout, Miles Brown. Vaughn (6'1, 270) always knows where the ball is, and will find one way or another to get to it. Although he is an excellent run stopper, Vaughn is even better at rushing the quarterback – leading the team with 8 sacks last season. Brown (6-2, 320) can do it all. With his size and athleticism Brown is the type of lineman that can kill offenses with his speed or power. Senior Brandon Curtis, junior Brandon Zamary, and sophomore Thad Mangum all made plays last year, and will look to step into larger roles with the graduation of Boston Bryant, Chris Boudreaux, and Steven Cornellier. Also look for true freshman Deon Priester (6-2, 280) to make an immediate impact on an already stacked line.
Linebacker: As stacked as the defensive line is, Wofford's linebacking core is lethal. The Terriers lose two starters inside with Lincoln Stewart graduating, and John Patterson taking a different role on the team after fracturing his vertebra last season. Both were leaders on the team, and while Patterson will continue to lead the Terriers from the sidelines, both of their presences on the field will be missed. That leaves dynamic sophomore Datavious Wilson as the only returning starter inside. Wilson led the defense in tackles last year as a true freshman, and looks to keep that success rolling. Wilson will be joined by senior Colton Clemons who saw significant playing time in eleven games. Senior Neil Monaghan, junior Weston Rountree, and redshirt freshman Brandon Brown will also take the field at middle linebacker.
On the outside Wofford loses Dylan Young to graduation, along with senior Michael Roach who was diagnosed with hypertrophic cardiomyopathy last season, and will be leading from the sidelines with Patterson. Returning are seniors Terrance Morris and Daryl Vining, along with sophomore Jireh Wilson, and redshirt sophomore Robbie Armstrong. Morris is an excellent pass rusher off the edge, and recorded 7.5 tackles for loss last season. Although Vining missed half of last season due to a calf injury, he is a seasoned veteran and reads offenses extremely well. Look for Vining to have a breakout season in his final year. Wilson also returns after a successful freshman season. Like Vining, Armstrong was also injured last year, and looks to play a vital role on the defense. Joining these four are juniors Billy Hinton and Nathan Sanders.
Secondary: Almost all return at cornerback. Junior Devin Watson returns after an extremely successful 2016 season, and is best known for making game sealing interceptions in back to back games during the playoffs. Shut down corners George Gbesee and Dominique Lemon also return for another season, and will be joined by sophomores Dimitri Redwood and Darron Paschal.
At safety Wofford loses Jaleel Green, who was named First Team All-SOCON last year and lead the Terriers in interceptions. However, the Terriers have plenty of talent to not miss a beat with Green's departure. Senior Malik Rivera looks to take a leadership role after a successful junior campaign, along with hard hitting junior Jojo Tillery. Sophomore Mason Alstatt has also made a strong push this offseason, and look for him to get significant playing time this year. Also returning is senior Michael Sarafianos who can play in several different positions, along with redshirt freshman Ulysses Strawter who moved from corner to safety.
Final Thoughts and Predictions
Biggest Weakness: Wofford losses several stars from last season. The loss of big time players could hurt the Terriers early on in the season. With two, big time in-conference games to start off the season, Wofford needs some younger guys to step up early on. Their biggest loss could be the departure of kicker David Marvin who now holds almost every single special teams record, and now takes his talent to Georgia for his final year of eligibility.
Biggest Strength: This team has depth and talent. Further, they have experience where it matters most – quarterback, center, and all throughout the defense. I think this team will win games the hard-nosed way. Limiting turnovers, making plays on offense when they need to, and playing sound, assignment based defense.
Biggest Game: at The Citadel, October 14. Whenever the TDawgs and the Bulldogs get together, you know things are going to be heated. Wofford owned this series for literally years (winning 16 straight from 1999-2014). But as of late, one of the South's most underrated rivalries has been close and intense. Both programs have dominated the SOCON and the FCS these past few years, and the winner of this year's game could win the conference.
Final Thoughts: The T-Pups have a team that is good enough to win the SOCON and compete in the FCS playoffs. I think the Terriers drop at South Carolina (will be a close game). It will be tough to go undefeated in the SOCON this year with so many deep teams. The Citadel game makes me nervous, but besides that, all of the other SOCON heavy hitters (Samford, Chatt, Furman, and WCU) are traveling to Spartanburg. Mercer away could be tough. And VMI gave Wofford a game last year. But winners win and the TDawgs have the team to go undefeated in SOCON play.
Final Prediction: 10-1 (8-0) Wofford wins the SOCON and restores order.
(Featured Image from Greenville News)