2017 Season Preview: Vanderbilt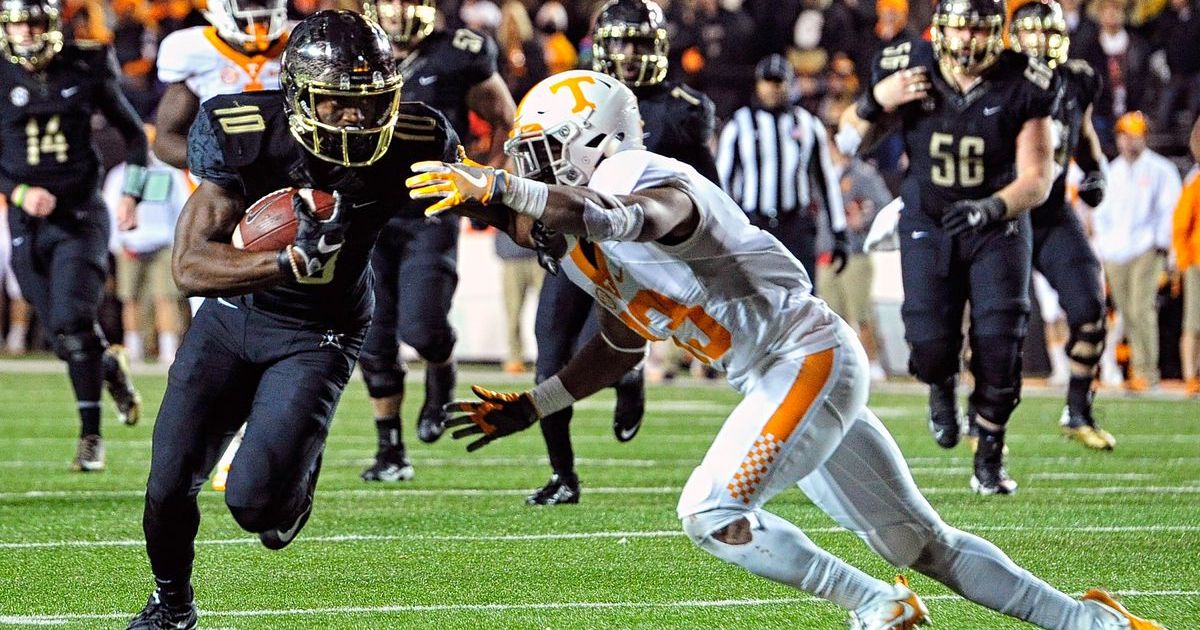 by Chris Paschal
Vanderbilt seemed to be dead in the water last season after losing to Missouri late in the season making their record 4-6. The Commodores had to beat Ole Miss and Tennessee just to become bowl eligible. So what does Derek Mason's team do? They beat both the Rebels and the Vols. Vanderbilt last season had some impressive wins, and some close losses. It's not often that Vandy finishes a season with wins over Georgia, Tennessee, and Ole Miss.
Even more encouraging for the Commodores – besides beatdowns at Georgia Tech and in the bowl game against NC State – Vandy was in every game they played. They lost by a field goal to South Carolina, a touchdown to Florida, Kentucky, and Auburn, and only by nine on the road at Missouri. If a few balls bounced their way, who knows, Vanderbilt could have been an eight or nine win football team.
This year, the Commodores again will get no love. The reason is because their roster is not talented enough for me to predict that they have a big time season. Yes, they have a ton of veteran guys that will man important positions, but at the end of the day you need ball players. I know there are some teams on the schedule that they will find a way to upset, but the rest of the East has improved. I think they're best shot at finishing the season with an above .500 SEC record was last season.
Offense
Quarterback: The quarterback position is basically a microcosm of the entire Vanderbilt roster. It's fine, but it's not anything too special. Kyle Shurmar returns after throwing for 2,400 yards and nine touchdowns. He also threw 10 picks. He had one big game last season against a depleted Tennessee football team, and now everyone is anointing him the next Jay Cutler. It isn't going to happen. Don't get me wrong, he isn't horrible, and I would much rather have Vanderbilt's starting quarterback than whoever A&M or Florida, or maybe even Tennessee starts, but he isn't anything special.
And he better not get hurt. If Shurmur goes down with an injury, don't be surprised for Vanderbilt to thrust true freshman Jacob Free in as the starter. If Shurmur improves (let's say 2,700 yards and 15 touchdowns), and Vanderbilt redshirts Jacob Free, I feel that Vanderbilt took a positive step in the right directions at the quarterback position.
Running Back: Remember how I said the roster is fine, but it wasn't anything too special. Well running back is the exception to the rule. Ralph Webb returns after rushing for over 1,250 yards last season and Khari Blassingame returns as a decent second option after rushing for over 400 yards. Blassingame also had 10 rushing touchdowns last season.
Webb is an every down type of back. He has great vision, adequate speed, and the strength needed to gain tough yards. Blassingame is a monster (6-1, 235) who can help wear down defenses. He is not only a great option near the goal line, but he could be very useful in the fourth quarter when the Commodores are trying to milk the clock and break the opposing defense's will.
Wide Receiver/ Tight End: The good news is that the entire core group of receivers that started last season returns for this season. The bad news is that they are kind of mediocre. C.J. Duncan, Trent Sherfield, and Caleb Scott all received for over 400 yards. The problem? Between the three of them they hauled in a single touchdown reception. With defense keying on the run game, Vanderbilt will have to have more of a presence in the vertical passing game. They ranked 100th nationally for passing yards per game.
If Vanderbilt is going win six or more games this season, Duncan, Sherfield, Scott, sophomore Kalija Lipscomb, and tight end Jared Pickney all must have better, more consistent seasons. I need to see more evidence than torching Tennessee once for me to believe that the receiving corps is a legitimate counter punch to Ralph Webb.
Offensive Line: Vandy's offensive line might have been one of the most underrated position groups in the SEC last season, but the Commodores must have a few guys step up if this is going to continue to be a solid position group this season. Gone is left tackle Will Holden who had a huge season last year. Holden was considered one of the best left tackles in all of college football last season, as he was named a 2016 second team All-SEC left tackle.
Gone, too, is the center Barrett Gouger. Gouger was a fifth year senior last year and his leadership will be just as missed as his consistent play. Both guards return from last season, which should help the interior run game, but the tackle positions need to be addressed. Look for this offensive line to take a step back this season, especially early on in the season. Poor play up front will adversely effect both the passing game and the rushing attack.
Defense
Defensive Line: The defensive line, just like the rest of the defense, has some good pieces, but does not have the depth or the star power needed to be a top unit. Vanderbilt lost their best pass rusher in defensive end Adam Butler. And not only was he a decent pass rusher, but he was a big body (6-4, 300), as well.
What they return, however, should excite Vandy fans. Stud nose tackle Nifae Lealao (6-5, 310) returns after a solid junior season. Lealao was just as integral a piece in Vanderbilt's run defense last season as Zach Cunningham was. This defensive line has senior leadership all throughout the starting positions, but freshman reserves must play well for Vanderbilt to have a solid defensive line.
Linebacker: Oren Burks returns after having an amazing junior season, but even with Burks returning, the Commodores still have a big hole to fill. Vanderbilt lost the greatest player in program history to the NFL Draft. Zach Cunningham (6-3, 230) was the rock of this Vanderbilt defense. He led the team in tackles last season and was named an All-American by season's end.
Burks will move from his pass rushing, outside linebacker position to the inside to try and replicate the play needed at inside linebacker. That leaves a lot of questions about the outside linebacker position. By losing Cunningham, not only does the inside linebacker position take a step backwards, but the outside linebacker position does, as well. Look for Vanderbilt to have a shadow of what they had last year at the linebacker position.
Defensive Back: While the front seven has some questions/concerns and some shoes to fill, the secondary remains pretty much in tact. But like the wide receiving corps, the defensive backs must step up and have a better season. They ranked as one of the worst pass defenses in the country last season – and with the defense probably not having as stout a run defense as it did last year – the defensive backs must step up.
For this position group to take a step in the right direction, it must have a big season from sophomore Joejuan Williams. Williams was a monster recruit in the 2016 recruting class. He had offers from every big time program (Alabama, LSU, Penn State, Texas A&M, North Carolina, Auburn, Georgia, Notre Dame, Nebraska, Florida, South Carolina, Tennessee, Oklahoma, Ohio State) but he chose Vanderbilt. If I was a Vanderbilt fan, I would be praying this guy pans out to be one of the best defensive backs in the SEC. He has that kind of talent.
Senior cornerbacks Tre Herndon and Taurean Ferguson also return, which definitely helps. At safety, senior LaDarius Wiley returns after finishing second on the team in tackles last season, and seniors Ryan White and Arnold Tarpley should also see plenty of playing time this season.
Final Thoughts and Prediction
Biggest Strength: Running back. No other position group can contend as one of the better ones in the SEC, except the running back position.
Biggest Weakness: There isn't enough depth throughout the roster for this team to win more than six games. Linebacker is thin, quarterback is thin, the offensive and defensive line have questions, and the wide receivers and defensive backs are middle-of-the-road at best.
Biggest Game: at Ole Miss, October 14. If Vanderbilt is going to win six game, this feels like a must win for me. Ole Miss is a more talented team, but they were last year, too, and that didn't stop Vandy from beating the Rebels by 21 points.
Prediction: It is taking ever fiber in my being to write this, because I know Vanderbilt is going to upset some teams they have no business beating, but I think Vanderbilt returns to earth and wins three or four games this year. The schedule is tougher, the East is better, and the Commodores have serious questions throughout their roster. If they win six games, here is how it will look. They have to win at Middle Tennessee, then beat Alabama A&M and Western Kentucky at home. They then have to dominate the month of November like they did last year, beating Kentucky and Missouri at home. Finally, they have to steal one on the road (Tennessee, South Carolina, Ole Miss, or Florida). I think Kansas State, Georgia, and Alabama are definitely losses.
Final Record: 4-8 (1-7 in SEC play)
(Featured Image from Anchor of Gold )