2017 Season Preview: Texas A&M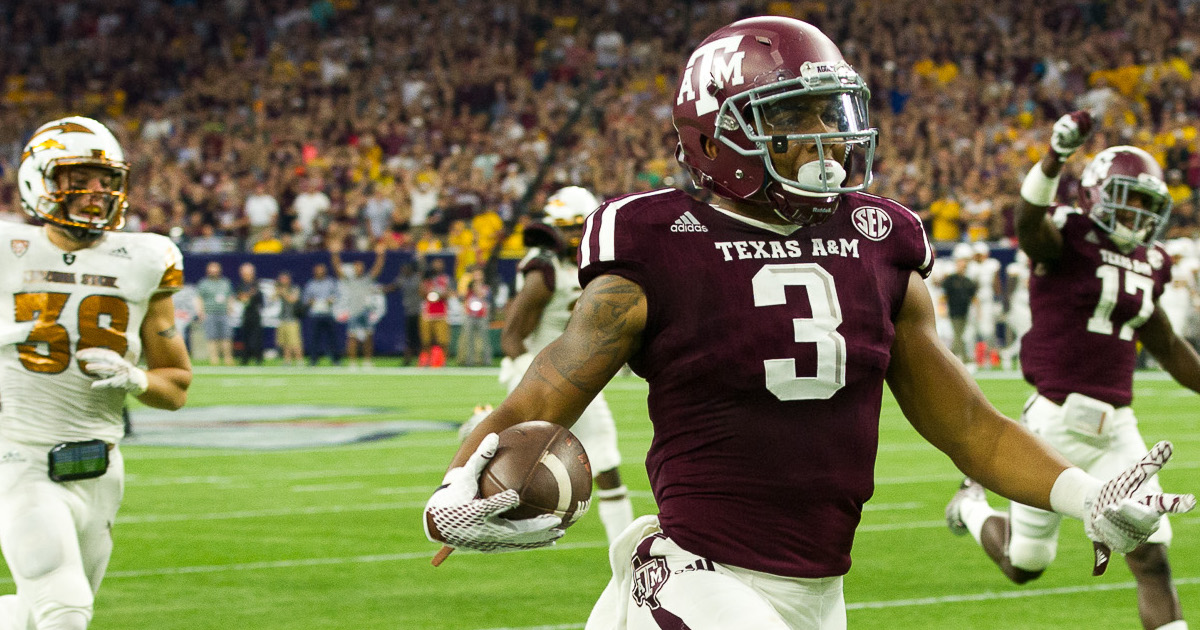 by Chris Paschal
2014, 2015, 2016. Each one of those seasons ended with 8 wins. Not horrible. Also not the type of seasons Aggie fans expect after the 2012 season where A&M won 11 games, beat Alabama in Tuscaloosa, and had a Heisman Trophy winning quarterback. The hot seat is as hot as ever for Kevin Sumlin. What does Sumlin need to do to keep his job? Sumlin needs A&M to finish strong, and not collapse like they have these past few years in the latter half of the season. You can't beat UCLA and Tennessee to start the 2016 season only to later lose to Mississippi State and Ole Miss. Sumlin needs to win at least nine games and beat LSU. Are those realistic expectations? Probably not, but that doesn't matter in the SEC.
Offense
Quarterback: A&M will go as far as this quarterback will take them. This is the only wildcard for me on the entire Aggie roster. Skill positions will have some turnover, but also have some top talent and production coming back. The offensive line could be solid with the interior returning, and the defensive line will be pretty good. The back seven will be mediocre at best. With these reasons stated, the quarterback position will determine a lot for the Aggies. If the quarterback can play at a high level, or even if he is able to simply take care of the football and not kill drives, the Aggies have a shot (not a guarantee, but a shot) at winning nine or ten games. In an interview with The Houston Chronicle, Kevin Sumlin said, "Our offense will be quarterback-friendly…When you have that much experience on the offensive line, two running backs (in Trayveon Williams and Keith Ford) like we have and the skill we have on the perimeter, it's going to be up to the quarterback to figure out it's not his job to win games." That's easier said than done in front of massive crowds, and on road trips to UCLA, Florida and LSU.
If the quarterback plays like the inexperienced player he will be, the Aggies will be fighting for bowl eligibility. The young men competing for the position are Jake Hubenak, Nick Starkel, and Kellen Mond. Hubenak (left) is the senior and the favorite to win the job. He is a big body (6-3,215) and he has the most on-field experience among the three of them. However, it was mostly in garbage time. He did get three starts last year when Trevor Knight went down, but was only able to get one win (over UTSA), and lost to Ole Miss and LSU.
Starkel is a redshirt-freshman. Starkel was a decent prospect out of Texas, but was not heavily recruited by A&M until Kyler Murray and Kyle Allen both transferred. Starkel seems to be the least likely of the three to win the job. Then there is the true freshman, Kellen Mond. Mond is that dual threat,
elusive

, compact (6-1, 200) quarterback that A&M seems to enjoy. Watching his tape, he reminds me a lot of Brandon McIlwain, the former South Carolina Gamecock who was also a

shifty

, athletic quarterback. While talented, McIlwain was thrown into the starting quarterback position way too early, and lost favor with Gamecock nation. He later decided to transfer from South Carolina.
I think it would be wise for A&M not to start Mond in the first game, especially since it is on the road at UCLA. He may end up being a good player, but it would be wise to let him grow and mature before putting him in a tough spot this year.
Running Back: This is going to be a great running back tandem. Both Trayveon Williams and Keith Ford are legitimate options at running back, and they both compliment each other nicely. Williams is an agile, big play threat every time he touches the ball. At 5-9, 200, he is
shifty

,

elusive

, and has excellent explosion through the hole. Williams rushed for over 1,000 yards last year, and there is no reason to think he could not do that again this year. Then there is Keith Ford (5-11, 215), who is a physical runner. Ford was a top prospect out of high school, and after transferring from Oklahoma and sitting out a year, Ford could burst on to the scene in his last year of eligibility.
The only hit this rushing attack will take in terms of the weapons it possesses will be the loss of starting quarterback Trevor Knight. Knight rushed for over 600 yards last year, and led the team with 10 rushing touchdowns. If Mond ends up the starting quarterback, this rushing attack could be scary.
Wide Receiver/Tight End: Yes, there is a lot of reorder at the wide receiver position with Josh Reynolds, Ricky Seals-Jones and Speedy Noil all gone. But that does not mean this position group will not be just as productive or talented as it was these past few years. The biggest reason is that Christian Kirk is back. Kirk had 83 catches last year, and caught nine touchdowns. He is listed by many publications as a first team All-SEC wide receiver, and a possible All-American. Besides Kirk there are plenty of talented options in the pass game. The one I am the most excited about is a true freshman Jhamon Ausbon. Ausbon is a big target (6-3, 220), and looks the part. If he has a big season, the Aggies should be just fine at receiver.
At tight end the Aggies have a few options, including another true freshman in Camron Horry. The Aggies don't traditionally use a lot of the tight end position in the passing game, but with the talented Horry as a possible starter a few games into the season that could change.
Offensive Line: Aggie fans should not be too worried about this position group, but they shouldn't be fired up either. They won't be as dominant as last season, but at the same time they should hold their own in most games they play in. Replacing Avery Gennesy at tackle will be no small feat, and there are rumors that the interior linemen will be moved around to try and accommodate, which is not uncommon. Look for Koda Martin to have a big year at tackle. At 6-6, 310 he is big enough to maul on zone blocking, but he is athletic enough to pass protect, as well.
Defense 
Defensive Line: The defensive line is in the same boat as the offensive line. The perimeter pass rushers (Daeshon Hall and Myles Garrett) are gone, and it will be hard to replace them. Garrett was the number one overall pick in the 2017 NFL Draft. The strength of this defensive line will be at the defensive tackle position. Three names to remember. First, Kingsley Keke (6-4, 300). Huge fan of Keke. So big of a fan, actually, that I think he has the skillset to be a dark horse to win the Lombardi Award (given to the best defensive linemen or linebacker) at the end of the season. He's athletic, he's big, and he can control a gap in run defense and rush the passer at the one or three technique. Then there is the senior, Zaycoven Henderson who has a solid season last year, and who should provide leadership at the position. Finally, there is Daylon Mack. Mack was a monster recruit out of the 2015 recruiting class. He has all the capabilities and talent needed to have a big year.
Linebacker: It's tough to get too excited over a defensive line and linebacking corps that was apart of one of the most pedestrian defenses in the nation at stopping the run. There are a few talented linebackers on this roster and both were very highly recruited. The first name to remember is Otaro Alaka (6-3, 240). Alaka is athletic, versatile, and physical. But he is also inconsistent, and seems to have trouble diagnosing plays. It would be best for the Aggies to have him as the Weak Side linebacker so he would be a little more free to drop into coverage and play a little
more loose

. At middle linebacker the Aggies don't really have too many good options.
But, Aggie fans, if you only take one thing from this preview, then please take this – you have an All-American talent on campus and he is, you guessed it, another true freshman. Forget Kellen Mond. Forget Jhamon Ausbon. Forget Camron Horry. The best pickup in the 2017 recruiting class was linebacker Anthony Hines out of Plano, Texas. Ranked by 247 Sports as one of the top 75 prospects in the country, Hines already has the size (6-3, 220) to play the Weak Side; he posses skills and athleticism that could be utilized at any position in the linebacking corps. He may not have a breakout season this year (especially if they put him at middle linebacker), but he will be an All-American one day.
Defensive Backs: As forgettable as the run defense was last year, the pass defense was even worse. On top of that, A&M lost safety Justin Evans to the NFL. Evans was not only one of the teams leading tacklers, but also led the team in interceptions. Who the Aggies have returning don't
fire me up

either. Priest Willis could start at one of the corner positions in his final season of eligibility. Willis was a highly recruited player out or Arizona, but after transferring from UCLA and getting lost in the shuffle, he has been somewhat of a bust.
And enough of the Armani Watts hype. Let's not make him out to be the next Ed Reed. Call him how he is – a playmaker who forces a lot of turnovers, but who also misses a lot of tackles and blows a lot of coverages. Entering into his senior season, maybe Watts can put it all together and be a consistent, solid, maybe even excellent safety, but until then he is as much as a liability as he is a playmaker.
Final Thoughts and Prediction
Biggest Strength: It has to be the running back tandem of Williams and Ford. Both have the potential to singlehandedly save Kevin Sumlin's job.
Biggest Weakness: It is a close call between lack of consistency on defense and the quarterback position, but I'm going to go with the quarterback position. None of the three challengers
fire me up

, and I don't think either of them are talented enough or experienced enough to compete with Alabama, LSU, or Auburn.
Biggest Game: Mississippi State, October 28. Let's go with the best possible scenario. The Aggies find a way to start the season 5-0, then lose to Alabama, then immediately head to Gainesville to face the Gators in the Swamp the next week. If history tells us anything, the Aggies lose that game. Okay, now they're 5-2 heading into the heart of the schedule, facing 4 SEC West opponents. The first one of those opponents will be Mississippi State on Kyle Field. They get Mississippi State after a bye week. They have a week to lick their wounds after back-to-back losses to the Tide and the Gators, and prepare for the Bulldogs. If they don't beat an inferior Mississippi State team, Kevin Sumlin is toast.
Final Record: It doesn't start off easy with a road trip to UCLA, a game which they barely win only because UCLA is a poor man's Texas A&M. After that are two games that should be wins in Nichols State and UL Lafayette. Then they get Arkansas in Jerry's World, and the Gamecocks at home. I think they lose to the Hogs and beat the Gamecocks. Then comes the Alabama and Florida stretch in which they lose both. They find a way to save Sumlin's job, momentarily, and beat Mississippi State only to lose at home the following weak to Auburn. They beat New Mexico. I flipped a coin and they beat the Rebels, and then get smoked in Death Valley to the Tigers.
Final Record: 7-5 (3-5 in the SEC)