2017 Season Preview: Tennessee Volunteers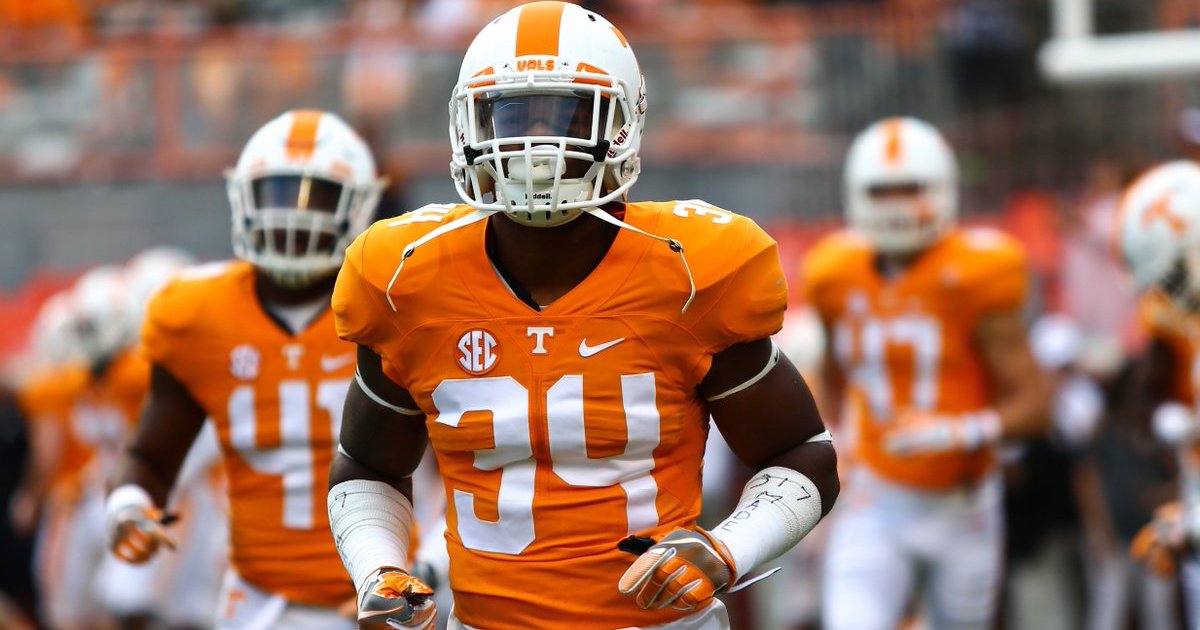 by Chris Paschal
This year feels a lot different than last year. Last year Tennessee was the favorite to win the East. They were going to contend for the SEC Title, and maybe find a way into the College Football Playoff. But the season ended with only 9 wins, and losses to South Carolina and Vanderbilt. 2017 is a new year with more questions and lower expectations. No longer expected to win the East or the SEC, Tennessee may be able to play with less scrutiny, which could result in more wins. But that all depends on if they can answer some serious questions throughout their roster and coaching staff. Butch Jones is definitely on the hot seat, and Vol fans will want his head if Tennessee doesn't produce this year. However, Jones does not have the roster or coaching staff to put up ten wins. A new quarterback, a thin defense, and an offensive coordinator who has never called a play in his career all point towards a mediocre and somewhat disappointing season on Rocky Top.
Offense
Quarterback: Josh Dobbs is gone after leading the Volunteers for two and a half seasons. He was a good football player, a decent quarterback, and a sufficent thrower. Tennessee fans know what they are losing in Dobbs. This year's quarterback will be unproven and inexperienced. Notice I didn't say untalented. It seems to be a two way race. One contender seems to be Quinten Dormady. A big, six foot four inch junior out of Texas, Dormady is more of a threat with his arm than his legs. While athletic enough to run zone reads and run-pass options, Dormady would add a different dimension to the Vol's offense – a dimension that was missing for the past few years.
The other contender is Jarrett Guarantano from New Jersey. A redshirt freshman, Guarantano was highly recruited coming out of high school. He's just as big as Dormady, but much more mobile and agile. His biggest weakness according to coaches is that the game is a bit fast for him. If he can figure things out, Guarantano will be scary in Tennessee's offensive attack.
Overall, I am somewhat excited to see how both players perform, but I don't see either in their first year as a starting quarterback lighting the world on fire.
Running Back: Tennessee is in trouble here. Gone is most of the rushing attack from last year. Yes, losing Jalen Hurd means losing baggage, a bad teammate, and a mediocre performer. However, Hurd was a big back that had all the tools to put up some big plays and big numbers. Tennessee also lost Alvin Kamara. Kamara could do it all, leading the Vols in all-purpose yards in 2016. And then, of course, there is Dobbs who was basically a glorified running back rushing for over 800 yards last year.
The only returning member of that rushing attack is John Kelly. Kelly is a great running back who average six and a half yards a carry, but he will need some help if Tennessee is expecting to have a successful run game. Kelly had less than 100 carries last year, with most of them coming at the end of the season. It's hard to ask a running back to average over six yards a carry to match that same production on 300 carries. The rest of the backfield is unproven. Lack of depth at running back in the SEC is not a good sign. Look for Tennessee to turn to true freshman Ty Chandler as another option at running back. Chandler is a Nashville product, and was one of the tope prospects in the state.
Wide Receiver/Tight End: Same song, different verse. The offensive skill positions are all in the same boat: losing a lot of talent, replacing it with talented, inexperienced, young players, and little to no depth behind them. The Vols lost their
best pass catcher 

from last season in Josh Malone. Malone had just shy of a thousand yards receiving, and accounted for 11 receiving touchdowns. Gone, too, is the aforementioned Alvin Kamara, as well as Jason Croom. Back are both Ethan Wolf at tight end and Jauan Jennings. Jennings played well as number two, but he will now be tasked with being the primary receiving threat. Jennings must have a big year for Tennessee to have a somewhat successful passing attack. With a new quarterback, and a depleted running back position, Jennings will be asked to carry this offense along.
Offensive Line: Finally, a position group I can get fired up about. If Tennessee is to compete and win in the SEC, the offensive line has to live up to its potential. And to be honest, if you're going to win in the SEC, you need a quarterback first and foremost, and an offensive line that control the line of scrimmage. There is a chance Tennessee wins ball games the ugly way – up front in the trenches.
The Vol's return one of the most athletic offensive linemen in the country in Jashon Robertson. He is an All-American walking – if he can put together a season he is capable of. Next, the Volunteers have a senior, returning starter at center in Coleman Thomas, which will be great with a new quarterback taking snaps. At one of the tackle positions will be Drew Richmond, a big time recruit out of Memphis in 2015, who has the skill set to dominate. Speaking of big time recruits, do not be surprised to see Trey Smith – the number one overall recruit in the nation in 2017 according to ESPN – to find a spot somewhere on the offensive line. He's got the size along and the athleticism to start at tackle or guard, and just from looking at his film and numbers, he is a monster. If he can quickly translate his game to the collegiate level, he will be a much needed addition to this already talented offensive line.
Defense 
Defensive Line: As confident as I am in the offensive line, I am equally as skeptical about this Tennessee defensive line. Gone is leading sacker Derek Barnett. He did it all, but he will be most missed in rushing the passer. Volunteer fans are hopeful that Jonathan Kongbo will have a breakout junior season at defensive end. He definitely looks the part, and was the top rated JUCO defensive prospect in 2017. However, he needs to turn the hype into production. At tackle, I am done promoting Khalil McKenzie and Shy Tuttle. In 2015, I wrote how great they both were going to be as true freshman. In 2016, I said they were going to put it all together and dominate the SEC. Injuries have handicapped both McKenzie's and Tuttle's starts in Knoxville, but until they can live up to their legendary status coming out of high school, I am not depending on these two to anchor this defensive line. Kendall Vickers enters his senior season at defensive tackle with high expectations after starting in every game last year.
There is good news for Vol fans, if this year's defensive line doesn't pan out. Butch Jones is putting together an impressive defensive line recruiting class for 2018.
Linebacker: 
The defensive line could be solid if they can find a new pass rusher (or two). There is hope up front for a decent season.

The linebacker position, on the other hand, does not give me as much hope or any for that matter. Darrin Kirkland had a uneventful season last year between the high ankle sprain and the lack of production after it. He must be healthy for Tennessee to improve from last year when the Vols were one of the worst rushing defenses in the country. Further, it doesn't seem like they are receiving immediate help from the 2017 recruiting class.
Defensive Back: There is reason to be optimistic with this position group. Yes, they are losing Cam Sutton. Yes, they were pretty mediocre against the pass last year. But, Tennessee has the pieces to be much better this year. At safety, Tennesse returns its two leading tacklers in Todd Kelly, Jr. and and Micah Abernathy.
Kelly has the tools to be a productive safety in the SEC. Further, Tennessee still has Evan Berry, one of the best return specialists and playmakers at Tennessee. Also look out for Nigel Warrior. Warrior was a big time recruit out of Atlanta and is now entering his second year in Knoxville.
On the perimeter, Tennessee has some options at both the corner and nickel positions. Emmanuel Moseley needs to recover from his injuries this Spring if Tennessee is to have a solid option as the primary corner.
Final Thoughts and Prediction
Biggest Strength – Offensive Line:
Biggest Strength: It has to be the offensive line. If they can stay healthy, they have a chance to be one of the top five offensive lines in the SEC. But, as Vol fans  know from last year, the injury bug can bite ate any time.
Biggest Weakness: Lack of depth.
Lack of depth at receiver, running back, linebacker, and defensive line. There is some depth at quarterback and offensive line, but it is unproven depth.
Biggest Game: Georgia Tech. If the Vol's do not beat the Yellow Jackets to start the season, they could be fighting all the way into November just to become bowl eligible. If the Vols find a way to win, they could have much needed momentum going into Gainesville two weeks later.
Prediction: In my opinion, this is a mediocre football team. At best this is an eight win football team. I can't find a ninth win. With trips to Atlanta to start the season off against a good Georgia Tech team, to Alabama, Florida, and Kentucky, and home games against a better Georgia team, a better South Carolina team that always plays Tennessee close, and with LSU coming to town, I don't see this inexperienced team contending for the East.
Final record: 6-6 (3-5 in SEC play). 
(Featured Image from PBS)