2017 Season Preview: South Carolina Gamecocks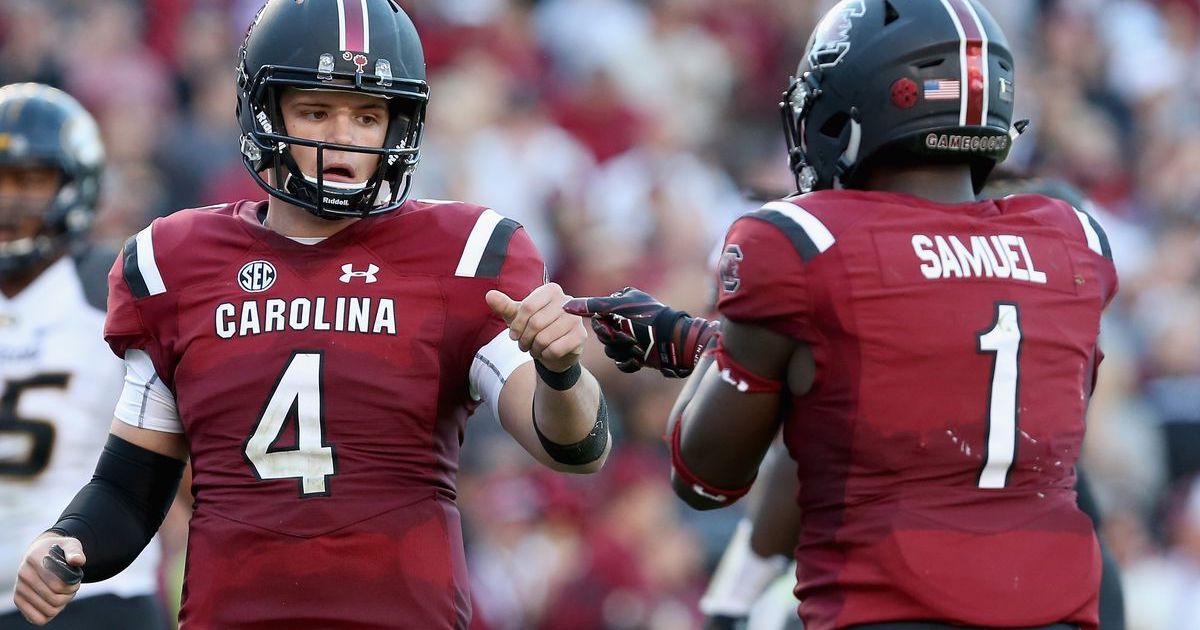 by Chris Paschal
The 2016 South Carolina Gamecocks were pretty lousy at times. Statistically speaking, the Gamecocks were one of the worst offensive teams in the SEC, and one of the most pedestrian defenses in the SEC. They finished the season with more losses than wins and they lost to their in-state rivals, the reigning national champion Clemson Tigers, by a score of 56-7.
However, the Gamecocks did show flashes of what they were capable of throughout the season, and with more depth, more experience, and better talent on the roster, it is obvious why fans are excited for 2017. What has me excited for this team is what happened after the Clemson game. South Carolina had a month of extra practices, which definitely helped this young team, and they played very well against a 10-2 South Florida team whose quarterback is already being mentioned as a Heisman contender (Quinton Flowers). Then on National Signing Day, Will Muschamp was able to haul in a class that helped address serious areas of need and helped improve the team's speed. The class was so impressive that ESPN recruiting guru, Tom Luginbill, called South Carolina one of his "Big Winners." Look for some of these true freshman to play immediately.
The 2017 season has a lot riding on it. With a successful 2017 season, not only are the Gamecocks abel to show tangible proof that they are building in the right direction, but they will also be able to lock up some of the highly ranked 2018 prospects that are considering South Carolina.
Offense
Quarterback: Many college football pundits think Will Muschamp would still be at Florida if he had been able to find a quarterback. Hell, some think he might have won a few SEC Titles. But it seems that Muschamp has learned from his past, because he has found a quarterback at South Carolina. Jake Bentley will enter his sophomore season as one the best quarterbacks in the SEC. Yes, he is right up there with Nick Fitzgerald, Jalen Hurts, Drew Lock, and Kyle Allen. In fact, my prediction is that Bentley will have the best season statistically of any quarterback in the SEC East. Better than Eason, better than whoever Florida or Tennessee picks, and better than Drew Lock.
Behind Bentley there are not a lot of options. Brandon McIlwain transferred once he realized his shot as the starting quarterback had passed him, and Perry Orth graduated. That leaves Michael Scarrnechia and true freshman Jay Urich as the reserves. Both don't have the talent needed to lead an SEC football team. There is hope, however. South Carolina was able to land a commitment from 2018 dual-threat prospect Dakeron Joyner, who is one of the top prospects out of the Charleston area. Joyner had offers from Alabama, Oregon, Clemson, and a lot of other top programs. The only problem is Joyner does not help the Gamecocks this year.
Running Back: South Carolina has a bunch of options in the backfield. There are three backs with legitimate shots at getting some serious carries. The first is Rico Dowdle. Although he missed the beginning of the 2016 football season due to injury, he did play in nine games, and when he touched the football, Dowdle looked like an SEC back. Now fully healthy and with some experience under his belt, Dowdle has a shot at surpassing his already solid freshman numbers, ( 764 yards, 5.7 yards per carry), and having a breakout sophomore campaign.
The second option is probably going to be Ty'Son Williams who had to sit out last season after transferring from North Carolina. Williams, originally from the Palmetto State, upset many Gamecock fans when he signed with the Tarheels. However, Williams is home now, and he offers a skill-set that makes South Carolina look like an SEC backfield. Williams (6-0, 210) is powerful enough to gain tough yards, yet he also has the vision and agility needed to be successful in the zone blocking schemes. Look for Williams to have a big year.
The third option is the electrifying A.J. Turner. Turner (5-10, 190) is the big-play threat. Turner registered an 80 yard kick off return, and a 75 yard rushing touchdown last season. He should be used as a change-of-pace option for the Gamecocks. Sophomore Mon Denson provides further depth for the Gamecocks.
Wide Receiver/Tight End: This is definitely one of the best receiving corps in the SEC, and it may be one of the best in the country. South Carolina is loaded at both receiver and tight end, which should only further the maturation of quarterback Jake Bentley.
At receiver, the Gamecocks return junior Deebo Samuel who was named a pre-season first team All-SEC receiver. This guy can do it all. He can play in the slot, he can challenge defenses vertically, and he can score on jet sweeps when the Gamecocks are in the red zone. With consistent quarterback play, Deebo could eclipse 1,000 yards receiving. Opposite of Samuel is Bryan Edwards. Edwards started as a true freshman last season, and with his size (6-3, 210) he instantly became a favorite target. Now after a year of learning the playbook and how to run routes, Edwards is poised to improve upon his freshman numbers (590 receiving yards and 4 receiving touchdowns).
But it doesn't end with those two. South Carolina has four or five other options, and all of them could play significant roles in the pass offense. One of those players is Randrecous Davis, who was one of the first recruiting battles Will Muschamp won. Davis, out of Atlanta, Georgia, picked the Gamecocks over offers from Alabama, Georgia, Florida, and Miami. Although Davis missed almost all of last season due to injury, he has talent that could instantly help the Gamecocks. Junior Terry Googer (6-4, 220) has positioned himself nicely on the depth chart, as well.
There is a lot of young talent within this receiving corps. True freshman Shi Smith, OrTre Smith, and Chad Terrell were all huge recruits for Will Muschamp's 2017 recruting class. According to teammates, OrTre is competing for a starting spot, while Shi Smith has been named the fastest player on the roster.
At tight end, the Gamecocks have the best player in the country in junior Hayden Hurst (6-5, 250). I would be shocked if Hurst didn't leave after this season, and even more shocked if he wasn't taken in the first round of the NFL Draft. He may be the strongest player on the roster, and he is just as good a blocker as he is a receiver. Behind Hurst is K.C. Crosby who is a dynamic playmaker, leading the team in touchdown receptions last season. Talented reserves Kiel Pollard and Jacob August would play a lot for most other teams.
Offensive Line: The talent is there it just needs to produce. All-SEC lineman Zack Bailey (6-6, 300) will move to right tackle, which new offensive line coach, Eric Wolford, thinks Bailey will play at the next level. At left tackle, Malik Young, Sadarius Hutcherson, and Dennis Daley are all competing for the starting job. At guard, the Gamecocks have Corey Helms, DJ Park and Donell Stanley. All three are good enough to compete at the SEC level. Alan Knott returns as the starting center. The offensive line must improve and play at the level it is capable of, if this Gamecock offense is to play to its full potential.
Defense
Defensive Line: The defensive line is the biggest wild card for the Gamecocks this season (yes, over the offensive line). South Carolina will progress or regress as a program depending on how the defensive line performs. South Carolina's defensive scheme consists of a non-traditonal four down front with a Buck taking the place of the weak-side defensive end.
Coach Will Muschamp called out this position group throughout the offseason. During SEC Media Days, Muschamp said that he needs senior defensive tackles Taylor Stallworth (6-3, 310) and Ulric Jones (6-6, 310) to play well. Behind the two of them are plenty of younger options in sophomores Keir Thomas, Kobe Smith, Javon Kinlaw, and freshman M.J. Webb. Kinlaw (6-6, 330) has the size and strength South Carolina needs up front.
At strong side defensive end, South Carolina has three options. The first is the senior, Dante Sawyer. Sawyer is the projected favorite to win the spot, and while he doesn't offer anything too exciting, he is a veteran, stable, and a solid option. According to coaches, freshman Aaron Sterling is coming along, and while he was a big signee for the Gamecocks (Sterling at one time was committed to Alabama), it is unfair to assume Sterling could be very productive at a tough spot.
The third option at the position is the one I want to see play – Shameik Blackshear. Blackshear was at one time deemed the Gamecock's next great pass rusher, but after tragically getting shot in the leg and chest, Blackshear has spent more time regaining his strength and learning the playbook than sacking the quarterback. Now a redshirt sophomore, Blackshear is fully healthy, and in position to get some significant playing time. According to his teammates, Blackshear is one of the most athletic players on the roster. He is capable of a 10 sack season; the ability is there. The big question is, will he perform?
At the buck position, South Carolina has some talented players, even though the Gamecocks will miss Darius English who led the team with nine sacks last season. The projected starter is D.J. Wonnun. He is referred to as a technician, pundits and teammates alike are impressed by his pass rushing mechanics. Behind Wonnun will be Daniel Fennell who can also play some strong side linebacker, as well. Look for freshman Brad Johnson to get some playing time, as well.
Linebacker: Two of the best players at South Carolina play linebacker, but besides them there will be a ton of unproven, inexperienced freshman playing. Weak side linebacker Skai Moore returns after missing all of last season due to neck surgery. Moore has led South Carolina in tackles each season he has been in Columbia, and yes, that includes when he was a freshman on 2013's 11 win team. Not only is he an added boost for the run defense, but he is also a remarkable three interceptions from the school record (14). Moore is one of the best linebackers in the SEC.
At strong side linebacker is Bryson Allen-Williams. Allen-Williams can do it all, including rush the passer, which is something South Carolina is expecting him to do this season. Allen-Williams has been a good player for the Gamecocks, but he hasn't lived up to expectations, yet. Look for his senior season to be a breakout campaign.
At middle linebacker will be sophomore TJ Brunson (6-1, 230). Behind those three will be freshman Sherrod Greene (talented prospect out of Rocky Mount, NC), SEC-fast Davonne Bowen (high school 100 meter state champion), and JUCO signee Eldridge Thompson. South Carolina needs to recruit well if they are to field an SEC caliber linebacking corps. The good news is there are plenty of talented prospects interested in South Carolina.
Defensive Backs: This secondary is good enough to be in the top half of the SEC in pass defense, but it has the potential to be one of the top three secondaries in the SEC. How? Multiple reasons. First, it helps that the aforementioned Skai Moore returns as a veteran leader for this defense. Second, there is talent throughout the secondary. Senior cornerback Jamarcus King returns after having flashes of brilliance last season. He is expected to be a more consistent and stronger cornerback in his senior year. On the opposite side of the field is Rashad Fenton, who seems to improve every snap. Fenton is one of the fastest players on the roster. In an interview with reporters, Fenton was told that opposing coaches have referred to him as a "millionaire walking."
At nickel back is senior Chris Lammons, who can play both corner and nickel. South Carolina was able to sign Lammons, a Florida native, in 2013 despite the Gators recruiting him hard, but now in his senior season, the Gamecocks are hoping he finally lives up to his potential. Then there is the true freshman Jamyest Williams. He was a huge win on National Signing Day for Will Muschamp, who snagged Williams from the clutches of his home state team, the Georgia Bulldogs. Williams was considered one of the best defensive prospects in the 2017 recruiting cycle, with scouts comparing his speed and athleticism to LSU great Tyrann Mathieu. He will get a shot at both nickel and corner, and South Carolina fans are hoping he quickly plays to his abilities.
At safety, South Carolina has both D.J. Smith and Steve Montac returning. True freshman Jaylin Dickerson was pegged as a key contributor by coaches, but he will miss the season with a pinched nerve.
Final Thoughts and Prediction
Biggest Weakness: Although they are not necessarily a weakness, the offensive and defensive line need to play well for South Carolina to move its way up in the SEC East.
Biggest Strength: The offensive skill positions. The wide receivers, tight ends, and running backs on this team are good enough to win an SEC Championship. But you need an offensive line and defense for that to happen, as well.
Biggest Game: Kentucky, September 16. The Gamecocks last beat the Wildcats in 2013. If South Carolina is to take the next step in building its program, the Gamecocks have to beat Kentucky in what should be a raucous Williams-Brice Stadium. This game is South Carolina's home opener, kickoff has been announced for 7:30 PM, and the students called for a blackout.
Prediction: South Carolina will start the season off in Bank of America Stadium in Charlotte as the Gamecocks will face the underrated Wolfpack of NC State. State will have one of the best defensive line's in the country this season, and if South Carolina moves the ball against them, they could have a great season offensively. I think South Carolina wins a close one. The Gamecocks then travel to Missouri where they beat an inept Missouri defense to a pulp. They come back to Williams-Brice Stadium, get a huge win at home over Kentucky, and then proceed to beat Louisiana Tech at home a week later.
The Gamecocks will then travel to Texas A&M where they will lose their first game of the season. South Carolina will come back to Columbia, and beat Arkansas in a close, offensive shootout. In week seven the Gamecocks go on the road to Neyland Stadium, and lose to the Vols. Then a much needed bye week heading into the second half of the season. In week nine, South Carolina will beat Vanderbilt. They will go on to lose at Georgia in what will be a closer game than most predict. South Carolina then bounces back, and beats Florida at home in a big upset. Florida feels like this year's Tennessee game. Wofford comes to town on November 18 and keeps it close heading into the fourth quarter, but South Carolina wins by a couple of touchdowns, and then Clemson comes to Columbia in the annual rivalry game and pulls away in the fourth quarter.
Final Record: 8-4 (5-3 in the SEC)
(Featured Image from Garnett and Black Attack)
(Featured Image from USC Athletics )