2017 Season Preview: Ole Miss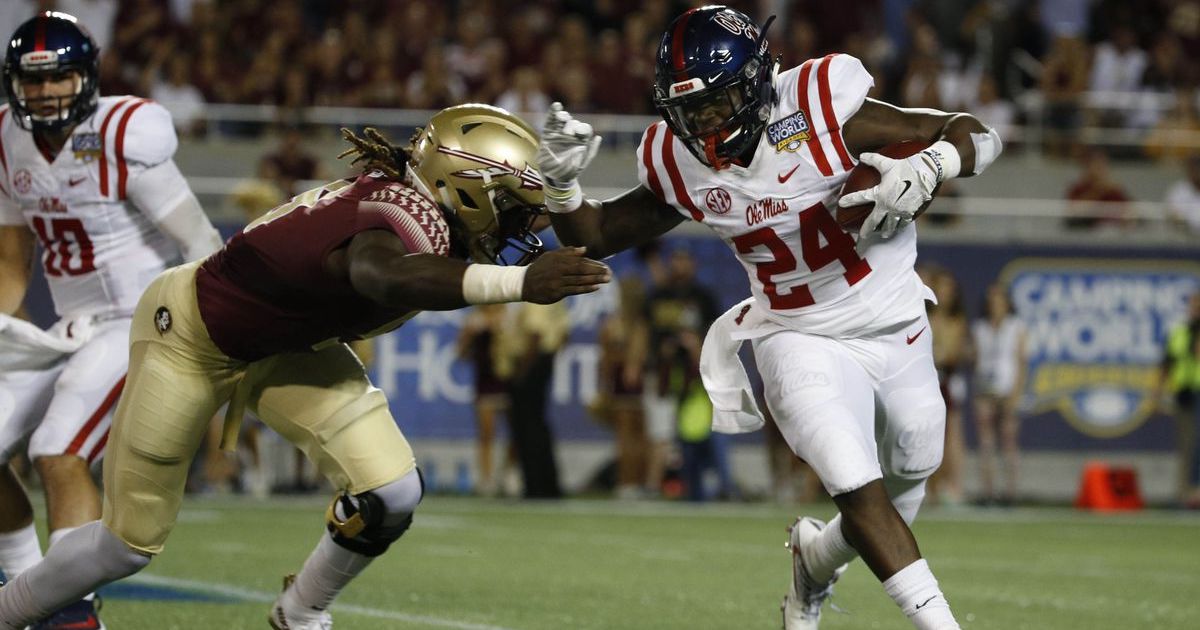 by Chris Paschal
To be honest, I have no idea how this season is going to play out for Ole Miss. They have some talent at key positions, and a quarterback that could have a huge sophomore season. But at the same time there is not a lot going right for the University of Mississippi's football program off the field. Rumors had been swirling around this program for a few years now that the Rebels were paying players. Then Laremy Tunsil, former Rebel standout offensive tackle, said that he had been paid while at Ole Miss, confirming a lot of people's suspicions. Then the NCAA came sniffing around, ultimately finding enough evidence to charge Ole Miss with 21 rules violations.
Then the heaviest stuff came. Hugh Freeze abruptly announced his resignation just days after representing the school at SEC Media Days in Hoover. It later came out that Freeze had been forced to resign after phone records showed that Freeze had been cheating on his wife with prostitutes. How did these phone conversations come to light? Oh yeah, that is because Ole Miss and Hugh Freeze were being sued by former Rebel football coach Houston Nutt. Nutt felt like he was wrongly being blamed for all the NCAA problems facing the University. After Nutt's law team reviewed all of Freeze's phone records (he called the escort service/pimp on his work phone) for reason's related to the lawsuit, they stumbled upon the out of place number.
So in a nutshell here is what happened: Ole Miss cheated to get really good at football. However, the NCAA caught up with them and charged them with 21 allegations, which Ole Miss and Hugh Freeze claimed happened while Houston Nutt was head coach. This caused Nutt to sue the school, and while his legal team was doing some research they stumbled upon phone calls that proved Hugh Freeze had been cheating on his wife with hookers. If that isn't an SEC-sized scandal, I don't know what is.
Offense
Quarterback: The starter is good. Not excellent, but good. Of course I am basing that off of three games, so with a full season of work he could prove that he is the next Archie Manning or the next Zack Stoudt (look him up for some laughs or tears depending who you root for). Shea Patterson (6-2, 200) is an elusive, athletic, play-making quarterback. He's not the kind of guy that's going to drop back and throw for 3,500 yards, but instead the kind of guy that will make a play out of nothing, run when things break down in the pocket, and extend plays.
Ole Miss will need to spend the month of August finding a solid number two to provide depth.
Running Back: This position group is kind of like the quarterback situation, only more unknown. There is some talent, but it hasn't done anything. There are two main options at tailback after leading rusher Akeem Judd exhausted eligibility at the end of last season.
First is the highly recruited sophomore, Eric Swinney. Swinney (5-9, 215) is compact, powerful, and evasive, but has yet to take a college snap after tearing his ACL last year. The second option is senior Jordan Wilkins, who didn't play at all last season after some sort of administrative process failed to happen, which left him ineligible (still fuzzy on the details).
 

I'm not feeling too good about the running back position.
Wide Receiver/ Tight End: Only one of the top four pass catchers from last season returns with Quincey Adeboyejo, Damore'ea Stringfellow, and Evan Engram all in the NFL now. The lone returner is Van Jefferson who will be joined by A.J. Brown and D.K Metcalf. The three of them are all sophomores with Shea Patterson, so the next two to three years could be special. The receiving corps could be the strength of the Rebels this season, which is hard to believe after they lost so much last year (and the year before – Laquon Treadwell).
Freshman D.D. Bowie out of Morton, Mississippi was one of the few bright spots in the 2017 recruiting class. Pretty much every other school in the SEC would have loved to snag him.
Offensive Line: This unit could be a decent one for the Rebels if things pan out the way they are supposed to. The problem is that decent doesn't really win you games in the SEC West, especially against defensive fronts like Alabama, LSU, and Auburn. The stud is going to be left tackle Greg Little who was a Freshman All-American last season, and a top recruit in 2016. At one of the guard positions will be Javon Patterson who feels like has been starting games for the Rebels since Johnny Vaught was head coach. Sean Rawlings should hold his own at center. Tackle Alex Givens should play well for a sophomore who was lightly recruited out of high school.
Defense
Defensive Line: The defensive line goes like this: sophomore defensive tackle Benito Jones could be one of the best defensive linemen in the country this season, junior defensive tackle Breeland Sparks is pretty mediocre, Marquis Haynes is a future NFL draft pick, and the rest of the defensive line is pretty unknown. My gut is telling me they won't pleasantly surprise Ole Miss fans. Some newcomers are going to have to step up and provide depth for Ole Miss to have a defensive line that can hold its own in the SEC West. Two great players on the defensive line aren't enough to win games.
Linebacker: It's just hard to get fired up about this Ole Miss defense when it was considered one of the worst in all of college football last season. The days of the "Landshark Defense" were long gone by 2016 when the Rebels got absolutely embarrassed by Vanderbilt and Mississippi State. The biggest reason for that, in my opinion, was the horrific play at linebacker and safety. If Ole Miss is to improve its run defense, the Rebels will have to have to play DeMarquis Gates
.

Linebacker Detric Bing-Dukes (who signed with Ole Miss over offers from juggernaut programs South Alabama, Georgia State, and Indiana) should start at the other spot in Ole Miss' nickel based defense. Bing-Dukes along with Ken Webster will be suspended for the first game after being arrested for shoplifting.
Defensive Back: In terms of pass defense, Ken Webster is Ole Miss' only hope if the Rebels are going to have anything that resembles a lockdown corner. The rest of the cornerbacks are underwhelming. At safety, Zedrick Woods had a sporadic 2016 football season. He truly has All-SEC type talent, but he will need to put it all together and produce in his junior season. Ole Miss will only improve upon last season's worst rushing defense in the SEC if Woods and fellow safeties Deontay Anderson, C.J. Hampton (one of the biggest offenders in the NCAA case), and C.J. Moore play like they are capable of playing, and not like DII backups.
Final Thoughts and Prediction
Biggest Weakness: There is not a lot of depth in the linebacking corps or in the secondary, which could mean another long season for Rebel fans. Nothing is more demoralizing than watching an opposing team assert their will on your boys.
Biggest Strength: Wide Receiver. The Rebs have one of the SEC's best receiving corps.
Biggest Game: at California, September 16. This game will mean nothing in terms of SEC play, but if the Rebels are able to go into California, dominate a pathetic Golden Bear football team, and start the season 3-0, you never know?
Prediction: Like I just mentioned, you never know how these things are going to go. Do the Rebels rally, adopt an us-against-the-(SEC, NCAA, world) type mentality, go out there with a high powered pass offense, beat the breaks off a few teams and win seven or eight games? Or are the distractions too much, and are the roster concerns too serious for the Rebels to even win five or six games? Unfortunately, I am going with the latter.
With no running game and the SEC's worst run defense, the Rebels are going to have to finesse their way past superior opponents. That just doesn't work in the SEC, especially late in the season when the lack of depth starts showing it's ugly face in the secondary, linebacking corps, and defensive line. I think it gets darker for the Rebels before it gets brighter. I think the Rebels will get to five wins, beating all their non-conference opponents and Vanderbilt at home. They had more depth and better players last season, yet they still couldn't win six games. How will they do it this year with no proven running back, no depth at defensive line, and with a back seven that was one of the worst in all of college football?
Final Record: 5-7 (1-7 in the SEC) 
(Featured Image from Red Cup Rebellion)
(Featured Image from Red Cup Rebellion)