2017 Season Preview: Kentucky Wildcats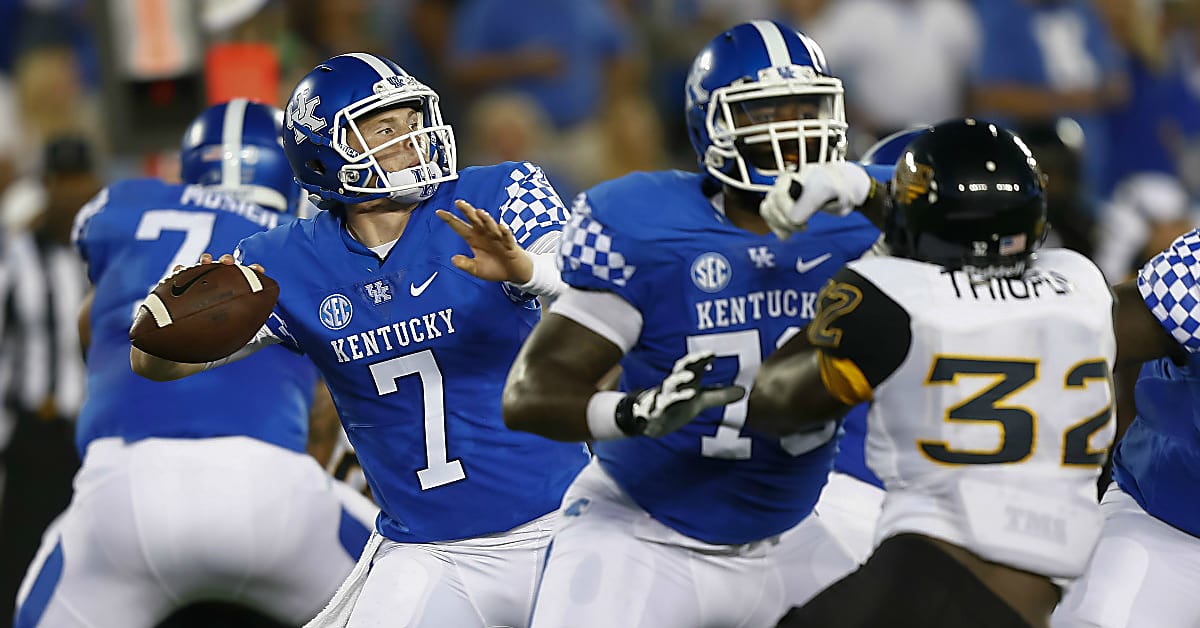 by Chris Paschal
Kentucky fans, I have some bad news for you. I don't think you're winning the SEC East. You're good, but you're not that good. You're not Georgia-good. You're not Alabama-good. You're Kentucky-good. But Kentucky-good is going to look pretty dang fantastic this season. This will be Kentucky's best season since 2007.
Offense
Quarterback: When Kentucky starts the season they will not have the best starting quarterback in the SEC, or even the East. But when Kentucky starts the season, they will have one of the best backup quarterbacks in not only the SEC, but the nation. That's because Kentucky is in the middle of a quarterback battle between two decent quarterbacks: Stephen Johnson (right) and Drew Barker. According to the University of Kentucky, Johnson (6-2, 190) holds a slight lead over Barker (6-3, 220). Johnson has taken more snaps, and as a senior offers a little more confidence and leadership at the position. Barker, a junior, has taken a lot of snaps at quarterback, as well, and he is probably the more talented of the two. I predict that whoever starts week one will have a short lease. If the Wildcats struggle in week one at Southern Miss or even lose in Columbia to the Gamecocks, look for Stoops to give the other quarterback a chance.
Running Back: Most offenses would take a significant step backwards in the run game when losing running backs the caliber of Jojo Kemp and Boom Williams. But most offenses don't have Benny Snell (5-11, 225) in their backfield. Williams, Kemp, and quarterback Stephen Johnson carried the football a combined 338 times. Yet, somehow, Snell found a way to carry the football 186. He also rushed for over 1,000 yards and scored 13 times. Oh yeah, and he did all that as a freshman. The options behind him are unproven, which should cause Kentucky fans a moment of concern, but never fear. The Wildcats have a few players that could spell a workhorse like Benny Snell, and Stephen Johnson is a threat in the running game, as well.
Wide Receiver/Tight End: The wide receiver position is much like the running back position for the Wildcats. They lose Jeff Badet as a graduate transfer to the University of Oklahoma. Badet led the team in receiving yards and yards per catch. The Wildcats do, however, return the leading receptionist in Garrett Johnson (right). The position has plenty of experience with projected starters Dorian Baker, Blake Bone, and aforementioned Garrett Johnson all entering their last season as seniors. But look for the young guys to make a splash, as well. Tavin Richardson (6-3, 215) enters his sophomore season and he is a big target for either Stephen Johnson or Drew Barker. And then there is the exciting duo of freshman Lynn Bowden and Javonte Richardson. Both were highly ranked recruits in this past 2017 recruiting class, and they both offer different skill sets. Bowden is of more of a slender build and could be a threat in not only the passing game, but also in the run game and as a returner. Richardson is a big body (6-4, 210) and could cause matchup problems for opposing defenses.
There are a lot of question marks with this receiving corps, but the questions don't center around ability. Instead the real question is will they produce? There are a lot of fast guys that can catch the football available. But will they progress mechanically to go from a below average group last year to a promising, productive group this year.
At tight end, the Wildcats return a solid, overlooked receiving option in C.J. Conrad. Conrad is one of the best tight ends in the SEC this season. Although he only had four receiving touchdowns last year – three of which game in one game against New Mexico State – look for him to see more action in the pass game this year.
Offensive Line: There is a reason why there were so many successful running backs on last year's roster. That's because this offensive line is the real deal. This is an SEC built offensive line. Yes, the Wildcats lose seasoned vet Jon Toth at center, but the rest of the offensive line returns. And they are talented and they play with some attitude. Three of the projected starters are seniors, and behind them they have highly recruited talented freshman and sophomores. The Wildcats literally have four and five star backups along the offensive line. Has that ever been said about a Kentucky position group? Ever? If everything falls in to place, Kentucky has an offensive line that could rival Alabama and Auburn.
Defense
Defensive Line: This year's defensive line will be Kentucky's Achilles heel. We were doing so well up until this point. The offensive line is nasty, the Wildcats have two adequate options at quarterback, a thousand yard rusher returning, and a wide receiver group that has some potential.
This defensive line will lose them football games. Don't believe me? Just re-watch last season. The Wildcats were horrendous at run defense last year. They were absolutely bullied up front. Kentucky gave up over 225 rushing yards a game. There are 128 schools in the FBS. 110 of them were better than Kentucky at run defense.  That starts up front. They don't have SEC caliber players up front. It's that simple. Where they have talent, it doesn't perform. Where they don't have talent it shows.
If the Wildcats are to improve, even slightly, one main thing needs to happen. First, Matt Elam (6-7, 350) needs to start playing like Terrence Cody. Elam was a top prospect in the 2014 recruiting cycle. He was between Alabama and Kentucky. He was considered one of the guys that was going to anchor this Wildcat defense for years to come. Well he is now entering his senior season, and he has done a whole lot of nothing. SEC Network's Greg McElroy called him one of the most underachieving players in the history of SEC football. He was benched last year halfway through the season. He's got to do something, because the guy they replaced him with (Naquez Pringle) is not that good either.
Linebacker: The linebacking corps either looks pretty good because it actually is a good group of players, or because in comparison to the defensive line it can't get much worse. but the linebacking corps is going to play well this year. The position group returns the leading tackler from last season in junior Jordan Jones (6-2, 220) and also returns the leading sacker in junior Josh Allen (6-5, 230). Junior Denzil Ware (6-3, 245) will man the buck position. He, too, can get after the passer. Look for big time recruit Joshua Paschal (my cousin… just kidding) to make some noise, as well. Paschal was the rock of the 2017 recruiting class and should help not only in rushing the passer, but in stopping the run.
Defensive Backs: This position group is like the offensive line. This is an SEC caliber defensive backfield. It starts with junior safety Mike Edwards. Edwards was second on the team in tackles. He is one of the best tackling safeties in the country. At corner, the Wildcats have a great duo in Chris Westry and Derrik Baity. Both are massive for cornerbacks at 6-4 and 6-3, respectively. They cause major problems in the passing game and have the size and talent to shut down any receiving corps in the SEC. The Wildcats have recruited well at this position picking up commitments from defensive backs who had offers from blue blood programs in the SEC and Big 10. Guys like Davonte Robinson, Jordan Griffin, and incoming freshman Yusuf Corker help provide depth to a unit that ranked in the top 35 in passing yards surrendered a game last year.
Final Thoughts and Prediction
Biggest Strength: Was I able to sell you on this offensive line? I sure hope so, because this is a unit that should perform well for Kentucky. How will you know if they are doing a good job? If you never hear their names brought up. For an offensive linemen – no news is good news.
Biggest Weakness: All you have to do is go to the other side of the line of scrimmage. While the offensive line may be one of the best in the country, the defensive line could be one of the worst in the country.
Biggest Game: Tennessee, October 28. The Tennessee game will be the eight game of the season. I think it would not be unreasonable to think the Wildcats are 5-2 heading into that game. If Kentucky can find a way to beat their biggest football rival, the Wildcats could end the season with 8 wins. A huge feat for Mark Stoops, and the job he has done at Kentucky.
Final Prediction: No, I do not think the Wildcats will win the East, but that does not mean I think they will have a bad season. I think they start off 2-0 heading into a night game at Williams-Brice Stadium against the Gamecocks. I think it will be a good game, but South Carolina will pull that one out. There defensive line will then take a beating at the hands of the Gators in week four. 2-2 to start the season. The Wildcats will then get Eastern Michigan and Missouri at home the following two weeks, and I believe they can pick up both of those wins.
Then they have a much needed bye week before heading into Starkville to play Mississippi State. The bye week will work wonders for Kentucky and they start the season 5-2. Tennessee and Ole Miss will follow, both of which are at home. I can't believe I am saying this, but Kentucky wins those two games. They then ride the momentum into Nashville, and beat Vanderbilt only to come back to earth the following week when they travel to Athens. 8-3 heading into the Louisville game and the Cardinals get revenge. That's pretty dang good for a horrible defensive line, a maturing, but not mature pass offense, and one of the worst turnover margins in the country in 2016.
Final Record: 8-4 (5-3 in the SEC)
(Featured Image from SEC Country)